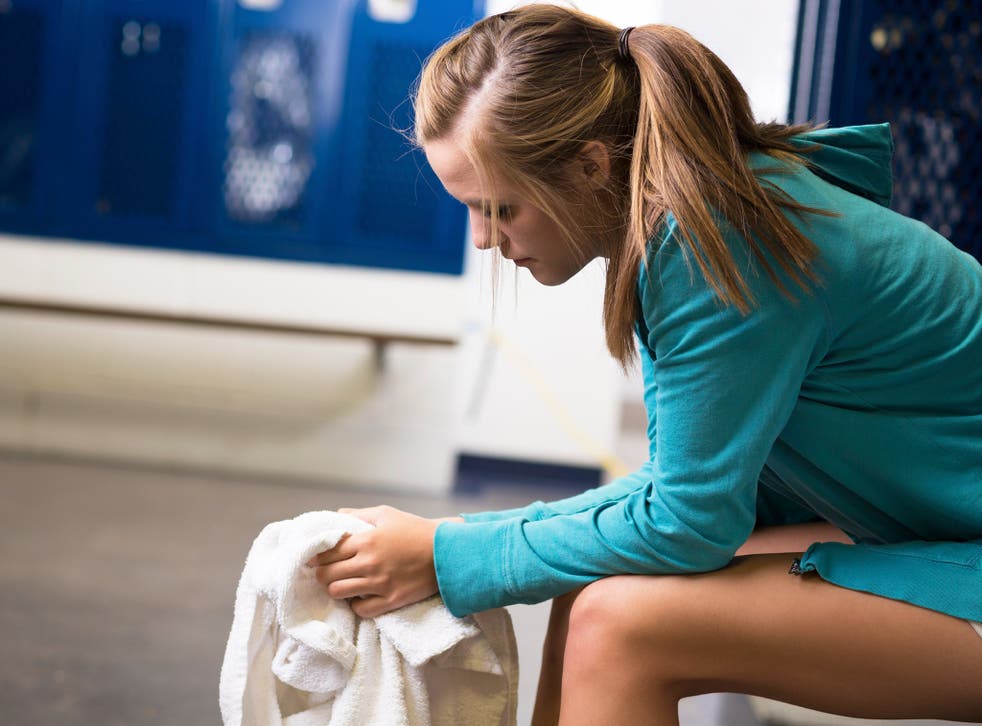 Half of girls avoid secondary school sports due to concerns about their breasts, research finds
Study calls for better advice on which bras to wear as girls report school sport causing them embarassment and pain
Rachael Pells
Wednesday 20 January 2016 01:01 Comments
As many as half of all girls at secondary schools are actively avoiding sport due to embarrassment or pain caused by their breasts and need better advice on which bras to wear, research has found.
Out of more than 2,000 adolescent girls surveyed by academics, very few knew which sort of bra to wear or how to avoid breast pain while exercising.
The results, taken from schoolgirls aged between 11 and 17, found that three-quarters of those surveyed had at least one concern about their breasts, including embarrassment when getting changed for sports and pain during exercise. Their concerns peaked at the age of 14, with 87 per cent saying they wanted to learn more about breast health, according to the Research Group in Breast Health at Portsmouth University.
The results may provide an explanation for why 90 per cent of 14-year-old girls in the UK do not do enough exercise to meet recommended activity levels.
Researchers from Portsmouth University, St Mary's University in Twickenham and Chichester University came together to produce the study, which is the first of its kind in the UK to examine the impact of breasts on schoolgirls taking part in sport or exercise.
"Puberty is a really difficult age for young girls so it was an important opportunity for us to see where their worries lie," said Dr Nicola Brown, a lecturer at St Mary's and a co-author of the report.
"We were really surprised to find that so many girls were embarrassed or worried about their breasts and also the level of influence this had on their activity levels. What we want to work towards is getting education into schools about this issue of breast support and try to help illuminate all of these barriers to physical activity.
"We know that girls tend to drop out at this time so if we can do something to increase their knowledge of breast health and good bra fittings, the need to wear a sports bra, then hopefully we can reduce these barriers."
UK news in pictures

Show all 50
Only 10 per cent of girls surveyed said they always wore a sports bra when exercising, despite research suggesting pain can be reduced, regardless of breast size, by using the appropriate sports bra. Those with larger breasts – D-cup and above – were more likely to opt out of sport and exercise altogether, with around 15 per cent of girls surveyed admitting to thinking they were unable to exercise since their breasts were too big.
According to the report, breasts move during exercise by up to 21 centimetres in a figure-of-eight pattern. This causes pain for approximately three-quarters of women, making it more likely for girls to opt out of sports activities.
A sports bra can reduce breast movement by a similar amount for AA-cup to G-cup breasts. If breast movement is not reduced, there is a risk of irreparably damaging the fragile Cooper's ligaments, resulting in breast sag.
Professor Joanna Scurr, who leads the Research Group in Breast Health, said: "Previous studies of adult women have shown time and again that the same concerns are directly responsible for women no longer taking part in sport or exercise.
"What makes this worse is, as scientists, we know proper breast support reduces or even eliminates the problems associated with breast movement during sport. All that is needed is better education, preferably at puberty for all girls."
Register for free to continue reading
Registration is a free and easy way to support our truly independent journalism
By registering, you will also enjoy limited access to Premium articles, exclusive newsletters, commenting, and virtual events with our leading journalists
Already have an account? sign in
Join our new commenting forum
Join thought-provoking conversations, follow other Independent readers and see their replies