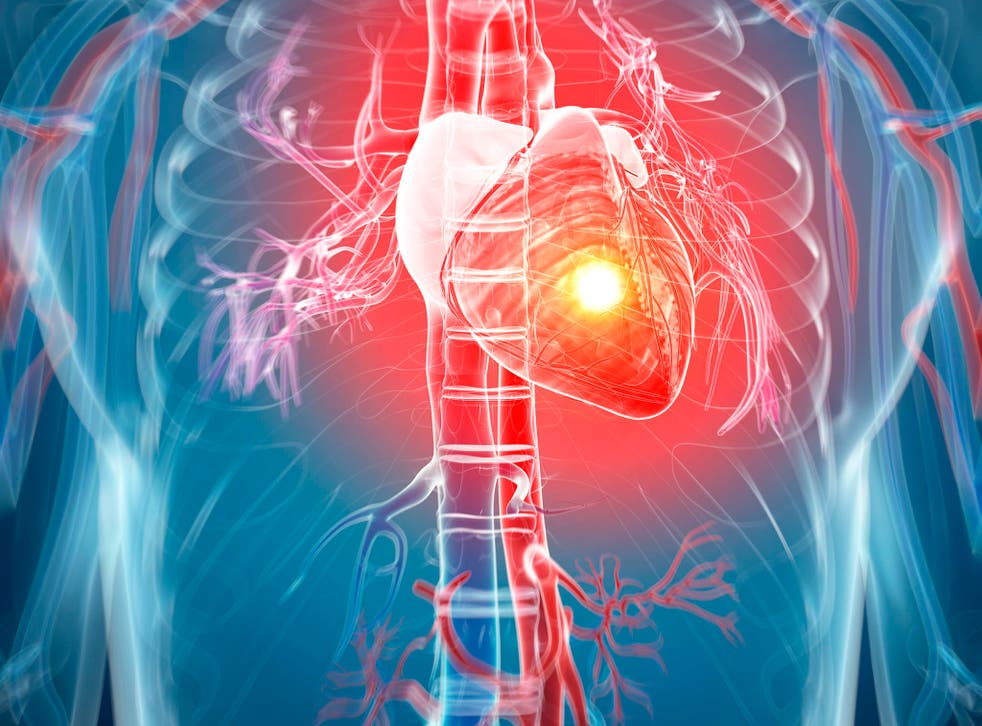 Half of all heart attack victims 'do not realise they have had one'
Symptoms include discomfort in the jaw, upper back or arms
Emma Henderson
Wednesday 18 May 2016 12:01 Comments
Many people who suffer a heart attack do not realise they have had one and brush off the symptoms as something as minor as flu, a study has found.
Experts said 45 per cent of people who have heart attacks suffered what they called the "silent" variety, where patients believe they have strained a muscle or have indigestion.
Other signs include unexplained fatigue and discomfort in the jaw, upper back or arms.
Silent heart attacks can cause just as much damage as heart attacks which are instantly recognised. But as silent attacks do not come with the usual symptoms of chest or arm pain, patients do not seek treatment which can help prevent another.
The research, published in the American Heart Association journal Circulation, found people who have silent heart attacks are three times more likely to die of heart disease and 34 per cent more likely to die from any cause.
Researchers looked at the records of 9,500 middle-aged men and women between 1987 and 2013. They found nine years into the study 7.4 per cent of the volunteers had heart attacks. Of that group, 317 volunteers had silent heart attacks, while 386 noticed heart attack symptoms immediately.
Lead researcher, Dr Elsayed Soliman of the Wake Forest Baptist Medical centre, North Carolina, found the silent attacks are more common in men, but are more dangerous for women who are more likely to die from this type of attack.
Health news in pictures

Show all 40
He added that the silent heart attacks were also worse for black people than white people, but the authors noted the number of black participants in the study may have been too small to draw concrete conclusions.
Patients who have suffered a silent heart attack should be treated as if they had suffered the usual symptoms, according to Dr Soliman.
Heart attacks kill thousands
"Doctors need to quit smoking, reduce their weight, control cholesterol and blood pressure and get more exercise," he advised.
Heart attacks are caused by the blood-flow to the heart is blocked, which can cause tissue to be damaged or die. Doctors are able to identify silent attacks via an electrocardiogram (ECG) scan which reads any damage in the heart.
Heart disease is the world's biggest killer, with the latest WHO figures showing it was responsible for 7.4 million deaths in 2012.
Experts believe many of the deaths happen in patients who have previously suffered a heart attack without knowing it.
Professor Jeremy Pearson, Associate Medical Director at the British Heart Foundation, said: "This study emphasises that individuals who have ECG results which suggest a heart attack, but who don't have any classical symptoms, should be investigated more fully to determine their need for future treatment.
"Since the patients in this research were studied, heart attack diagnosis has improved significantly with more people being correctly diagnosed as suffering from a heart attack than ever before. The number of people being screened for risk and treated to prevent future cardiac events has also increased substantially since the 1990s.
"BHF-funded researchers have led the way in developing better tests for heart attacks and have recently developed sensitive blood tests that can quickly determine whether a person has suffered from a heart attack helping more people survive to go home to their families."
Register for free to continue reading
Registration is a free and easy way to support our truly independent journalism
By registering, you will also enjoy limited access to Premium articles, exclusive newsletters, commenting, and virtual events with our leading journalists
Already have an account? sign in
Join our new commenting forum
Join thought-provoking conversations, follow other Independent readers and see their replies