I feel 10 years younger, says father given first 'living lung' transplant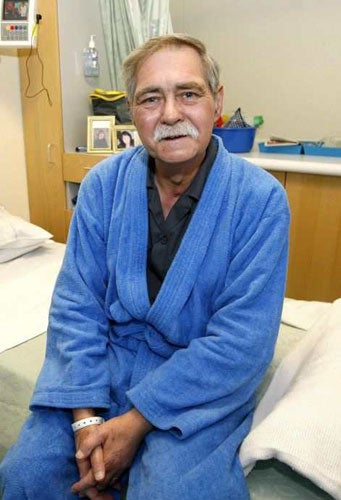 A patient has become the first in Britain to have a life-saving transplant using a technique that doctors hope will increase by 25 per cent the number of lungs available for transplant.
Kenneth Collins, 55, who was diagnosed with emphysema and chronic obstructive pulmonary disease earlier this year, had been on a transplant list since June. A third of patients die while waiting for suitable lungs to become available from donors.
Before the operation Mr Collins, of Chirk, near Wrexham, had to breathe bottled oxygen and could not walk up stairs unaided. He said he felt "10 years younger" and was hoping to go home tomorrow. He had a 14-hour operation seven weeks ago at the University Hospital of South Manchester in Wythenshawe. The procedure had never before been performed outside Sweden, where the doctors who pioneered it had themselves carried out the surgery only six times.
Previously, lungs for transplant could only be assessed for suitability while still inside a donor on a life-support machine. In the new technique, lungs are removed from a donor and pumped with blood and oxygen to keep them healthy outside the body for a far longer period than would normally be possible. This lets doctors monitor their condition and judge more accurately their suitability for transplant.
At the Wythenshawe hospital alone, 65 people are on the lung transplant list. Surgeons performed 20 transplants there last year and hope the new technique will allow them to perform an extra 10 a year.
Mr Collins said: "I am very grateful to the hospital and the team that I have been able to benefit from this new technique. I feel better than I've felt in years. I needed oxygen so I had to take a tank with me if I left the house. I relied totally on my wife.
"I felt so sick I was worried I didn't have very long left. I heard about the new technique, discussed it with my family and I felt I had nothing to lose." Nizar Yonan, the director of transplants at the Manchester hospital, twice went to Sweden to watch the procedure being performed, and his team carried out two trial runs before operating on Mr Collins.
Mr Yonan said: "Mr Collins is making excellent progress and is an example of how this procedure benefits patients who may otherwise have died waiting for a transplant."
Join our commenting forum
Join thought-provoking conversations, follow other Independent readers and see their replies