IVF: South West England has become fertility blackspot, campaigners say
Somerset Clinical Commissioning Group has announced that it is cutting NHS IVF provision to just one cycle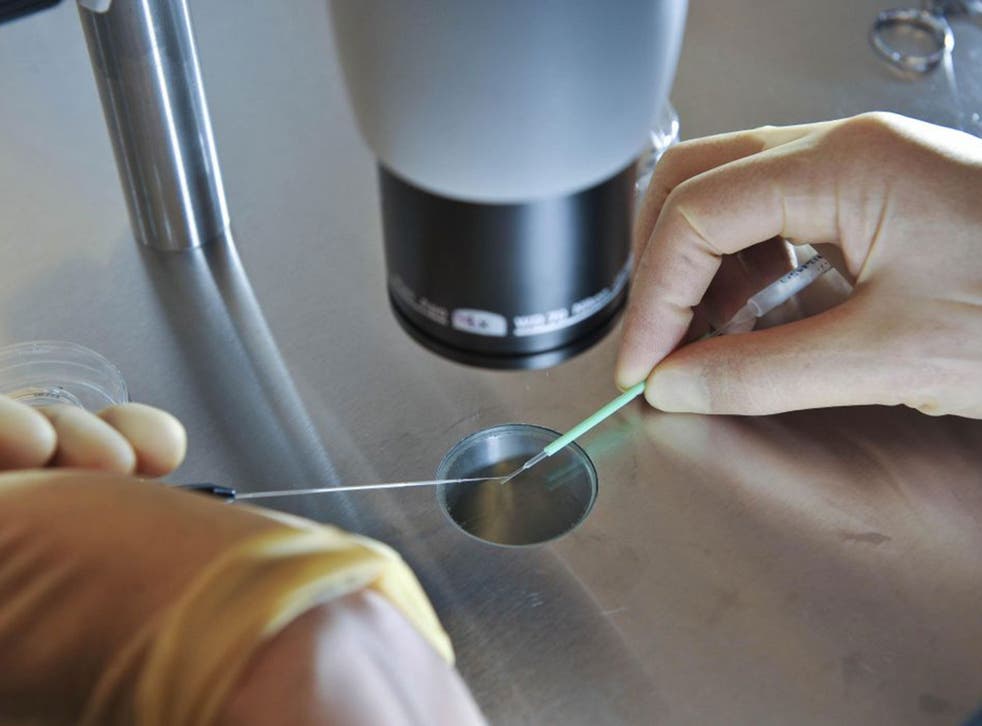 South West England has become a fertility black spot, according to campaigners, following an announcement by Somerset Clinical Commissioning Group that it is cutting NHS IVF provision to just one cycle.
The CCG's governing body confirmed the decision to reduce the number of cycles it offers from two at a public meeting in Yeovil.
Around 90 per cent of CCGs in the region now offer a single cycle of IVF treatment in comparison to 57 per cent across England. Only Wiltshire and Gloucestershire offer three funded cycles and no areas offer two.
NICE guidelines recommend three cycles for women under 40 and one cycle for women aged 40-42.
Sarah Norcross, co-chair of Fertility Fairness, said Somerset CCG was "completely disregarding the views of both patients and the public".
She said: "The CCG's own consultation shows that the majority of people consulted (57 per cent) want three cycles of IVF to be funded and that the majority of those consulted (74 per cent) also said that the number of NHS-funded IVF cycles should not be reduced in order to balance the costs of reducing fertility treatment waiting times from three years to two.
"We are appalled to see patients and the public ignored and let down by Somerset CCG. The South West is now a fertility black spot."
Kirsty, a 34-year-old woman who with her husband has been trying to conceive for three years, recently moved from the north of England where they were eligible for access to three funded cycles of treatment to the South West.
The announcement means that they will now only be able to access one funded round of IVF. She said: "To lose funding for two potential IVF cycles is heart-breaking. It is desperately unfair that where you live determines the healthcare you receive – in no other health situation would anybody think that's OK.
Health news in pictures

Show all 40
"Infertility is not a choice, treatment is not a luxury, and allocating treatment based on postcode is discriminatory. It astonishes me that following the NICE guideline is not compulsory. Our fertility journey is one of battles and despair – this system is broken."
Susan Seenan, Chief Executive of leading patient fertility charity Infertility Network UK said: "Reducing IVF provision will have a drastic impact on patients and the health economy. The pain and grief of fertility problems has severe social and economic consequences – leading to depression, social isolation and the breakdown of relationships."
A spokesman for Somerset CCG said it was also reducing the length of time women have to wait to receive IVF treatment. The new rules will come into force from 1 April and be subject to review within two years.
Lucy Watson, Somerset CCG's Director of Quality and Patient Safety, said: "We believe the changes we have agreed to the local IVF eligibility criteria will still enable infertile couples to benefit from IVF treatment whilst reducing the length of time they currently wait to access treatment."
Register for free to continue reading
Registration is a free and easy way to support our truly independent journalism
By registering, you will also enjoy limited access to Premium articles, exclusive newsletters, commenting, and virtual events with our leading journalists
Already have an account? sign in
Register for free to continue reading
Registration is a free and easy way to support our truly independent journalism
By registering, you will also enjoy limited access to Premium articles, exclusive newsletters, commenting, and virtual events with our leading journalists
Already have an account? sign in
Join our new commenting forum
Join thought-provoking conversations, follow other Independent readers and see their replies