Jeremy Hunt calls for national debate about caring for the elderly
Mr Hunt will say that local authority care and the National Health Service cannot alone shoulder the burden of looking after the elderly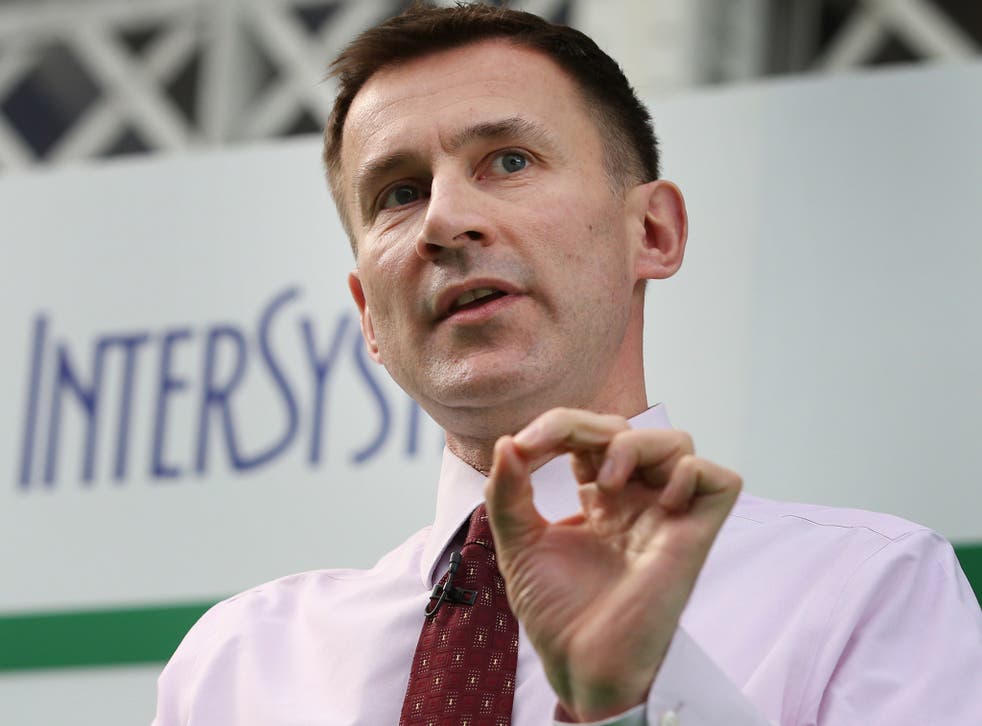 Many people in Britain now lead such "atomised lives" that they do not have "any idea" when their elderly relatives are ill or dying, the Health Secretary, Jeremy Hunt, will warn.
In a stark call for the public to take more responsibility for the care of elderly relatives and neighbours, Mr Hunt will say that local authority care and the National Health Service cannot alone shoulder the burden of looking after the elderly. And he will call for a new "national conversation" about how the elderly are looked after in Britain, compared with those in other countries where multi-generational households are much more common.
In a speech to the Local Government Association's conference in Harrogate, Mr Hunt will point to recent statistics showing that in 2011 there were 2,900 council-funded funerals where no relatives could be traced.
"That is around eight 'lonely funerals' every single day, half of which were for over-65s," he will say. "Are we really saying these people had no living relatives or friends? Or is it something sadder, namely that the busy, atomised lives we increasingly lead mean that too often we have become so distant from blood relatives that we don't have any idea even when they are dying?"
Mr Hunt will cite a case in Edinburgh where police had to break down the door of a top-floor flat because it had been so long since it was opened. Officers had to pick their way through mounds of unopened mail to reach the body of a man who had been left undiscovered in his flat for up to three years.
"In Japan, nearly 30,000 people die alone every year, and they have even coined a word for it, kodokushi, which means 'lonely death'," he will say. "How many lonely deaths do we have in Britain – where a million older people have not spoken to anyone in the past month?"
Mr Hunt will suggest that by the end of this parliament, Britain will have one million more people aged over 70, one third of them living alone. "Yes the health and social care system must do a much better job at looking after them. But so too must all of us as citizens as well," he will add.
The Health Secretary will point to lessons from other countries such as Italy where 39 per cent of elderly people live in multi-generational households, compared with just 16 per cent in the UK. He will also announce that the Government is to develop a new carers' strategy to support existing and new carers. This, he will say, must go hand in hand with a change of attitude so that it becomes "as normal to talk about elderly care with your boss as about childcare".
"Family planning must be as much about care for older generations as planning for younger ones," he will add. "A wholesale repairing of the social contract so that children see their parents giving wonderful care to grandparents – and recognise that in time that will be their responsibility, too."
"By looking at best practice from around UK and the world, it will seek to answer the big question: what do we need to do as a society to support people who are caring now, and crucially, for the millions who will have a caring role in the future?"
Register for free to continue reading
Registration is a free and easy way to support our truly independent journalism
By registering, you will also enjoy limited access to Premium articles, exclusive newsletters, commenting, and virtual events with our leading journalists
Already have an account? sign in
Register for free to continue reading
Registration is a free and easy way to support our truly independent journalism
By registering, you will also enjoy limited access to Premium articles, exclusive newsletters, commenting, and virtual events with our leading journalists
Already have an account? sign in
Join our new commenting forum
Join thought-provoking conversations, follow other Independent readers and see their replies