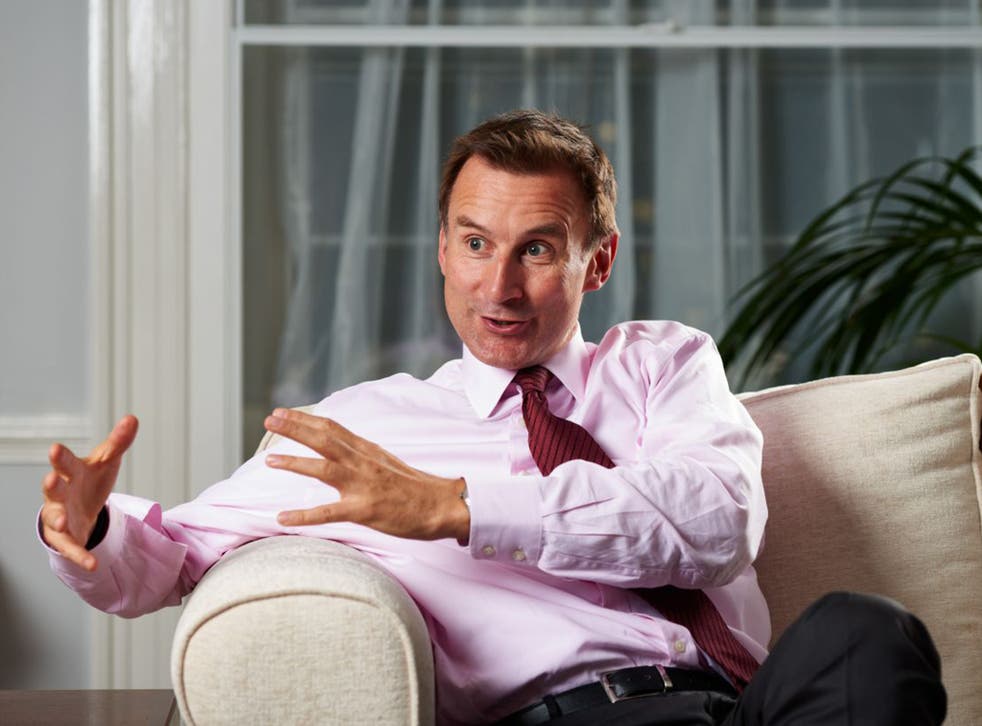 Jeremy Hunt: NHS is facing a 'triple whammy' of pressures the like of which it has never seen before
The Health Secretary is appealing to junior doctors not to stage their first nationwide strike in more than three decades
The NHS is facing a "triple whammy" of pressures, the like of which it has never seen before, Jeremy Hunt will say, as he appeals to junior doctors not to stage their first nationwide strike in more than three decades.
Holding an olive branch to the medical profession, the Health Secretary said that he would work to ensure no junior doctors lost money as a result of new contracts designed to open up the NHS to seven-day working.
The concession is designed to head off a walkout by England's 53,000 house officers and registrars that could cripple NHS services. In an interview with The Independent Mr Hunt also said that:
* He is lobbying to relax draconian restrictions on visas for healthcare staff that could force thousands of foreign nurses to leave the country.
* He will not bow to demands from health charities and the celebrity chef Jamie Oliver to introduce a sugar tax to combat obesity.
* He is not ruling out standing for the leadership of the Conservative Party when David Cameron steps down.
However, Mr Hunt's most pressing concern is the prospect of industrial action by junior doctors over government plans to change their shift patterns to allow the NHS to provide diagnostic services and to carry out operations seven days a week. Critics, including many doctors, argue that the changes, which will mean Saturdays and weekday evenings no longer qualify for 'overtime' payments, will result in a salary reduction.
He attacked the doctors' union, the British Medical Association, for misrepresenting the Government's position and said it was his intention that no one should lose out financially.
Join our new commenting forum
Join thought-provoking conversations, follow other Independent readers and see their replies