Jeremy Hunt 'breaking pledge to increase mental health funding', figures indicate
MP Luciana Berger called for urgent action, warning 'services [are] stretched to breaking point'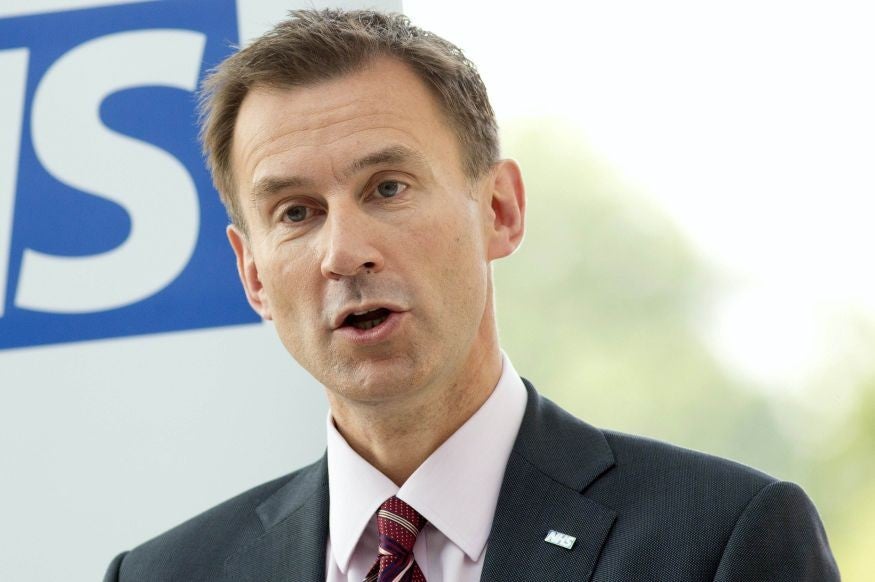 Jeremy Hunt has broken his pledge to increase mental health funding, new figures have suggested.
Data suggests 57 per cent of clinical commissioning groups (CCGs) plan to reduce the proportion of their budget they spend on mental health. The figures, which were obtained by Labour MP Luciana Berger under freedom of information rules, suggest growing pressure on NHS budgets means access to important mental health services could be restricted.
This is despite the Health Secretary's assurances in December that "CCGs are committed to increasing the proportion of their funding that goes into mental health". NHS England's Planning Guidance states that all CCGs must increase their spend on mental health services by at least as much as their overall budget increase. In July of last year, Minister for Care and Support Alistair Burt told parliament the Conservatives were committed to the pledge, saying "that is as transparent as it has ever been, and we will ensure that the standard is maintained".
Ms Berger, President of the Labour Campaign for Mental Health, said: "The Government must urgently step in and prevent a dangerous situation developing. Time and time again Ministers have promised that mental health spending would increase. Yet for the third year in a row this has not happened, with a majority of local areas planning to spend less of their budget on mental health.
"The result is services stretched to breaking point, patients at risk, and proper standards of care being undermined. There are bed shortages, massive waiting lists and cuts to early intervention and community services."
Vicki Nash, Head of Policy and Campaigns at mental health charity Mind, told The Independent: "It's shameful that so many Clinical Commissioning Groups (CCGs) are reducing their mental health spending year after year. We know that budgets are stretched, but it's vital mental health services get their fair share of funding, particularly if the Government is serious about ensuring mental health problems are treated as equally important as physical health ones.
"CCGs have been clearly told to invest in mental health. By ignoring these instructions, they are letting down their local communities. With a renewed focus on transparency and accountability, we want to see mental health data routinely made available to give us a better understanding of what's happening on the ground. In every local area, one in four people will experience a mental health problem this year. CCGs have a huge role to play in helping ensure everyone experiencing a mental health problem gets the help and support they need, when they need it."
Critics have raised concerns NHS funding shortages are resulting in decreased services and access to care. Research released today also suggests breast cancer patients are being denied a "life-saving" treatment costing 43p per day due to an on-going dispute over who is responsible for funding it.
Health news in pictures
Show all 40
Amid growing concerns, the Government released a statement yesterday giving assurances that it remains committed to keeping the NHS free for patients to use via general taxation and dismissing speculation charges for access to care could be introduced.
Claire Murdoch, National Mental Health Director, NHS England told The Independent: "The NHS has laid out very clear plans to help more than a million extra people and invest more than an additional £1bn pounds by 2020/21. In the implementation plan published recently we set out how we would expand staff and services for a range of mental health issues to improve care for everyone.
"Our plans are fully costed and soon, as part of NHS England's commitment to transparency, we will break new ground publishing data on spending locally and patient outcomes using a new dashboard. This will support local discussion about spending, need and priority and we will work closely to support those CCGs struggling to invest appropriately or deliver on significant targets in mental health care."
The Independent has approached the Department of Health for comment.
Join our commenting forum
Join thought-provoking conversations, follow other Independent readers and see their replies