Jeremy Hunt wants a 'smoke-free' Britain
Health Secretary praised by anti-smoking groups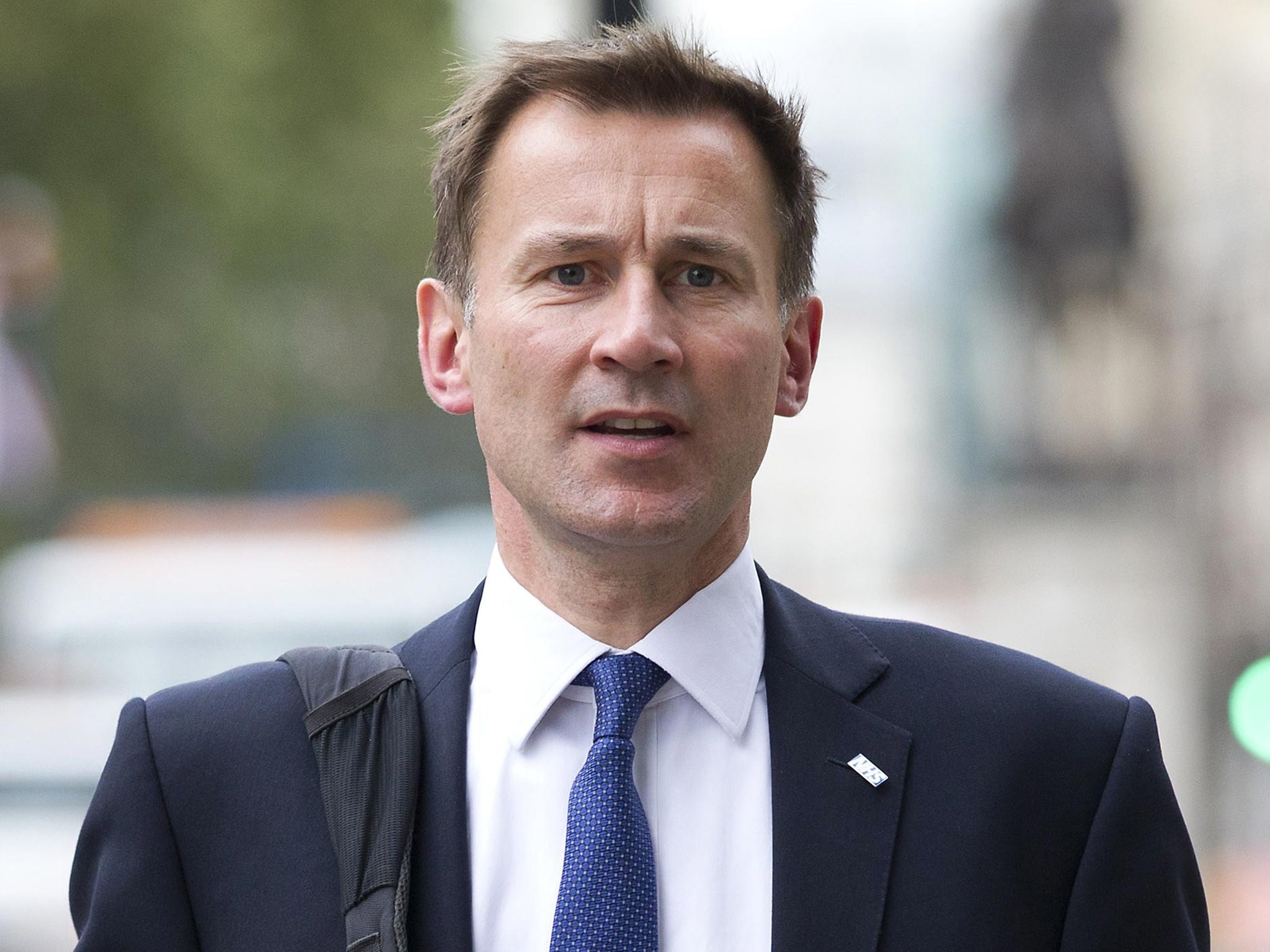 Britain should "aspire" to be a country where nobody smokes, the Health Secretary Jeremy Hunt has said.
Responding to a landmark NHS report, which placed prevention and public health at the heart of a plan to transform the health service in England over the next five years, Mr Hunt said that "remarkable progress" was being made in reducing smoking rates, and agreed with one of his own MPs who suggested Britain could aspire to being "smoke-free".
Smoking is the world's leading cause of preventable deaths. Lung and other cancers, heart problems, strokes and respiratory disorders caused by smoking kill around 100,000 in the UK every year, and treating these conditions costs the NHS billions of pounds.
In their report, NHS England and other leading health organisations said the health service would need radical change and £8bn extra spending over the next five years if it is to carry on providing a quality service to patients.
The health service intends to make huge savings of up to £22bn in that period, largely through changing the way it works to become more efficient, but also by reducing demand on the NHS by tackling public health problems such as obesity, heavy drinking, and smoking.
Asked by Conservative MP Bob Blackman to comment on Labour plans to tax tobacco companies, during a House of Commons debate of the NHS's report yesterday, Mr Hunt revealed that he would like to see Britain one day go entirely "smoke-free".
Mr Blackman said: "We can now aspire to a smoke-free Britain, over the next five years. I would personally like to see the tobacco companies taxed out of all existence. But does it not seem irresponsible to base a future spending plan on the basis of a tax on companies that will cease to exist?"
Mr Hunt replied: "That's a very good point. I actually agree with him, I think we should aspire to a smoke-free Britain. We are making remarkable progress and I think the point this report makes is that we need to integrate our thinking about public health with our thinking about the services that the NHS delivers."
England introduced a ban on smoking in enclosed public spaces in 2007, following similar bans in Scotland, Wales and Northern Ireland, under laws dubbed the "smoke-free" legislation.
A source close to Mr Hunt told The Independent that he did not now want Britain to aspire to ban smoking, but rather to become a country where "no-one chooses to smoke".
Deborah Arnott, chief executive of health charity ASH, said that the aspiration was "excellent".
"To get there will mean spending more money to help people stop smoking, and to persuade young people not to start in the first place," she told The Independent. "The tobacco industry should pay this bill, because it makes vast profits promoting its deadly and addictive product. Achieving a smoke-free Britain will require sustained funding for mass media campaigns, stop smoking services and tougher tobacco regulation at local and regional level as well as the introduction of standardised tobacco packaging."
Join our commenting forum
Join thought-provoking conversations, follow other Independent readers and see their replies