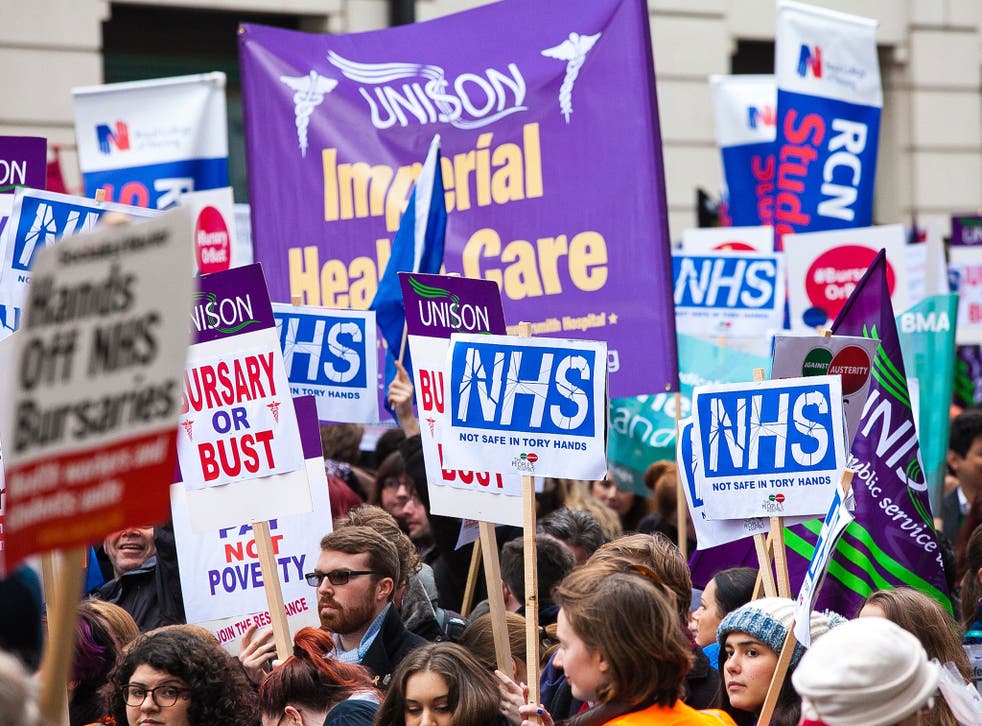 Junior doctors' strike: Two-thirds of public back action as walkout begins
New polling figures come as a blow to Jeremy Hunt, although support for strike that would affect A&E is lower
Two-thirds of the public back the junior doctor strike, new polling has revealed, as walkouts involving thousands of medics commence throughout England.
In a blow for the Health Secretary Jeremy Hunt, 66 per cent of people in an IPSOS Mori poll for the Health Service Journal said they support junior doctors walking out from all but emergency care.
Support for a strike that would also affect A&E and other emergency services – as is planned for next month – is lower, with only 44 per cent backing; but this is still higher than the 39 per cent who said they opposed such action.
Up to 38,000 junior doctors could take part in 24 hour strike action starting at 8am. Pickets will be held at around 100 hospitals throughout England, in the most significant strike by medical staff in 40 years.
A direct plea from the Prime Minister to call off the strike was expected to be ignored, while Labour leader Jeremy Corbyn said he had sent a message of support to junior doctors and warned that many would want to leave the NHS if the dispute with the Government was not resolved.
Meanwhile, medical union the British Medical Association (BMA) and NHS England clashed today over the circumstances in which junior doctors on strike could be called back to work, as it emerged some hospitals experiencing serious winter pressures have already asked junior doctors to be present on all wards tomorrow.
Dr Mark Porter, chair of the BMA, said a letter sent by Professor Sir Bruce Keogh, medical director of NHS England, to all hospitals last week, in which he said hospitals which became very busy could consider re-calling striking doctors, had been interpreted as an eleventh hour attempt to "thwart" industrial action.
Dr Porter claimed the circumstances set out in Sir Bruce's letter were "routine" for some hospitals, and that an agreement had been made in November that only a major external incident such as a serious traffic incident could possibly merit a decision to call back striking doctors.
He said the letter had caused "widespread confusion" and that some hospitals on black alert – meaning that wards are under extreme pressure – "appear to be informing doctors that…junior doctors will be asked to be present on every ward tomorrow".
Sir Bruce, who has already faced calls from junior calls to resign over revelations Whitehall officials 'sexed-up' an official letter to the BMA about the risks that would be posed by a terror attack during the strike, said he was only ensuring hospitals met their legal duties to prepare for emergencies.
He wrote back to Dr Porter: "For the avoidance of doubt, I wish to be very clear, it is not my intention to undermine the legitimacy of industrial action but rather to ensure arrangements are in place where local NHS organisations have plans agreed with the local BMA to ensure patients remain safe if circumstances change."
Nearly 4,000 elective procedures will be cancelled as a result of Tuesday's strike action.
Anne Rainsberry, NHS England's director overseeing preparations for the strike, said "robust plans" were in place to ensure patients would still receive any emergency treatment they would need.
"We will monitor the situation across the country to ensure these plans are in place, and are ready to respond to any significant increases in pressure in any region over the course of this dispute," she said.
In a last-ditch plea to junior doctors, David Cameron said there was "always more than can be discussed" in negotiations.
"This strike is not necessary, it will be damaging," he said. "We will do everything we can to mitigate its effects but you cannot have a strike on this scale in our NHS without real difficulties for patients and potentially worse," he said.
The new contract would see a cut to out-of-hours pay, in return for an 11 per cent basic pay increase. Junior doctors fear they will end up working more hours, for less, and are also concerned the contract will water down safeguards that prevent them working excessive hours.
Labour leader Jeremy Corbyn said the fact a strike had been avoided by the Scottish and Welsh administrations demonstrated that the Government had mishandled negotiations in England.
"These junior doctors are needed for the NHS," he told BBC Radio 4's Today programme. "How many are going to leave and go somewhere else because they get so fed up with they've been treated by this Government?"
A Department of Health spokesperson said: "Thousands of patients will feel the impact of strike action - and it's clear that withdrawing emergency care is an extremely worrying prospect for the public.
"Polling shows that 8 out of 10 people think the NHS should provide the same standard of service to patients across the week — our central priority with these changes. Striking helps no-one and we remain hopeful that we can reach agreement to avoid further impact on services."
Join our new commenting forum
Join thought-provoking conversations, follow other Independent readers and see their replies