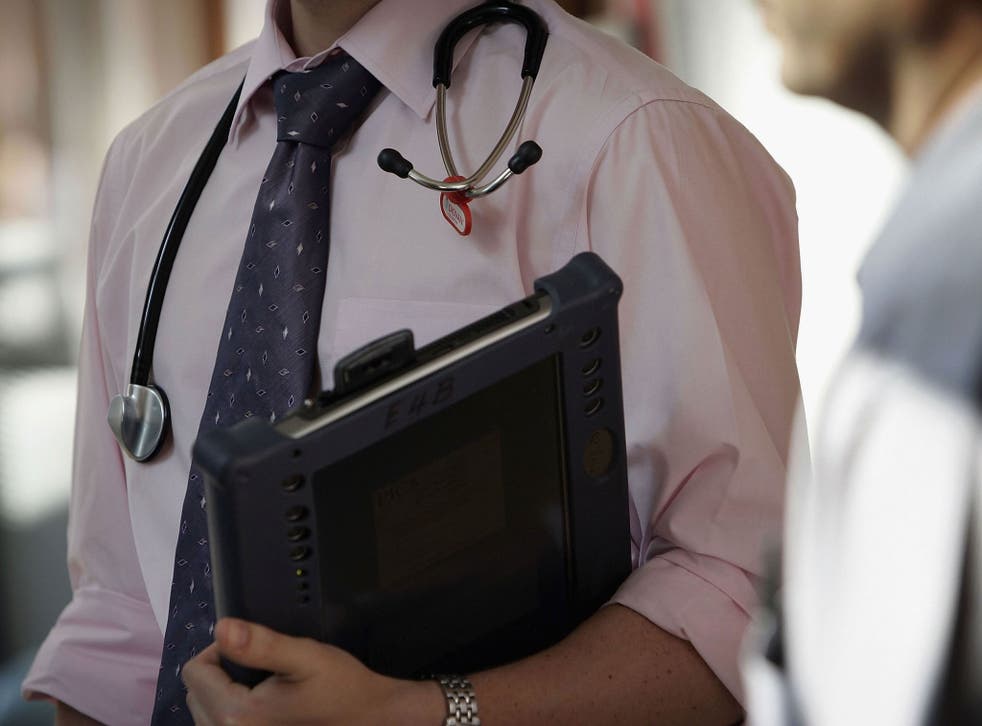 Junior doctors threaten strike action in revolt over new contract plans
There are fears the Government proposals could reduce take-home pay
Charlie Cooper
Friday 18 September 2015 20:39 Comments
Junior doctors are considering industrial action if the Government pursues plans to impose a new contract on the profession.
The new contracts, which some fear could reduce take-home pay, have sparked an unprecedented revolt among young doctors. Hundreds have contacted the British Medical Association over the past 48 hours to urge resistance to the Government's plans. Dr Kitty Mohan, co-chair of the BMA's Junior Doctors Committee, told The Independent that juniors felt "palpable anger and frustration" over the proposed new contract, which would see them lose the right to out-of-hours pay for working Saturdays and weekday evenings.
A petition calling on the BMA to support strike action had attracted more than 30,000 supporters by this afternoon.
NHS Employers, the body negotiating the contract on behalf of the Government, now plans to meet directly with junior doctors in open meetings at 11 locations in England over the next two months, after the BMA this week refused to return to negotiations over the new contract.
Dr Mohan said a meeting of the Junior Doctors Committee next week would take into account widespread support for industrial action. "The terms of what we were being asked to discuss were not acceptable," she said.
"We were being asked to tinker around the edges of a contract that is already being imposed on us. We will do everything we possibly can in order to resist imposition. That includes every single tool that we have. As a trade union that is up to and including industrial action. That isn't something anyone takes lightly."
The union has deep concerns over junior doctors' working hours, patient safety and pay. The new contract proposals include a change to the definition of standard working time from 7am till 7pm Monday to Friday, to 7am till 10pm Monday to Saturday. Doctors working outside standard time are entitled to an out-of-hours pay premium, and there are fears the new terms could lead to a pay cut for many.
Pay structures that impose a high salary cost on hospitals that work doctors beyond their ordinary contract hours are also under threat, the union says. The Government and NHS Employers point out that doctors will still be protected by the European Working Time directive, and should not work more than 48 hours a week on average. But Dr Mohan said that such a system would leave hospitals with no disincentive to over-work juniors, placing them at risk of burnout.
"People can say that if doctors take industrial action there can be problems regarding patient safety," she said. "But these contract changes run the risk of destabilising our service, our NHS and the junior doctor population to such an extent that there is a far wider patient safety issue here that needs to be mitigated against."
The Government has said that doctors' basic salary will increase and there will be no cost-saving from the plans. But it is not clear how individual salaries will be affected and many doctors fear adjustments to out-of-hours payment could contribute to pay cuts of between 15 and 30 per cent.
If doctors are balloted for industrial action, it could pave the way for the first medical strike since 2012, when an estimated 8 per cent of doctors took part in a 24-hour action over pensions.
Negotiations over the consultant contract, which stalled over plans for reform of seven-day working in the NHS, resumed this week after the Government clarified that the reforms would be focused on urgent and emergency care, not routine procedures.
A Department of Health spokesman said: "We are disappointed that the BMA Junior Doctors Committee has let down its members and decided against re-entering negotiations, especially in light of the consultants' agreement to negotiate. There is independent support for an updated contract that puts patients first, increases basic pay and rewards those who work across all clinical specialities."
Junior Doctors
Dr Jemma Theivendran, Surbiton
I'm signing [the petition] because medicine is a vocation but how much are we expected to give up? How is Saturday night equivalent to Tuesday morning? How is it that I trained for six years at med school, accruing six years' worth of loans and six years into my career I have little left to scrape together for a deposit on a house?
Dr William Seligman, 25, Bristol
There's a limit to how much junior doctors are willing to take. I love my job but I get home after caring for increasingly complex patients in an environment in which we are already over-worked and under-resourced, to find yet another attack on doctors in my newspaper. I can count on one hand the number of colleagues at medical school who are applying to continue their training in the UK next year.
Register for free to continue reading
Registration is a free and easy way to support our truly independent journalism
By registering, you will also enjoy limited access to Premium articles, exclusive newsletters, commenting, and virtual events with our leading journalists
Already have an account? sign in
Join our new commenting forum
Join thought-provoking conversations, follow other Independent readers and see their replies