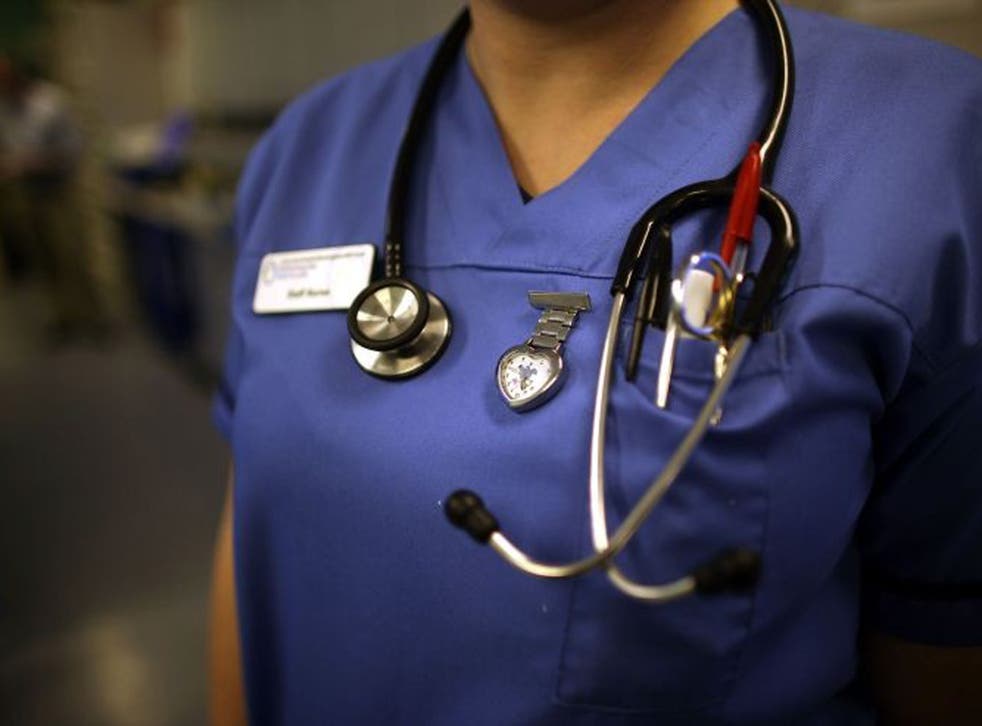 Kings Mill Hospital: Nurses in tears as 'horrendous' understaffing hits patients, says watchdog
Figures reveal 5,500 nursing posts have been cut since Coalition came into office
Nurses were reduced to tears by their workload at a Nottinghamshire hospital where understaffing contributed to patients being left hungry and dehydrated, the NHS watchdog has reported.
The Care Quality Commission demanded action over "horrendous" understaffing at the Kings Mill Hospital in Sutton-in-Ashfield.
Their report came as new figures revealed that 5,500 nursing posts have now been cut since the Coalition came into office, increasing pressure on the health secretary Jeremy Hunt to act on repeated warnings over under-staffing.
Frontline staff at Kings Mill Hospital, part of the Sherwood Forest Hospitals NHS Foundation Trust, told CQC inspectors that they were concerned low numbers of nurses and poor senior doctor cover were harming patient safety. One staff member said: "We cannot go on, it's terrible, nurses are crying because it's so bad on here."
Andy Burnham, the Labour shadow health secretary, who this week committed his party to "safe staffing levels" at all hospitals, said the report "echoes concerns at the majority of NHS hospitals."
The trust is already in special measures and was one of the 14 inspected by Sir Bruce Keogh's team, which investigated hospitals with high mortality rates earlier this year. Sir Bruce's report, which reported "significant concerns" over staffing levels at Kings Mill and several other hospitals, was followed by further CQC inspections in July.
Reporting this week, the watchdog said the trust was failing on all but three of eight national standards for quality and safety. Patients' nutritional needs were often not met and one patient's diet risk assessment went unchanged despite the fact they had not eaten for two days. Inspectors also uncovered several examples of patients' fluid intake not being properly monitored.
Although many patients reported that they trusted staff and received good care, inspectors said that the hospital did not have "enough qualified, skilled and experienced staff to meet people's needs." One patient said that staffing levels were "abysmal" and a member of said the situation could be "horrendous at times".
The hospital's elderly care ward fell well below national guidelines on safe nurse to patient ratios. The Royal College of Nursing (RCN) says that one nurse to seven patients is the minimum safe level on wards for older people, but inspectors found Kings Mill operating with one nurse for eight patients during the day and one nurse for 12 at night.
The Trust said it was now "actively recruiting nursing and medical staff" and was re-training staff across the trust in fluid management for patients.
Job cuts and increasing workloads have plunged the nursing profession into one of its worst crises in recent times, with growing concerns over patient safety. An RCN report published on Monday is expected to reveal the unprecedented strain that excessive workloads are placing on care staff.
Dr Peter Carter, chief executive and general secretary of the RCN said: "When staffing levels are low, patient care and safety can be compromised. This has been endorsed by Sir Bruce Keogh's recent report, which found that the common denominator of the 14 Trusts he looked at was low staffing levels, particularly when combined with staff of the wrong grades and an over-reliance on unqualified and agency staff.
Mr Hunt has so far resisted calls to introduce minimum staffing levels, but has acknowledged that some hospitals are not adequately staffing their wards. He has backed a recent review which recommended that the National Institute for Health and Care Excellence (NICE) should determine "a national formula" for minimum safe staffing levels.
However, Mr Burnham said that the Government was ignoring warnings over under-staffing. "As the winter approaches, David Cameron must ensure hospitals have enough staff to cope," he said.
Register for free to continue reading
Registration is a free and easy way to support our truly independent journalism
By registering, you will also enjoy limited access to Premium articles, exclusive newsletters, commenting, and virtual events with our leading journalists
Already have an account? sign in
Register for free to continue reading
Registration is a free and easy way to support our truly independent journalism
By registering, you will also enjoy limited access to Premium articles, exclusive newsletters, commenting, and virtual events with our leading journalists
Already have an account? sign in
Join our new commenting forum
Join thought-provoking conversations, follow other Independent readers and see their replies