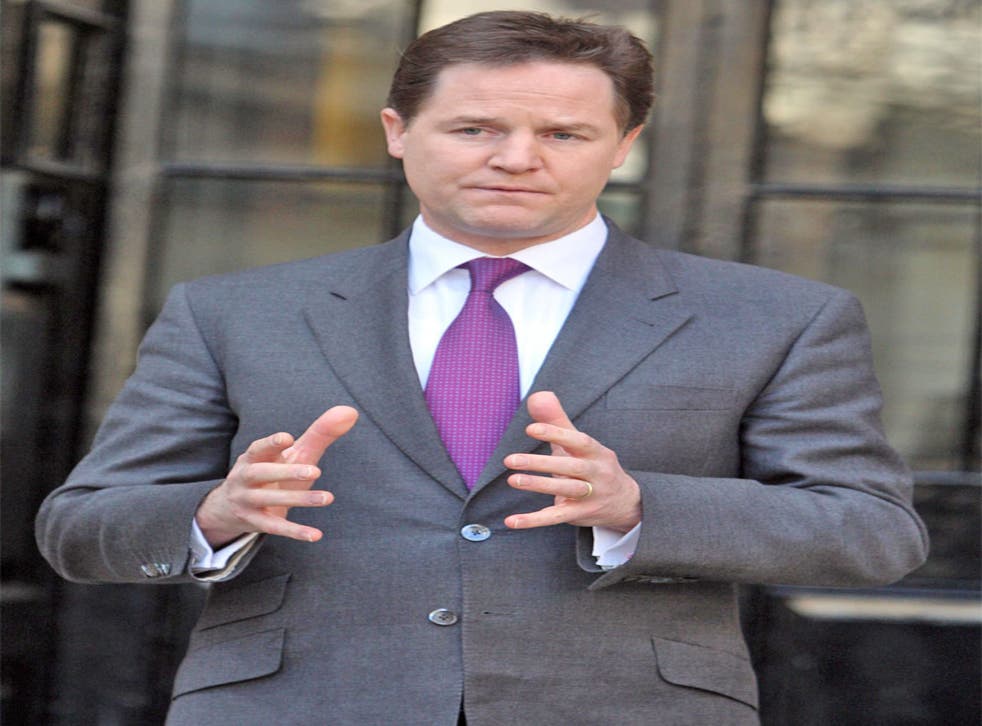 Lib Dems hope to finally kill health reforms
Emergency motion to be tabled at conference despite concessions gained by Nick Clegg
Liberal Democrat activists will defy Nick Clegg over the Government's controversial health reforms by seeking to "kill" them at a party policy-making conference next week.
Rebel party members are not satisfied with the concessions won by the Deputy Prime Minister as the Health and Social Care Bill completes its troubled passage through Parliament. Mr Clegg had hoped that his latest intervention would allay fears that injecting more competition into the NHS could lead to "back-door privatisation."
But prominent activists vowed yesterday to press ahead with plans to table a hostile emergency motion about the Bill at the Lib Dem spring conference in Gateshead. If it were passed, it would put Mr Clegg in a difficult position. He could come under enormous pressure to withdraw his backing from the Bill, a move which could scupper it. If he continued to back it, he would be ignoring his own party's official policy.
Unlike the two other parties, the Lib Dems have a democratic policy-making process which puts the members in the driving seat. Accused by Ed Miliband yesterday of sitting on the fence over the Bill, Mr Clegg told him in the Commons: "I support it."
The Lib Dem leader's last-minute changes include insulating the NHS from the full force of competition law to prevent private takeovers of hospitals;reducing the remit of the Competition Commission; requiring hospital foundation trusts to put patients' interests first and get permission from their governors before carrying out extra private work and forcing care commissioning groups to declare financial interests.
Although David Cameron has agreed to Mr Clegg's demands, some Lib Dem activists still fear the Bill will be "political suicide" and as damaging for their party as its spectacular U-turn over university tuition fees.
David Hall-Matthews, chairman of the left of centre Social Liberal Forum, said the group would continue to call for increased competition to be removed from the measure. "We would rather see the Bill withdrawn than passed in its current form," he said.
Charles West, a GP and chairman of Shrewsbury Lib Dems, said Mr Clegg's changes were "too little, too late" and would not prevent the "privatisation and fragmentation" of the NHS. He said: "We need a co-ordinated, collaborative, planned service. The idea of relying on the market will just not work... We support our leaders... but they do need to listen to the members."
Lord Greaves, a Lib Dem peer, said: "Politically it is a disaster which is why the Lib Dems should have forced Cameron to drop it – and [Health Secretary Andrew] Lansley with it. I fear that Lib Dems will get the worst of all worlds – all the hard work and none of the credit. Indeed, all the blame when things go wrong."
Join our new commenting forum
Join thought-provoking conversations, follow other Independent readers and see their replies