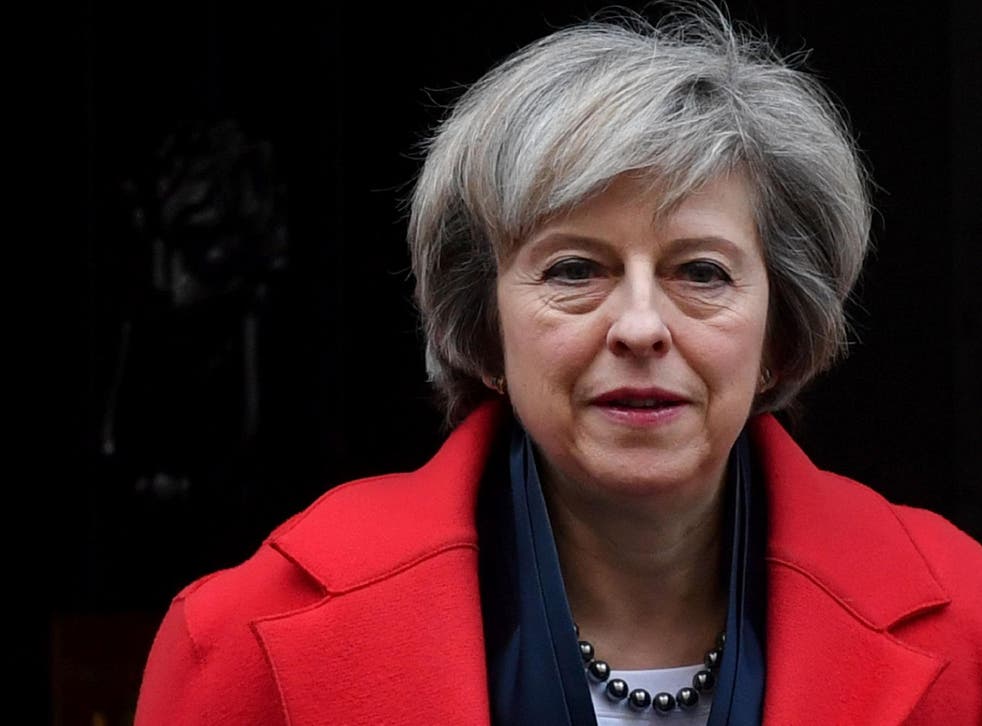 2 charts that show what has happened to mental health under the Conservatives
 Number of young people arriving in A&E with psychiatric problems has doubled since 2009 but mental health services have faced £538million annual cuts
Theresa May has pledged new initiatives to end "stigma" around mental health and encourage schools and employers to provide mental health support.
Ms May placed a focus on the mental health crisis among young people, saying: "Mental illness too often starts in childhood and, when left untreated, can blight lives and become entrenched".
But in the absence of genuine funding commitments, the Prime Minister faces charges of hypocrisy from disability rights campaigners.
Rates of depression and anxiety among teenagers have increased by 70 per cent in the last 25 years. Almost 19,000 teenagers were admitted to hospital for self-harm in 2015/16, an increase of 14 per cent since 2013/4 and 68 per cent across the last decade.
According to an NSPCC survey of professionals in 2015, longer waiting lists, reductions in spending and higher thresholds for therapy have made it harder for affected children to access vital therapeutic services.
The number of young people arriving in A&E with psychiatric problems has doubled since 2009, and the number admitted to hospital with eating disorders has risen by almost the same amount in the past three years. In a 2016 survey, 93 per cent of teachers reported seeing increased rates of mental illness among children and teenagers and 90 per cent thought the issues were getting more severe.
A green paper will be published later this year addressing young people's mental health, but Ms May is not putting up any additional funding to combat this explosion.
The same trends are repeated across wider society. In 2016, 19.7 per cent of British people reported experiencing symptoms depression or anxiety, up from 18.3 per cent the previous year. Directly comparable statistics from longer ago aren't available, but in 2007 prevalence within a given week was at 9 per cent.
And Theresa May has been accused of hypocrisy by mental health campaigners for not doing enough to address the root causes of problems faced by disabled and mentally ill people.
"The Tories have done incredible work in changing social attitudes around mental health," Andy Greene of Disabled People Against Cuts told the Independent. "They're instrumental in the rising hate crime disabled people are facing, by driving the divide between deserving and undeserving, between scroungers and shirkers."
Theresa May dodges question on 'theft' of child mental health funding
"It's easy to talk the talk, but the reality is things are only becoming more desperate. Disabled people's lived experience is shrinking lives, isolation and a lack of support."
Between 2010 and 2015, mental health trusts suffered real terms cuts of 8.25%, losing the equivalent of £598 million from their budgets each year. David Cameron's much-trumpeted £1billion injection into mental health services is insufficient to plug this gap, while Ms May's new package offers only £15million in additional funding for crisis cafes and community clinics.
Meanwhile, despite government assurances mental health services would receive equal treatment to physical health, 40% of NHS trusts saw cuts to mental health services across 2015-2016.
Mental Health Awareness: Facts and figures

Show all 10
It has also been revealed that the number of qualified nurses working in psychiatry dropped by 10.8% from 41,320 in 2010 to 36,870 in 2015, following a parliamentary question. At one point in 2014, there were no mental health beds available for adults in the whole of England, while an NSPCC survey published in October 2015 found that more than a fifth of children referred to child and adolescent mental health services (CAMHS) in England were refused treatment.
A spokesperson for Psychologists Against Austerity said: "Addressing mental health is not just about ensuring more 'treatment' is available and stigma is reduced, although they are important. It is fundamentally also about the evidence that ideological economic policies, like the continued austerity programme, have hit the most vulnerable the hardest and have been toxic for mental health."
Iain Duncan Smith's tougher fit-to-work tests for sick and disabled people coincided with 590 "additional" suicides, 279,000 cases of mental illness and 725,000 more prescriptions for antidepressants – and one mental health charity found that 21 per cent of their patients had experienced suicidal thoughts due to the stress of the Work Capability Assessments.
"100 people a day with a mental health diagnosis are sanctioned by the DWP," added Mr Greene of DPAC. "These people are going without food, without heat, without energy in their homes. [Ms May's speech] is words upon air. It means nothing."
Join our new commenting forum
Join thought-provoking conversations, follow other Independent readers and see their replies