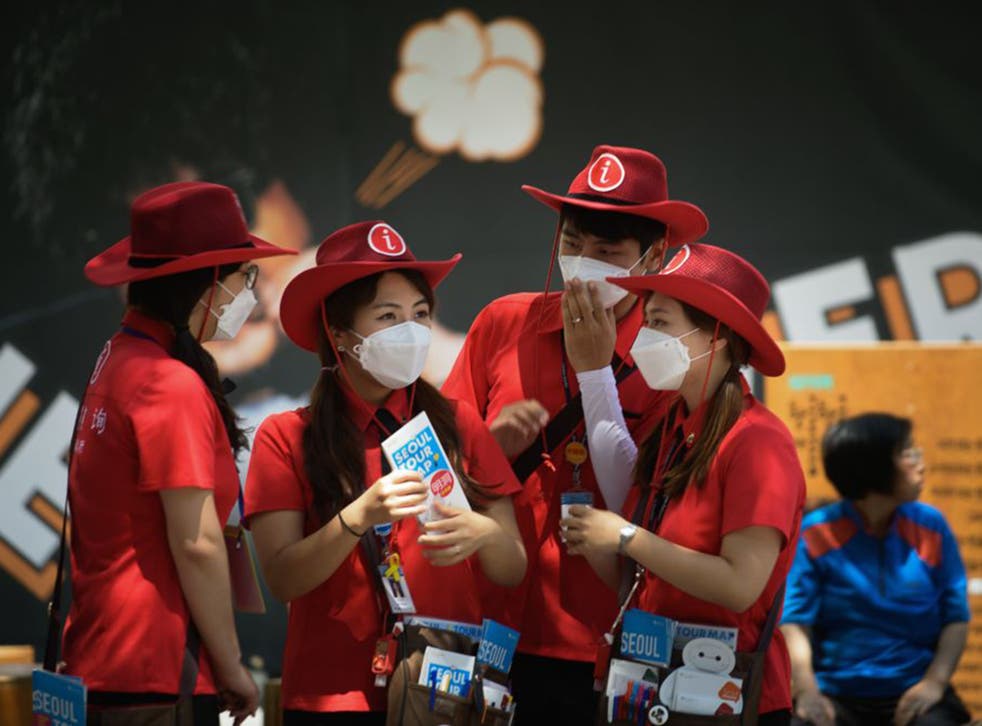 Mers: Outbreak of virus with no known cure and mortality rate of 40% spreads panic in South Korea amid fears it may have mutated
The incurable Middle East Respiratory Syndrome has already claimed three lives and is evoking painful memories of Sars. Now questions are being raised about the government's response
The schools, several hundred of them, suspended classes. The commuters on Seoul's crowded trains wore face masks and passenger jets were searched for cases of a disease for which there is no known cure.
As new cases of the Middle East Respiratory Syndrome (Mers) fuelled fears in Seoul with 36 cases confirmed so far, many Koreans blamed the government for not acting fast enough to contain a disease that mutated from camels and was first diagnosed among people in Saudi Arabia three years ago.
The virus evoked memories of the Severe Acute Respiratory Syndrome (Sars), that killed hundreds of people 12 years ago. Although less infectious than Sars, Mers is viewed as more likely to prove fatal.
"Nobody is telling us anything," said Chang Sung-eun, an office worker who was wearing a face mask as she returned home. "Nobody knows what to do." Panic spread as more than 1,100 schools were closed two weeks after the first case was diagnosed in a 68-year-old man returning from the Middle East, where he had been working for a company selling agricultural products in Saudi Arabia, Qatar and the United Arab Emirates. He has survived so far after having first sought treatment for the telltale cough and high temperature that is the first sign of the illness, but three other Koreans have died of the disease.
Concern in Seoul is driven by the knowledge that Mers has a mortality rate of 40 per cent among nearly 1,200 stricken with the disease in 20 countries, mostly in Saudi Arabia and other Middle Eastern countries.
"The problem is no one knows really what is causing this disease or how to treat it," said one medical worker as a doctor treating patients was suspected of having been infected with the virus. The doctor, transferred to a hospital designated for those who may have the virus, is among 1,600 people placed in isolation pending results of medical tests.
Also among those feared to have caught the disease was a Korean air force chief master sergeant, placed under quarantine at Osan Air Base south of Seoul. The fear was the disease might spread among both Korean and US forces at the base, which is the regional headquarters of the US Seventh Air Force.
In pictures: Yorkshire bird flu outbreak

Show all 7
An official at the Korea Centres for Disease Control and Prevention told Yonhap, the Korean news agency, that a "number of soldiers suspected to have contracted the disease" had been placed in isolation "to prevent its spread by minimising other contacts with those we suspect are infected".
Fear of the unknown adds to the anxiety. "There is no treatment for Mers," Hakim Djaballah, chief executive of Institut Pasteur Korea, said in an interview with The Korea Times. "Since it is relatively a new virus, little drug discovery research has been done on it." Anger and frustration has mounted among Koreans with the realisation that the disease has spread more rapidly in South Korea than in any other country outside the Middle East.
Dr John Linton, who is in charge of a clinic for foreign patients at Seoul's Severance Hospital, said one reason for the spread of the disease was that relatives of patients in Korea often stay in the same hospital rooms with them offering solace and assistance.
The questions Koreans are asking is why the government was not prepared to deal with it and what to do now to nip it before it assumes epidemic proportions. Mr Djaballah called on the Korean health ministry to conduct tests to determine if the disease was the same as that diagnosed in Saudi Arabia or if it had mutated into a somewhat different form.
"I suspect that the virus has adapted here," Mr Djaballah said. "Spread is very unusual and the level of contagion is very high." It was important, he said, to "have the information on patient zero" – the first Korean to contract the disease – to see if it was "propagating randomly or through specific people related to patient zero and hospital care givers".
Dr Leo Poon, at the University of Hong Kong, said transmission of the disease among humans was very rare. "We found little transmission in humans," he said. "We know there is human-to-human transmission, but it's not sustainable."
But as the disease shows signs of spreading, the World Health Organisation (WHO) planned to send a team of epidemiologists to Korea to check on possible mutation of the original Mers virus and recommend what to do to halt its spread. The WHO sought to tamp down growing fears, declaring there was "no evidence of sustained transmission in the community".
That assessment did nothing to relieve the fears among tourists who had already booked trips to South Korea. The Korean National Tourist Organization (KNTO) reported 7,000 cancellations by tourists from China and Taiwan. A KNTO official said Mers was the reason for the mass cancellations.
Join our new commenting forum
Join thought-provoking conversations, follow other Independent readers and see their replies