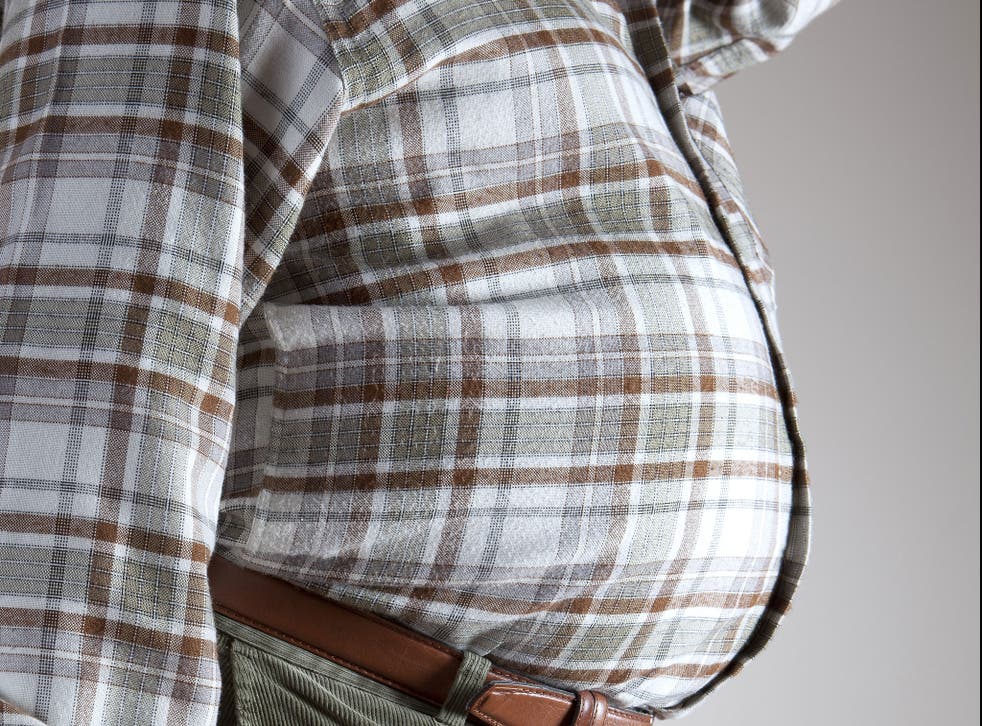 Move over, ladies: Fat is no longer a feminist issue
Many British males are too heavy for their own good. But they are starting to take action
The Great British male, it seems, is fed up with being quite so, well, great. Slimming clubs across the UK have seen a stampede of tens of thousands of overweight men seeking membership over the past three years, new figures reveal.
Two of the leading slimming clubs record a big jump in the number of blokes desperate to shed their excess pounds. WeightWatchers has experienced a massive 104 per cent rise in men signing up for their online programme since 2010; and, after the MasterChef star Gregg Wallace was announced as the company's new face last November the numbers have risen even further, by 44 per cent.
Fat, it would appear, is no longer a feminist issue.
Slimming World also reports a rise in male membership. In January 2010, around 44,000 men had signed up to the weekly sessions, but by last month that figure had doubled to 88,000. Sue Giblin, who runs Slimming World groups in North Ferriby and Brough in east Yorkshire, says that, over the past five years, male slimmers have gone from being a rarity to a quarter of her members.
Mrs Giblin said: "We used to get the odd male but now it's the norm. So when men walk through the door and there's three or four other men there they say, 'phew, I'm not going to be in a room full of women'.
"I think they're joining because they're becoming more aware of their health and because they realise they can still have their curry, chips and rice, but they just have to cook it a different way. They can have their fish and chips on a Friday night, but they say I have Slimming World chips and I cook my fish in the oven in a parcel rather than battering it. They're also willing to try new things. They may never have had sweet potato, courgettes or celeriac before but they're eating them now."
Danny Platten, 33, who has been attending one of Mrs Giblin's Slimming World groups for the past five months, admitted it was "daunting" walking into his first session, but said it's since changed his life. The father-of-three said he was a serial snacker with a weakness for fattening pastries. "I could eat three or four sausage rolls in one go. I was 23st 6lb [148.8kg] when I joined and this week I'm four pounds away from losing five stone.
"I was a bit nervous about going initially, because you think it's a woman's world and you consider yourself a big tough man. But the group members become your friends in no time. I can do things now that I haven't been able to do for the past 11 years. I can run, go to the gym and I can play with my kids as well."
James Stubbs, an obesity research specialist from Slimming World, said there were two main explanations for the growing numbers of men at slimming classes.
"First, men are much more concerned about their own looks now than they were, historically, with the rise of men's magazines and fashion," he said. "If you look back to the 1950s, it was almost taboo for a man to be concerned with his appearance."
Dr Stubbs said the other critical issue was obesity, which he said has become so prevalent that men are now more willing to deal with it.
The latest Department of Health figures show that the number of men in the UK regarded as having a healthy weight dropped from 41 per cent in 1993 to 30.9 per cent in 2010. Official statistics also reveal that currently more than 60 per cent of adults in Britain are classed as overweight or obese.
"It's a problem many of us are living with now, so, in the same way that it's become acceptable to give up smoking, it's become acceptable for men to lose weight," Dr Stubbs said. "If they go down the pub and say, 'I'm trying to lose weight', they don't get the ribbing they used to."
Zoe Hellman, head of public health for WeightWatchers UK and Europe, agreed that health worries were a major reason why more men are taking the slimming club route.
"If they've spoken to their doctor and they are told, 'you're at risk of having a stroke or heart attack', that is a huge motivator for men," she explained.
"We see men coming into our meetings who are highly motivated, not because they have a beer belly, but because they know they need to do something about it so they can be around for their kids."
But Ms Hellman believes men are particularly attracted to following the WeightWatchers programme online because they find this less intimidating than physically attending a session.
Paradoxically, while slimming clubs may still be relatively new territory for men, male slimmers are already outdoing their female counterparts.
Research by Slimming World, published in 2005, found that, over 12 weeks, 91 per cent of men on their regime lost 5 per cent of their body weight, while only 53 per cent of women achieved this loss in the same period.
The data also showed that after 12 weeks the average weight loss among women was 15lb (6.8kg), whereas men lost 23.5lb (10.7kg).
Dr Stubbs said: "When they get down to it, men tend to be very successful because they are much more problem- and solution-focused, so they are able to pick those solutions up and run with them.
"Men are also a bit more competitive when they solve problems, and that can help them.
"The other thing is that weight problems are emotionally complex because you're dealing with issues of guilt and the stigma of being overweight. This may be a gross generalisation, but men seem to manage this slightly better than women because they appear to be a little more mechanical on that side."
Case study: 'I would see people I hadn't seen for months and some didn't recognise me'
After moving to London in 1998, photographer Richard Parsons, now 45, piled into partying and drinking and piled on the weight. At his heaviest, he was 18st, but, as he approached 40, he decided to do something...
"There was a picture of me on a hot summer's day wearing a white T-shirt and shorts, and my daughter was standing beside me, and I looked massive. I just didn't like what I saw, basically."
"WeightWatchers was the easiest option because of the online side. I was not interested in doing meetings; and it wasn't a quick fix where you cut out everything, then end up having terrible stomach trouble. I lost three stone over 10 months. Later, I would see people I hadn't seen for months and some didn't even recognise me."
Sanchez Manning
Join our new commenting forum
Join thought-provoking conversations, follow other Independent readers and see their replies