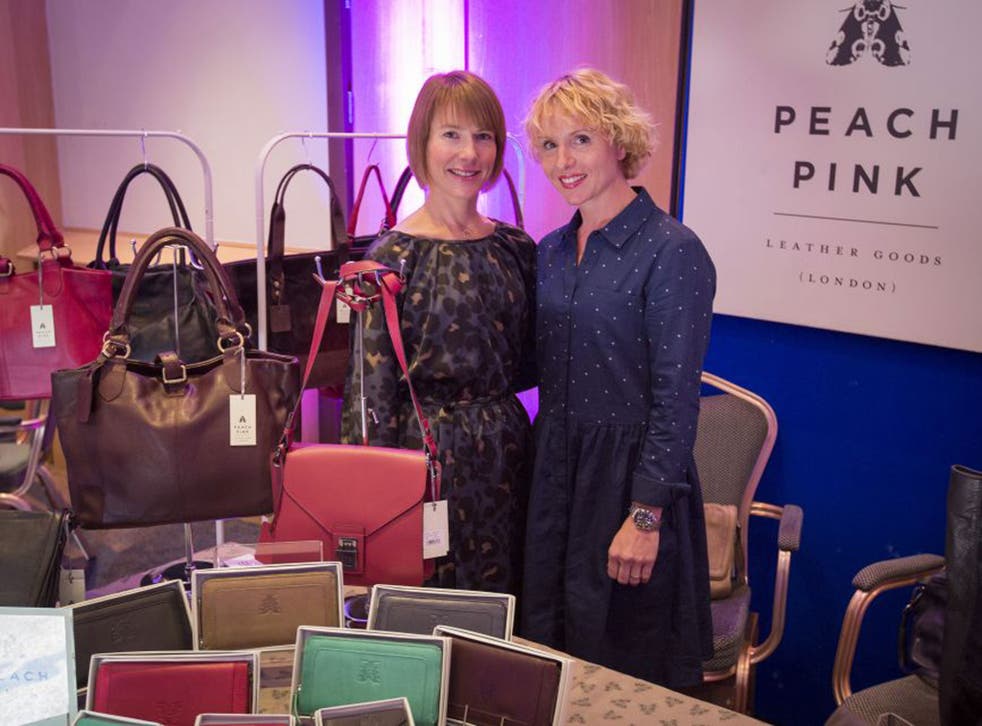 Mums do the business: The number of female entrepreneurs who juggle work and looking after their children is growing fast
Sarah Morrison meets some of those nominated for a new award
Sarah Morrison
Saturday 28 September 2013 20:54 Comments
It's like Marmite. Some businesswomen love being described as a "mumpreneur" – revelling in the fact that they combine running a business with looking after their children. Others hate it, and complain that it is patronising and unprofessional. So be careful where you use it.
Yet, opinions aside, the label is not going anywhere. There is now a Mumpreneur Conference & Awards, Mumpreneur blog, Mumpreneur magazine and even an online Mumpreneur Directory. The term appeared in the Collins English Dictionary two years ago.
It has not come from nowhere. The number of self-employed women is rising at nearly three times the rate of men. There are now more than 1.2 million self-employed women in full- and part-time work. The number of female entrepreneurs has increased by 9.6 per cent during the past two years, compared with a 3.3 per cent rise for men, according to the Office for National Statistics.
Of these, an estimated 300,000 are mumpreneurs, according to Mumpreneurs UK, contributing £7.4bn to the economy each year. The support network found that almost 90 per cent of mums would like to start their own enterprise.
But is the term condescending? Businessmen with children are rarely referred to as "dadpreneurs" and as "entrepreneur" is unisex why the need for the extra label? Hazel Cushion, who juggles running two publishing companies with raising triplets, said that she felt the term was a "bit patronising" but added: "Maybe it makes it more accessible. If you're like me and you have an ungraded maths O-level, you might think you're not qualified to be an entrepreneur. But I am a mum. Anything that gives women confidence and connects them is a good thing." Another businesswoman described the label as "empowering".
Laura Rigney, managing director of Mumpreneur UK and mother of three boys aged between six and nine, said the term simply recognises the extra challenges a self-employed mother faced. "For these female entrepreneurs, their businesses are run and structured around their children. It can be very draining and the busiest time is often at night once the children have gone to sleep. It's about providing a support network for those women and giving them the recognition for what they do."
More than 2,000 women were nominated for this year's awards, held yesterday in Birmingham, a sixfold increase since the first ceremony was held. We spoke to some of them.
Jessamine Hislop-Newton
Aged 30, from Wiltshire, she has five children, from five months to 12 years old. She founded Little Pickles Markets three years ago, charging people £10 to sell nearly new children's items at her indoor markets. It employs 18 staff, operates in seven counties and holds around 25 markets a month.
"I had been a teenage mum and felt written off. I wanted to show people that I was more than that. I had so much children's stuff, and car boot sales or eBay didn't work for me: too many early starts or having to run off to the post office. I thought there had to be a better way. With five children, you have to be flexible – someone is always ill. Now I have three days a week of childcare and work from the dining-room table at home. It's given me more confidence – I basically support the kids on my own."
Vanessa Pinkney
Aged 41, from Bedford, Vanessa is one half of Peach Pink, creators of luxury leather bags. The former retail buyer for Arcadia has two children under seven. Her business partner, Helen Peachey, a former Harrods buyer, has twin daughters. Their bags are now stocked in a number of stores.
"We both knew a buying life wasn't flexible around having kids, so we set up our own business supplying handbags. Last year, we started designing and producing our own brand. I embrace the term 'mumpreneur'. The whole point of doing business was setting it up around the children. I can email factories in the morning, Skype while the kids are at school, and make sure I'm back to pick them up from school. If I had a proper nine-to-five job, I would have had to put them in after-school care. I work in my kitchen, my own little empire."
Winner Best Start-Up
Hazel Cushion
Aged 51, she lives in Cardiff with her 17-year-old triplets, Julia, Richard and Felicity. She set up her own publishing company, Accent Press, 10 years ago, after years of working in different careers around the world. Then, four years later, she set up Xcite Books, which is now the UK's largest publisher of erotic romance.
"Setting up my own business gave me enormous self-belief. And I think it's really helped the children. Two are applying to Cambridge university and one to Exeter; they are so switched on, in a way that I wasn't. It's given me many rewards: the freedom to run my life in a way that can be flexible around my children – and I have been invited to Buckingham Palace to meet the Queen."
Denise Armer
Aged 42, from North Lancashire, Denise co-founded Unique Kidz and Co four years ago with Jane Halpin. Both women have children with disabilities. Their organisation now provides childcare for 140 children with disabilities. Ofsted rated the care as "outstanding".
"When my son was diagnosed with autism, my world sort of fell apart. I wanted to go back to work, but there was no specialist children's care to meet his needs. Then Jane heard that the council were offering grants for childcare. Unique Kidz helps parents continue working and enables them to go back home and spend time with their other children."
Winner Best Supporting Business
Lorraine Smith
Aged 30, from London, Lorraine left her job as an accountant earlier this year in order to concentrate on her company, GTB Natural, an online business offering natural and organic skin and haircare products. She has two children, aged 18 months and four years old.
"Before, I had to stick my daughter in nursery from 8am–6pm every day. I didn't really have a relationship with her; I was the woman who saw her at nights and at the weekends and was always telling her off. Now, I work more but I can bring the kids to work if I need to. There's stuff in the office for them to do. I can take my kids to school and pick them up. I think being a 'mumpreneur' is really empowering. I can do my own thing and still be a mum. It's about flexible working; sometimes I can be up till 3am working."
Winner Best Green Business
Register for free to continue reading
Registration is a free and easy way to support our truly independent journalism
By registering, you will also enjoy limited access to Premium articles, exclusive newsletters, commenting, and virtual events with our leading journalists
Already have an account? sign in
Join our new commenting forum
Join thought-provoking conversations, follow other Independent readers and see their replies