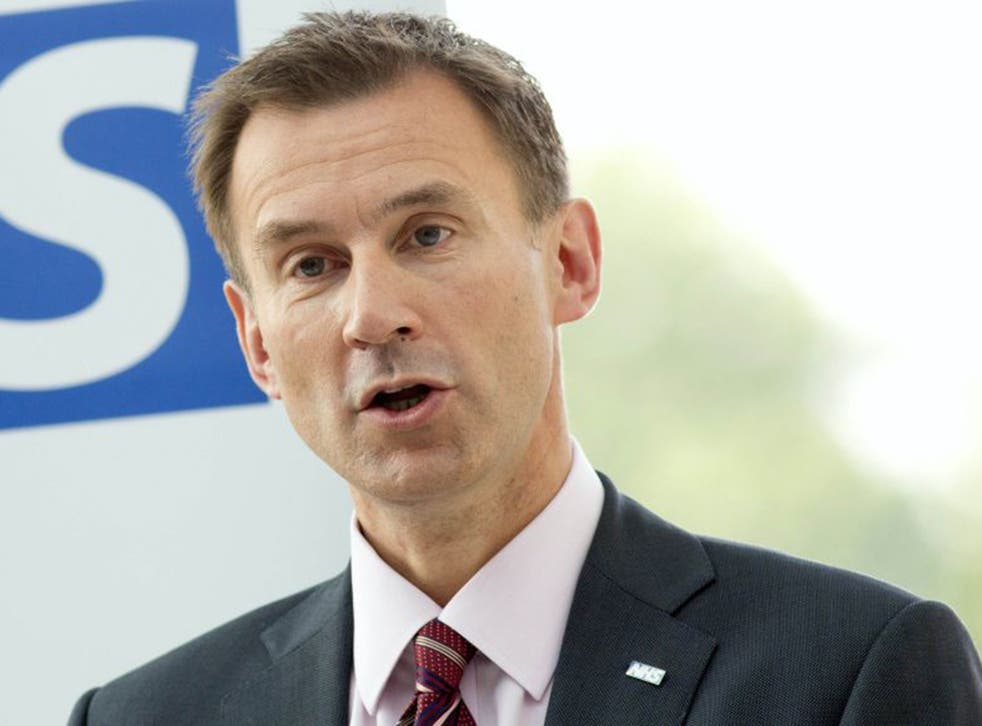 New doctors will be forced to work weekends in 'seven-day NHS' plan
Health Secretary Jeremy Hunt to warn that unless doctors are prepared to negotiate the terms of a new contract, the Government will impose the changes unilaterally upon them
All new hospital consultants will be forced to work at weekends to deliver the Government's plan for a seven-day NHS by the end of the decade, the Health Secretary Jeremy Hunt will announce.
In an ultimatum, Mr Hunt will warn that unless doctors are prepared to negotiate the terms of a new contract within weeks, the Government will impose the changes unilaterally upon them.
The move will further inflame tensions between ministers and the British Medical Association that represents doctors. The BMA has warned that the Government's plans are undeliverable without investing significant extra resources in the NHS over and above the current plans.
However, ministers say that the reason seven-day working is currently impractical is because of the restrictive nature of the current consultants' contract, which gives senior doctors significant extra pay for working anti-social hours and the right to opt out altogether.
In a speech to the health think tank the King's Fund, Mr Hunt will say that the Government is not prepared to compromise, claiming it is unacceptable that in the 21st century hospitals operate on a skeleton staff at weekends.
Health news: in pictures

Show all 104
"Around 6,000 people lose their lives every year because we do not have a proper seven day service," he will say.
"No one could possibly say that this was a system built around the needs of patients – and yet when I pointed this out to the British Medical Association they told me to 'get real'. I simply say to the doctors union that I can give them 6,000 reasons why they, not I, need to 'get real'."
Mr Hunt will also claim that the BMA is not "remotely in touch with what their members actually believe".
"I have yet to meet a consultant who would be happy for their own family to be admitted at weekends or would not prefer to get test results back more quickly for their own patients," he will say.
"Timely consultant review when a patient is first admitted, access to key diagnostics, consultant-directed interventions, on-going consultant review in high dependency areas, and proper assessment of mental health needs: I will not allow the BMA to be a road block to reforms that will save lives. There will now be six weeks to work with BMA union negotiators before a September decision point. But be in no doubt: if we can't negotiate, we are ready to impose a new contract."
The Department of Health points to a 2006 report by the King's Fund that found that as a result of the current Consultant's Contract agreed in 2003, consultant pay increased by almost 50 per cent.
Ministers argue that in addition to significantly increasing pay rates, the contract allowed doctors to opt out of non-emergency work at evenings and weekends – the only clinical group now able to do so.
Dr Mark Porter, chair of the BMA council, said: "Doctors support more seven-day hospital services and have repeatedly called on the government to outline how they will fund and staff them.
"This announcement is nothing more than a wholesale attack on doctors to mask the fact that for two years the Government has failed to outline any concrete proposals for introducing more seven-day hospital services. This is a blatant attempt by the Government to distract from its refusal to invest properly in emergency care."
Join our new commenting forum
Join thought-provoking conversations, follow other Independent readers and see their replies