New IVF treatment could make babies healthier, experts believe
A fertility clinic in Southampton is the first to use the treatment in the UK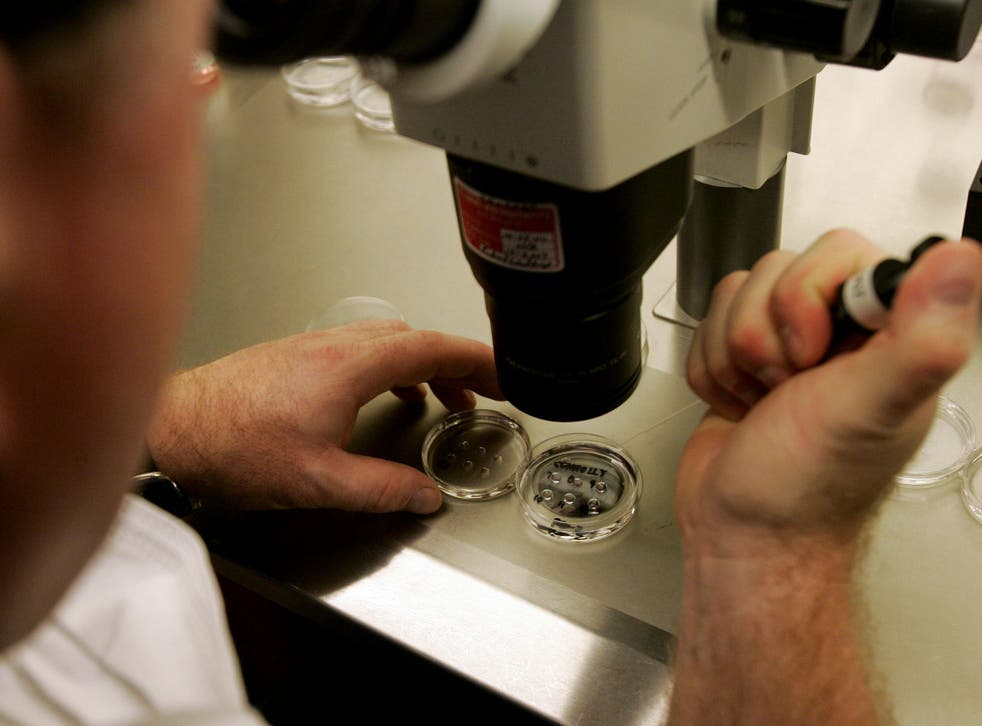 A new IVF treatment which allows the egg to be fertilised inside the womb rather than in a laboratory is being offered to potential parents in the UK for the first time.
The method involves inserting a capsule containing egg and sperms cells inside a woman's womb for 24 hours, enabling the embryo to develop.
Doctors use a 1cm long and 1mm wide device called AneVivo during the procedure. After two to four days, doctors choose embryos which are healthy enough to be implanted into the lining of the womb, where it is hoped they will develop into a foetus.
Experts believe that the new treatment will help improve the birth weights of IVF babies as they remain in the laboratory for a shorter time and are less exposed to synthetic culture fluids.
The method is also thought to lessen the psychological impact of fertility treatment.
Current IVF treatment sees doctors removing eggs from the ovaries and fertilising them with sperm in a laboratory. Doctors then select suitable embryos to insert into the womb.
IVF is generally offered to women 43-years-old or younger who have been unable to become pregnant after having unprotected sex for two years, or who have had 12 cycles of artificial insemination, according to the NHS.
This method can involve health risks including side effects such as hot flushes; ectopic pregnancy where the embryos are mistakenly implanted in the fallopian tube; and ovarian hyperstimulation syndrome where too many eggs develop in the ovaries.
The UK's fertility watchdog has approved the new treatment, which costs £700 each time.
The HFEA advisory committee said that while no evidence suggested that the device was ineffective or unsafe, further research was needed to show whether "the process has a greater or lesser efficacy than that of traditional IVF methods", BBC News reported.
Health news in pictures

Show all 40
Professor Nick Macklon, medical director at Complete Fertility Centre Southampton, located at the city's Princess Anne Hospital, helped to develop the device.
He said the use of the AneVivo device "signals a real breakthrough in IVF treatment" as it enables women to carry the embryo in the early stages of development.
"That is important psychologically as it involves parents-to-be directly with the fertilisation process and early embryo development but, perhaps more importantly, it also could provide many potential health benefits for babies born following fertility treatment."
Prof Macklon, who is also chairman in obstetrics and gynaecology at the University of Southampton, added: "This is a very significant moment in the advancement of fertility treatment in the UK and we are all extremely excited to be able to offer patients the option of a more natural fertilisation process."
Additional reporting by PA
Register for free to continue reading
Registration is a free and easy way to support our truly independent journalism
By registering, you will also enjoy limited access to Premium articles, exclusive newsletters, commenting, and virtual events with our leading journalists
Already have an account? sign in
Register for free to continue reading
Registration is a free and easy way to support our truly independent journalism
By registering, you will also enjoy limited access to Premium articles, exclusive newsletters, commenting, and virtual events with our leading journalists
Already have an account? sign in
Join our new commenting forum
Join thought-provoking conversations, follow other Independent readers and see their replies