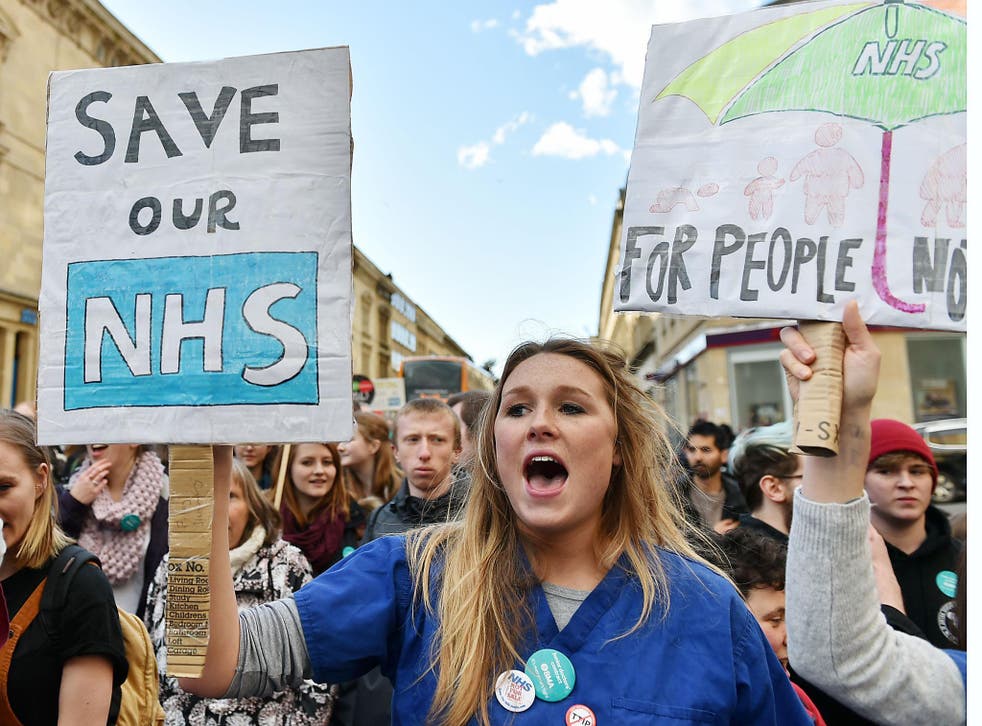 Morale crisis among NHS doctors 'puts patients at risk'
'There appears to be a general acceptance that the system cannot simply go on as before,' says the General Medical Council
Doctors are experiencing higher levels of dissatisfaction than ever before – and their low morale levels could be putting patients at risk, the General Medical Council (GMC) has warned.
Growing workloads and financial pressure in the NHS, the challenges of an ageing population and the long-running Junior Doctor dispute has created a "state of unease" among healthcare professionals, said the regulator.
"There appears to be a general acceptance that the system cannot simply go on as before," it said in the introduction of a new report.
"There is a state of unease within the medical profession across the UK that risks affecting patients as well as doctors.
"The reasons for this are complex and multifactorial, and some are longstanding. Yet the signals of distress are unmistakeable."
The GMC's sixth annual report, titled The State of Medical Education And Practice In The UK, found there was a "dangerous level of alienation" felt by doctors in training which had increased due to industrial action.
Jeremy Hunt on NHS mortality rates
Over three years, the number of doctors who applied to train as specialists directly after completing their foundation training dropped by 12 percentage points to just under two thirds.
This means 582 fewer doctors in 2015 than in 2012 took up specialty training, such as paediatrics, critical care or anaesthetics, straight away.
Of those who did not continue their training immediately after their foundation year, 86 per cent said they had done so to improve their work-life balance – and nearly half of that group, 47 per cent, cited burnout as their reason for taking a break.
"This does suggest at least some foundation doctors are feeling what they regard as significant pressure, even if most still want to continue to work as doctors," said the report.
It noted that it has long been common for doctors to work in other roles that will improve their skills in the UK and abroad, or for personal reasons, such as having children, at this stage.
The report highlighted the "intense pressure" of £2 billion in hospital deficits alongside falling performance figures for access to A&E, planned operations and ambulance response times as having a corrosive effect on morale.
Despite some bleak findings it stressed UK healthcare "remains among the best in the world" and said complaints about doctors had fallen by 7 per cent between 2014 and 2015.
The worst jobs for your health

Show all 10
An NHS Employers spokesman welcomed the "insight the report gives into the huge financial and service pressures the NHS is under".
"We know insufficient social care funding is an immediate threat to the NHS and the wider health and care system putting increasing pressure on frontline staff and patients," they said.
"We need the Government to incentivise greater coordination between local authorities and the NHS and to invest more in out-of-hospital health and care."
Register for free to continue reading
Registration is a free and easy way to support our truly independent journalism
By registering, you will also enjoy limited access to Premium articles, exclusive newsletters, commenting, and virtual events with our leading journalists
Already have an account? sign in
Register for free to continue reading
Registration is a free and easy way to support our truly independent journalism
By registering, you will also enjoy limited access to Premium articles, exclusive newsletters, commenting, and virtual events with our leading journalists
Already have an account? sign in
Join our new commenting forum
Join thought-provoking conversations, follow other Independent readers and see their replies