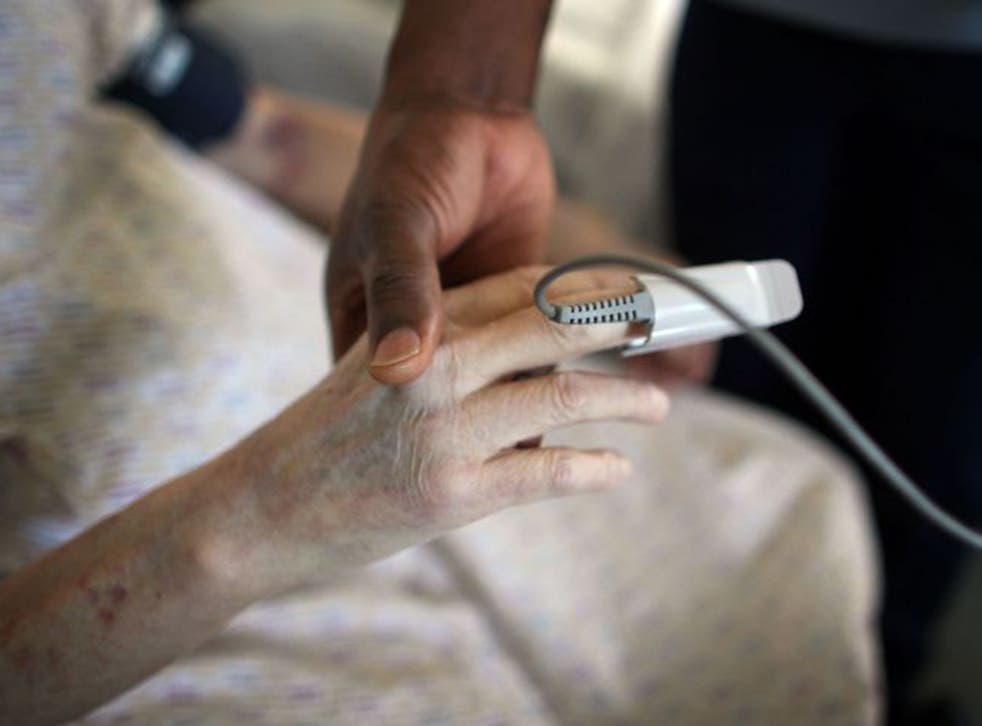 NHS feels the strain as hospital bed-blocking by elderly patients hits record levels
Exclusive: Labour blames £3.5bn social care cuts as delays to patients being sent home soar - at a cost of £287m
Jane Merrick
Sunday 22 March 2015 01:00 Comments
Bed-blocking is causing a huge strain on the NHS, with more than one million hospital bed days lost because of delayed discharges in the past year, new figures revealed last night.
The number of days health managers are forced to keep patients in hospital because they cannot be transferred into the community has risen by nearly 20 per cent in a year and is now at a record level, at a cost to the NHS of £287m.
Labour blamed the delays and bed-blocking on cuts to social care budgets, which have been reduced by £3.5bn since 2010. They argued it was a false economy to cut social care because it meant more elderly people were being admitted to hospital instead of being cared for at home. In turn, the same group of patients were being transferred back home less quickly because of reductions in social care services.
The figures underline the difficult task ahead for whichever party wins power on 7 May. Despite the Coalition protecting the NHS budget, the independent Office for Budget Responsibility (OBR) last week warned of a "rollercoaster" ahead for public services, with deep cuts to public spending in the next two years under Tory plans. Even if the NHS continues to be protected, other services such as social care and mental health face a squeeze, putting an even greater pressure on beds.
Last week Sir Amyas Morse, the head of the National Audit Office, warned that Whitehall was being forced to carry out "radical surgery" in cuts to public services without knowing "where the heart is". "If you're going to do radical surgery it would be nice if you knew where the heart was," he told the Financial Times. "You're slightly more likely not to stick a knife in it by mistake."
NHS England statistics show that in the past 12 months there have been 1,042,434 days lost due to patients being unable to be discharged. This is an increase of 19 per cent on the previous year's 873,415 lost days. Since August 2010, the first month this data was published, the number of delayed days per month has doubled from 55,332 to 103,776 in January 2015.
The increasing strain on NHS resources

Show all 4
In February 2014, there were 71,872 hospital delayed days, rising to 78,887 in March. By August last year the number of delayed transfer days rose to 90,840. Each excess bed day costs £275, according to the Department of Health's own figures.
At the same time, 300,000 fewer people over the age of 65 are receiving state-funded social care services compared with 2010. With adult social care support reduced, the number of over-90s rushed to A&E by ambulance has increased by half since 2010 – from 202,537 in 2009-10 to 302,284 in 2013-14.
Labour has promised to integrate physical and mental health and social care services, with people given a personal care plan and a single point of contact for those with the greatest need. On Friday the party launched an election poster featuring the X-ray of a broken leg with the slogan: "Next time they'll cut to the bone. The NHS can't afford the Tory cuts plan."
Shadow Health Secretary Andy Burnham said: "Care cuts are in fact NHS cuts ... Back in 2010 I said it would be irresponsible to safeguard the NHS budget if the way you pay for it is by raiding social care. This Parliament has borne that out completely. Care costs are the root cause of the A&E crisis.
"In their Budget assessment the OBR said there would be a 'rollercoaster' in 2016-17 and 2017-18 – far deeper cuts than we have seen in this parliament. That will just be ruinous not only for care but also for the NHS. In my view it will entrench the A&E crisis and become an NHS crisis."
King's Fund chief executive Chris Ham said: "Many delayed transfers of care are caused by problems accessing other parts of the NHS, such as community and mental health services, while increasing pressures on social care are also a factor. The solution must be sought in better co-ordination... and adequate funding both for the NHS and social care."
A Department of Health spokesman said: "In fact, proportionally fewer patients are being delayed in hospital as the NHS helps record numbers of patients. We've given a record £700m this winter for thousands more NHS staff and beds, alongside £37m for local authorities to help more people go home from hospital promptly.
"We're also bringing health and social care services together for the first time next month to further reduce A&E admissions and get people out of hospital more quickly."
The Department of Health said that between 2011-12 and 2013-14, the total number of days of delayed transfers rose by 2.9 per cent, but over the same period hospital admissions grew by about 3.5 per cent. In that time the delayed days attributable to social care fell by 13.6 per cent, a source said.
The Government has given an extra £37m to local authorities to tackle delayed discharges from hospitals to the social care system, and has set up a new national "Helping People Home" team to provide support to local areas in reducing delayed transfers.
Register for free to continue reading
Registration is a free and easy way to support our truly independent journalism
By registering, you will also enjoy limited access to Premium articles, exclusive newsletters, commenting, and virtual events with our leading journalists
Already have an account? sign in
Join our new commenting forum
Join thought-provoking conversations, follow other Independent readers and see their replies