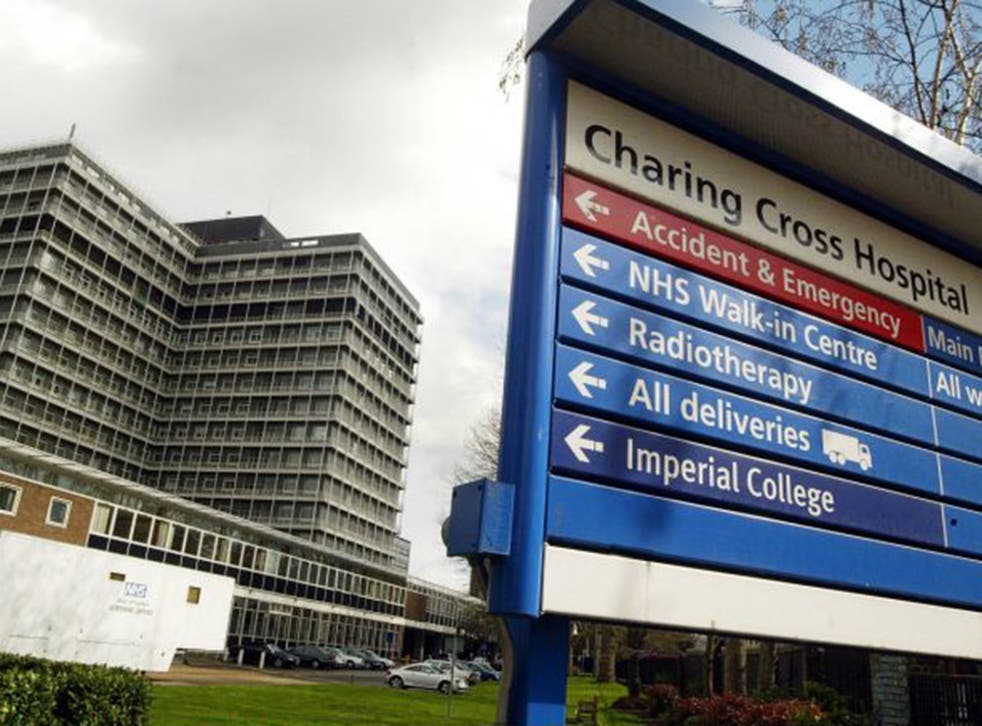 NHS hospitals 'putting profit before public service' by expanding private work amid falling standards
Campaigners say surge in income from private patients 'shows the worst aspects of the 'marketisation' of the NHS'
Paul Gallagher
,
Tom McTague
Saturday 20 February 2016 22:36 Comments
NHS hospitals in England have been accused of putting profit before public service after a surge in income from private patients over the past five years coincided with falling standards.
Aggregate income from private patients jumped from just over £408m in 2010 to £526m last year – a rise of almost 30 per cent – according to a parliamentary written answer by the Health Minister Alistair Burt to the Labour MP Gareth Thomas. And requests sent to specific trusts revealed that hospitals serving the constituents of the Health Secretary, Jeremy Hunt, and his team were among those leading the charge.
Private patient income at Chelsea and Westminster Hospital, which serves the Health Minister Jane Ellison's constituents, rose by 88 per cent, from £8.18m in 2010 to £15.4m in 2015. The hospital trust received a "Requires Improvement" rating after its last inspection. Although the regulator found staff to be caring and compassionate, inspectors said there was potentially an under-reporting of patient safety incidents resulting in death or severe harm. Medical staffing levels did not meet recommended standards in A&E and palliative care.
A spokesperson for Chelsea and Westminster Hospital said: "In 2014/15, our private patient income was £15.4m, which represents 4.1 per cent of our income that year. Private patient income allows us to provide services which we would be unable to afford with income derived solely from the NHS."
Royal Surrey County Hospital, which serves Mr Hunt's constituents, increased its private patient income from £3.16m in 2010 to £4.03m last year. Of the five trusts that responded to requests for financial information, it was the only one to get a "Good" CQC rating – the others had "Requires Improvement".
Maidstone and Tunbridge Wells NHS Trust's income from private patients went up by 81 per cent in the five-year period from £3.9m to £6.9m.
The Labour MP Gareth Thomas, who unearthed the figures in a Parliamentary written questions, said: "Jeremy Hunt needs to explain why NHS Trusts are being allowed to set up private hospitals in the Middle East instead of improving the quality of care for patients.
"At a time when too many NHS patients have to wait much too long in Accident & Emergency, it beggars belief that the Boards of NHS Trusts are prioritising expanding support for private patients.
"We are beginning to see the emergence of a two-tier health service in the UK – with queue jumping for the wealthy and poorer standards of care for the rest of us. The NHS is clearly not safe in Tory hands."
A spokesperson for the trust said all profits generated from private practice at its dedicated private patients' unit in Tunbridge Wells Hospital, which is run separately to the rest of the hospital, are ploughed back directly into the NHS for local services. "NHS patients are our absolute priority and no facilities are used [at the PPU] that are required by NHS patients," she said.
Imperial College Healthcare NHS Trust increased its income from private patients from £31m in 2010 to £43m in 2015 – the largest amount earned by any acute trust from private patients that year.
The trust has a private arm, Imperial Private Healthcare, which has facilities at Hammersmith Hospital, where the A&E department closed in 2014, and at Charing Cross Hospital, where there has been a campaign to stop the A&E department being downgraded. The trust treated 75 per cent of patients within the four-hour target in November and was given a "Requires Improvement" rating from the CQC in December 2014. A trust spokeswoman said: "Our core focus will always be providing NHS services. Our private arm accounts for around 4 per cent of turnover. It provides valuable income which is used to improve services and facilities for all."
UK news in pictures

Show all 51
A late amendment to the 2012 Health and Social Care Act allowed foundation hospitals to raise 49 per cent of funds from non-NHS work. The then Health secretary, Andrew Lansley, said lifting the private income cap would benefit NHS patients. Campaigners said switching to private patients in the face of huge debts was not the answer.
A spokesman for the Keep Our NHS Public campaign said: "This shows the worst aspects of the 'marketisation' of the NHS: focusing on a quick buck while the system around you collapses. The NHS needs to be rid of this vampiric spectre once and for all: healthcare is not about profit, it is not about competition. Public funding and public accountability are what matters." Although the income from private patients in English NHS trusts as a percentage of provider income has barely changed since the cap was lifted – from 0.71 per cent in 2010 to 0.72 per cent last year – shadow Health Secretary Heidi Alexander (left) said patients who wait months for treatment or hours in A&E will be alarmed: "The public has a right to know what impact private work has on waiting times."
Register for free to continue reading
Registration is a free and easy way to support our truly independent journalism
By registering, you will also enjoy limited access to Premium articles, exclusive newsletters, commenting, and virtual events with our leading journalists
Already have an account? sign in
Join our new commenting forum
Join thought-provoking conversations, follow other Independent readers and see their replies