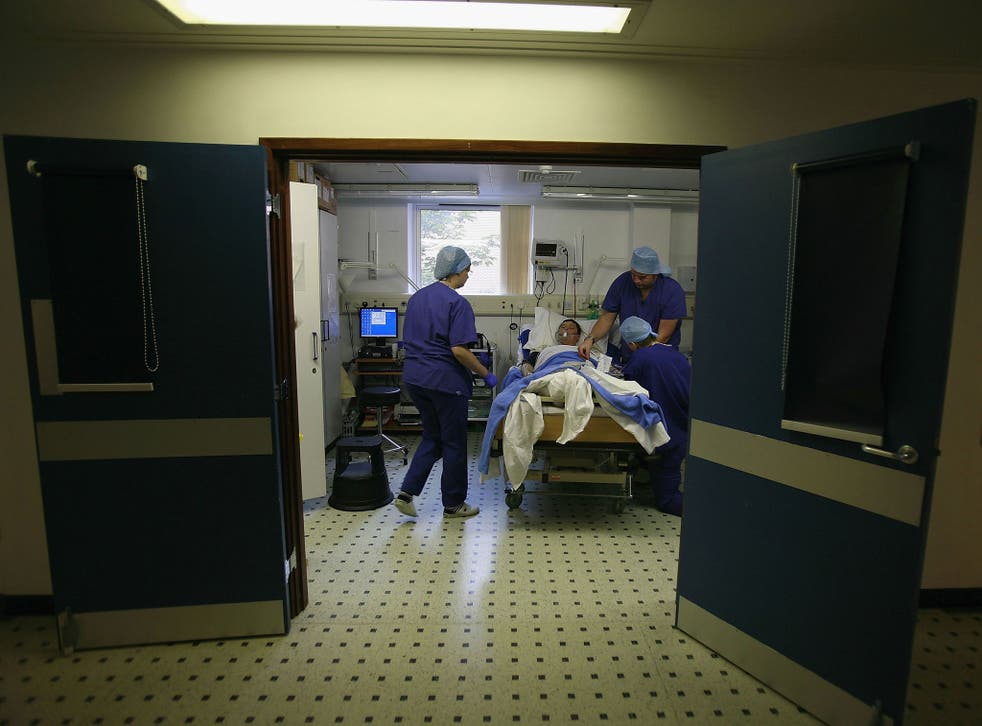 NHS hospitals told not to fill vacancies as cash crisis bites
Hospitals told that financial forecasts for 2015/16 are 'simply unaffordable' and are urged to take a range of actions to bring down costs
Hospitals have been told to only fill vacancies "where essential" to save money, and been reassured they should not be fined if they miss waiting times targets, in a dramatic escalation of the NHS financial crisis.
In a letter sent out on 3 August by the regulator Monitor to NHS Foundation Trusts, hospitals are told that financial forecasts for 2015/16 are "simply unaffordable" and are urged to take a range of actions to bring down costs.
The letter states: "As you know, the NHS is facing an almost unprecedented financial challenge this year. Current plans are quite simply unaffordable. As I have said before, if we are to do the best we can for patients we must leave no stone unturned in our collective efforts to make the money we have go as far as possible."
Trusts are told to ensure safe staffing guidance is applied in a "proportionate and appropriate way" and to take account of financial impact when planning their waiting lists.
The letter, sent by Monitor's chief executive David Bennett, also tells hospitals that NHS England will order local commissioners to ease pressure on hospitals, with measures including a suspension of fines and penalties relating to referral to treatment waiting times, the Health Service Journal reported.
The letter states: "Ministers have been sighted on these options and are ready to support all providers to reduce their deficits in a managed way although, of course, all actions should be consistent with your responsibilities for safety and the delivery of constitutional standards."
The NHS provider sector is anticipating a deficit of more than £2bn by the end of this financial year. A similar letter is understood to have been sent to hospitals that do not have foundation trust status by their regulator, the Trust Development Authority – meaning that all acute hospitals would have received instructions.
The warnings suggests senior NHS officials are no longer confident the current levels of care quality provided by the NHS can be sustained under current funding.
Labour's Shadow Health Secretary and leadership contender Andy Burnham said: "This is a sign of a serious deterioration in NHS finances. It suggests that the financial crisis in the NHS is threatening to spiral out of control and hit standards of patient care.
"The suggestion that hospitals can ignore safe staffing guidance will alarm patients and the Government must decide if it will overrule this advice.
"Morale in the NHS is already at an all-time low and doctors have lost confidence in the Health Secretary.
"It will raise further questions about how the Government can possibly fulfil commitments on a seven-day NHS without the money to back it up."
The Department of Health said that the letter was a Monitor and Trust Development Authority matter.
Analysts have long predicted that the financial crisis in the health service, which is facing a £30bn deficit by 2020, would begin to impact on patient care. The health service has been promised an £8bn boost to its £113bn annual budget by 2020, but must also cut £22bn from its spending in that time, despite ever-rising demand from an ageing and growing population.
Nigel Edwards, chief executive of the Nuffield Trust think tank, told HSJ the letter demonstrated that officials were becoming "extremely worried about the financial situation".
"But they aren't entirely clear what to do about it," he added. "One does wonder if there is anyone sitting in a trust who will say, 'I haven't thought of that'. It is a worrying signal that there is a big problem coming and we are talking about transactional changes rather than some of the very major changes that may be required to confront the situation."
Richard Murray, policy director at the King's Fund, said: "This is a pretty fundamental change to the way the NHS has been run since 2005-06, as they are even asking trusts that have predicted a surplus to revisit their plans."
Join our new commenting forum
Join thought-provoking conversations, follow other Independent readers and see their replies