NHS has spent more than £1.75m on homeopathy, despite admitting there is 'no good-quality evidence it works'
Exclusive: The NHS has spent more than £1.75 million on homeopathy ingredients over the last decade, despite its own guidelines stating- 'There is no good-quality evidence that homeopathy is effective as a treatment for any health condition'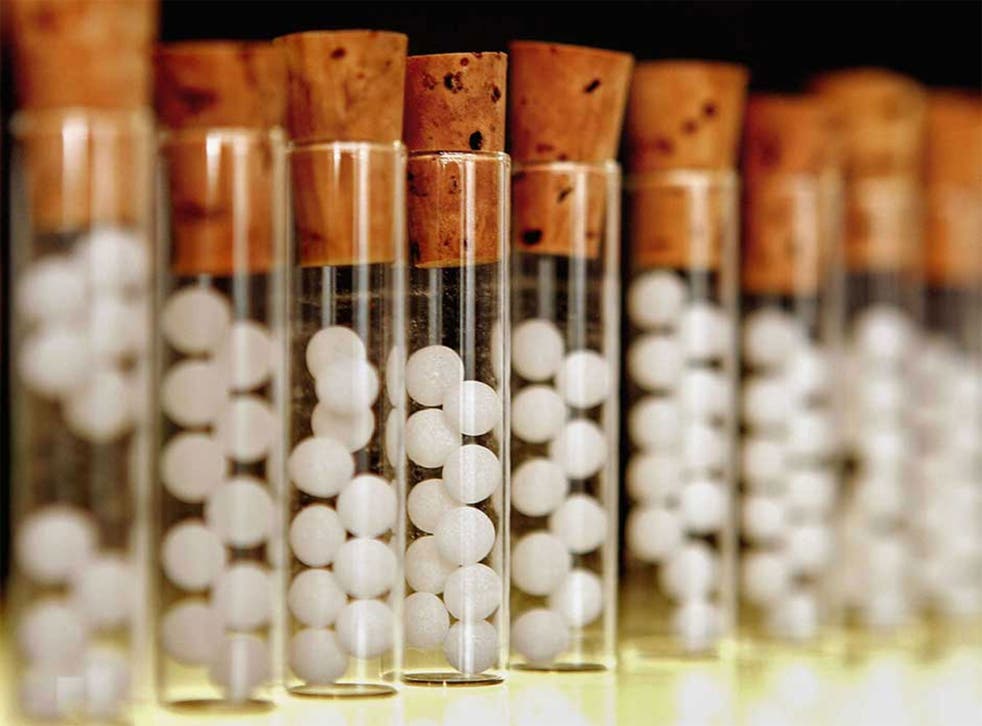 The NHS spent more than £1.75m on homeopathy despite admitting all credible evidence indicates it does not work, The Independent can reveal.
Figures obtained by The Independent under freedom of information rules show the NHS has spent more than £1.75 million over the course of the last decade to fund the ingredients alone. Campaigners say the true cost of the treatments could be tens of millions once staff costs, prescriptions and equipment are also factored in.
Last year, the NHS spent £94,300 on homeopathic ingredients for patients. In 2014, they dispensed £110,438 worth of the substances and £137,298 worth in 2013.
Homeopathy is based on the idea that if substances are diluted in water, they become stronger and form powerful substances which can encourage the body to heal itself. Many homeopathic remedies consist of water, with a small trace of a secondary substance.
It is highly contested in medical discourse, with most leading medical groups and experts concluding it does not work.
The NHS' own guidelines state: "There has been extensive investigation of the effectiveness of homeopathy. There is no good-quality evidence that homeopathy is effective as a treatment for any health condition."
Earlier this year, a leading academic from the National Health and Medical Research Council declared homeopathy a "therapeutic dead-end" after it was found to be ineffective for none of 68 illnesses tested by experts.
Michael Marshall, Project Director at the Good Thinking Society which campaigns against government funding for homeopathy, told The Independent the spend was 'indefensible' amid the current climate of NHS funding cuts. He said: "At a time when NHS budgets are under enormous pressure, it is utterly indefensible to see any amount of money being wasted on a treatment that has been proven so comprehensively to be ineffective.
"Every credible medical expert – from the British Medical Association to the Chief Medical Officer, and even the NHS' own website – agrees that homeopathy is not beneficial for any condition. There is simply no justification for spending limited public funds on this disproven treatment."
Mr Marshall added that he believes the NHS could be spending as much as £5million per year on staff, prescriptions and equipment costs to provide homeopathy, in addition to the yearly spend on ingredients.
He said: "Homeopathy supporters are often quick to dismiss the £90,000 spent on homeopathic prescriptions or the £5m spent on homeopathic consultations as being a small percentage of the NHS' budget, but every penny spent on homeopathy represents money that could be spent on interventions and treatments that could provide a real benefit to patients. Any patient who has had treatment delayed or denied due to budgetary pressures can rightly look to the money wasted on homeopathy with deep frustration."
Last week, NHS decision processes over funding for conditions came under scrutiny as the high court backed Aids campaigners in ruling it can pay for HIV drugs it has claimed were too expensive. The previous week, an investigation by the British Medical Journal alleged NHS England had tried to deliberately sabotage the release of hepatitis C drugs after realising them could not afford them, in a bid to delay them until the following financial year when more funding would be available. NHS England strongly denied the claims.
Health news in pictures

Show all 40
Homeopathy is not available via the NHS throughout the UK, but two hospitals offer the treatment as well as some GPs.
A spokesperson for the Department of Health told The Independent they will launch a public consultation into the future of homeopathic treatments on the NHS. They added: "We are clear that medicines must be prescribed in a way that is cost-effective and evidence-based. The National Institute for Health and Care Excellence [the DoH body serving NHS England] does not currently recommend that homeopathy should be used in the treatment of any health condition and dispensing data shows that there has been a significant decline in the prescribing of homeopathic products in primary care over the last ten years."
Register for free to continue reading
Registration is a free and easy way to support our truly independent journalism
By registering, you will also enjoy limited access to Premium articles, exclusive newsletters, commenting, and virtual events with our leading journalists
Already have an account? sign in
Register for free to continue reading
Registration is a free and easy way to support our truly independent journalism
By registering, you will also enjoy limited access to Premium articles, exclusive newsletters, commenting, and virtual events with our leading journalists
Already have an account? sign in
Join our new commenting forum
Join thought-provoking conversations, follow other Independent readers and see their replies