Patients face long delays for routine operations because of NHS 'rationing'
Authorities 'unfairly and unnecessarily prolonging the time patients will spend in pain,' says vice president of the Royal College of Surgeons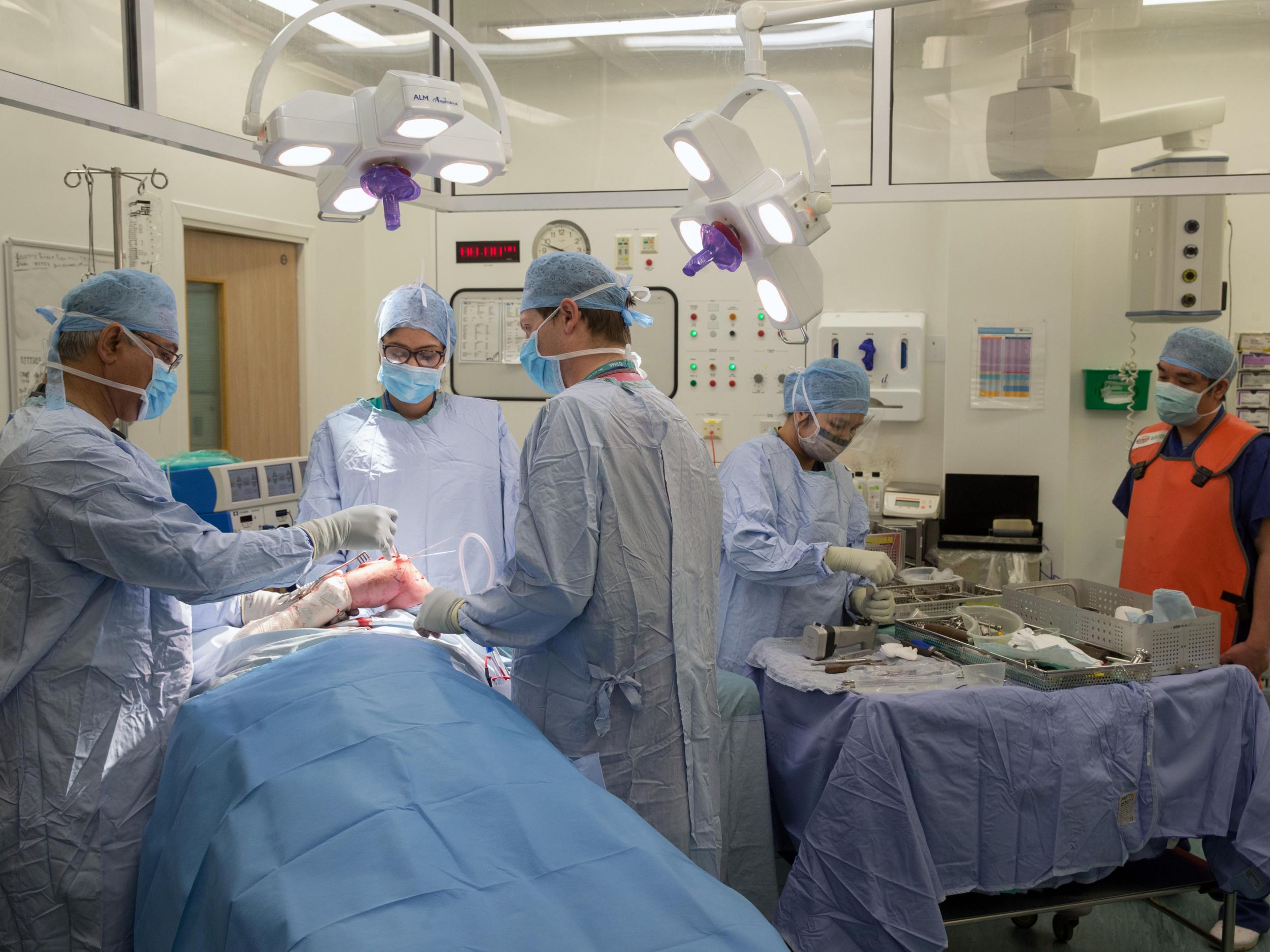 Patients needing hip replacements or cataract removal are facing long delays while doctors battle a new wave of NHS rationing, an investigation suggests.
Freedom of Information data obtained by the British Medical Journal (BMJ) shows a rise in the number of special requests for funding now being lodged for procedures that were once considered routine.
Cataract removal, hip replacements, knee surgery, procedures for carpal tunnel syndrome and help for mental health problems are among those treatments now needing to go through an extra layer of NHS red tape.
Audience member during May's comments on NHS: 'Bollocks, absolute bollocks'
Stephen Cannon, vice president of the Royal College of Surgeons, condemned the restrictions as a misguided attempt to save money by reducing the number of procedures carried out.
He told the BMJ: "By mandatorily requiring prior approval from the individual funding request service before referral, these CCGs [clinical commissioning groups] are unfairly and unnecessarily prolonging the time patients will spend in pain, possibly immobile and unable to carry out daily tasks or to work."
Overall, the number of exceptional funding requests made by GPs in England to CCGs rose to 73,900 last year, a 47 per cent increase from 2013-14, when they made 50,200.
Just over half (52 per cent) the requests made in 2016-17 were approved by CCGs, although some patients are then waiting months to start their treatment.
Most of the funding requests are for cosmetic procedures, such as removing skin tags and varicose veins, or for IVF, which the National Institute for Health and Care Excellence (Nice) says should be routinely funded but is not.
Between 2013-14 and 2016-17, the number of requests for hip and knee surgery rose from 49 to 899.
Meanwhile, the number of referrals for cataract removal in England rose from 359 in 2013-14 to 1,034 in 2016-17.
According to the BMJ, Aylesbury Vale and Chiltern CCGs in Buckinghamshire recently issued guidance stating that all referrals for hip and knee surgery should go through a funding request process.
There is also variation around the country in the number of funding requests and approvals for any procedure, the BMJ said, with Rushcliffe CCG in Nottingham received no requests, while Chiltern CCG processed 3,800.
Southern Derbyshire CCG received 14 requests last year for procedures such as cataract surgery but approved none.
In contrast, Stafford and Surrounds CCG processed 2,123 requests, including 764 for skin excision, 232 for cataracts, and 163 for hip or knee replacement, but approved them all.
Richard Vautrey, a GP in Leeds and deputy chairman of the British Medical Association's General Practitioners Committee, called for "an open and honest discussion" on this type of rationing.
He urged NHS England to set clear guidelines on which treatments should be routinely available and which should require an individual request.
"It's clearly unfair for patients to be subjected to this postcode rationing, and it also adds further to GPs' workload as they are called on to provide more and more evidence to support each application," he told the BMJ.
Julie Wood, chief executive of NHS Clinical Commissioners, the organisation that represents CCGs, said commissioners had to make "difficult decisions" over which services to fund.
"Unfortunately the NHS does not have unlimited resources, and ensuring that patients get high quality care against a backdrop of spiralling demand and increasing financial pressures is one of the biggest issues CCGs face," she said.
Join our commenting forum
Join thought-provoking conversations, follow other Independent readers and see their replies