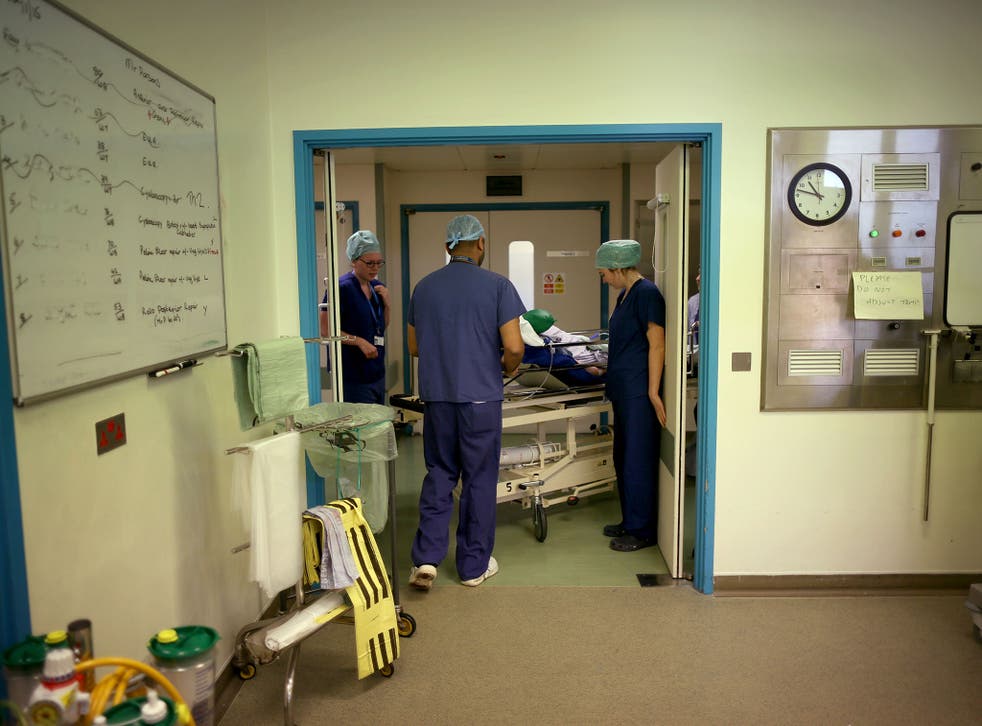 Nurses may call strike if Government tries to cut pay as David Cameron vows to deliver 'truly seven-day NHS' plans
Exclusive: Royal College of Nursing issues 'strong warning' to Health Secretary not to attack weekend payments, as discontent mounts in other industries
Charlie Cooper
,
Andy McSmith Comments
Nurses will take industrial action if the Government tries to cut pay to deliver its election promise of a "truly seven-day NHS", the leader of Britain's biggest nursing union has warned.
In what he called "a strong warning to the Secretary of State", Dr Peter Carter, the general secretary of the Royal College of Nursing, told The Independent that any "attacks on unsocial hours or weekend working payments" would be a "red line" for nurses.
His comments raise the prospect of an unprecedented strike, at a time when the Government – eager to change the law to make it harder for workers in essential public services to walk out – faces action from rail workers and teachers.
Next week will see Britain's first national rail strike in 20 years, while teachers in some areas have been taking part in industrial action over the imposition of academies.
With the NHS in financial crisis, experts have questioned whether extra hospital staffing in the evenings and at weekends – promised in the Conservative manifesto – can be achieved without either holding down or cutting pay rates.
The increasing strain on NHS resources

Show all 4
Proposals to slash the extra pay nurses receive for working evenings and weekends have already been put forward by the NHS Employers organisation, and will be considered by the Government later this year.
David Cameron will devote his first major speech since the election today to the NHS, in an attempt to reassure the public that the health service is safe under a Tory government. "Our commitment is to free healthcare for everyone – wherever you are and whenever you need it," he will say. "A seven-day NHS, safe in our hands – for every generation to come."
Speaking at a GP surgery in the West Midlands, the Prime Minister will promise to increase the NHS budget by at least £8bn a year by 2020. The Tories have endorsed a plan by NHS England chief executive Simon Stevens to fill a funding gap estimated at £30bn a year. They say efficiency savings can cover £22bn of the gap, with the rest coming from taxes.
Mr Cameron will pledge more GPs, faster access to new drugs and treatments and a greater focus on mental health and healthy living. He is expected to deny that staff will need to work longer hours, claiming that the hours can be covered by flexible working.
But Dr Carter, who represents 420,000 nurses, midwives and other staff, told The Independent any attacks on salaries, after a five-year period in which the real value of NHS pay has fallen, would "not augur well in terms of the industrial relations climate".
"I would particularly give a really strong warning to the Secretary of State: any attacks on unsocial hours, weekend working payments, would be strongly resisted," he said. "While we don't want industrial action, I do feel that for nurses that would be a red line."
The RCN has never gone on strike and declined to join industrial action over a separate pay dispute last year, which saw thousands of staff represented by the Unison, Unite and other unions walk out in the biggest strike action to hit the NHS since the Thatcher era.
"People criticised us for [not joining the strike] but we felt that was the right and ethically responsible thing to do," said Dr Carter. "But the membership is quite clear: unsocial hours, weekend working, Christmas Day and bank holidays – they get a very modest higher level of remuneration. Any attack on that and I do fear it would result in industrial action."
Further strike action in the autumn was averted after Health Secretary Jeremy Hunt offered staff earning up to £56,500 a 1 per cent pay rise.
However, Mr Hunt may find himself on a collision course with workers again. The independent NHS Pay Review Body (PRB) will report to the Government in July with recommendations that may form the basis of a new pay offer to nurses. In evidence to the PRB, the employers set out proposals to cut out-of-hours pay. One of the proposals, which would save £1.1bn, would see unsocial-hours pay rates cut by half and paid only after 10pm, even at the weekend.
Before the election Mr Hunt made it clear that, once in Government, he would prioritise NHS staffing numbers, not pay. He refused to rule out any further real-term cuts, arguing that allowing pay to increase too fast would necessitate cutting jobs, putting patient safety at risk.
Much will depend on how quickly the Government can deliver its promised extra funding. Mr Hunt has committed to Mr Stevens' £8bn a year, but this figure is predicated on efficiency savings of £22bn and it is not clear where these would be found.
To save a similar amount over the past five years, the NHS was forced to hold back pay, and slash the amount of money hospitals are paid to deliver services. With dozens of hospitals already in financial deficit, and with the threat of industrial action, it is unlikely such strategies could be deployed again without either a damaging decline in service quality or in staff morale.
Senior figures have already warned that the state of the NHS's finances could force the Government to consider introducing charges for healthcare. Dr Mark Porter, chair of the British Medical Association, said last month that any new government would be "tempted" to bring in fees for services such as seeing a GP.
Dr Porter told The Independent last week that achieving the £22bn would be difficult because the NHS was "not starting in the same place as five years ago. The major [cost-cutting] tools have been used up," he said. "It's not a place the Health Secretary should be comfortable being in."
Dr Carter added that rather than bringing in fees or cutting services, the Government should consider using its post-election honeymoon period to introduce an "NHS tax" to shore up finances.
"The public are more than happy to pay more for their health service provided the money is well-used," he said. "The Government is in for five years. It would be well advised to do what the public want to see: everyone paying a little bit more. That would make a big dent in that £22bn."
A Department of Health spokesperson said: "NHS staff are our greatest asset and we know nurses work extremely hard to care for an increasing number of patients.
"Patients deserve the same high-quality care every day of the week – we will continue to make sure we have enough nurses and further consider how best to recognise and reward high performance."
Season of strikes? Planned union action
A flurry of strikes is expected over the next few weeks.
Network Rail staff are due to walk out for 24 hours from 5pm on 25 May – a bank holiday – in a dispute over pay, job security and working conditions.
North Sea oil workers are also expected to be balloted about the first strike in the offshore industry in a generation following changes to working conditions.
Staff at the National Gallery in London are planning strikes on Wednesday and from 26 May to 4 June amid a dispute over privatisation and a union official's dismissal.
The academy school system is being challenged by teachers. The NUT has also backed a ballot on industrial action if the Government does not increase funding for schools in England and Wales. However, funding is expected to be cut by 12 per cent.
Register for free to continue reading
Registration is a free and easy way to support our truly independent journalism
By registering, you will also enjoy limited access to Premium articles, exclusive newsletters, commenting, and virtual events with our leading journalists
Already have an account? sign in
Join our new commenting forum
Join thought-provoking conversations, follow other Independent readers and see their replies