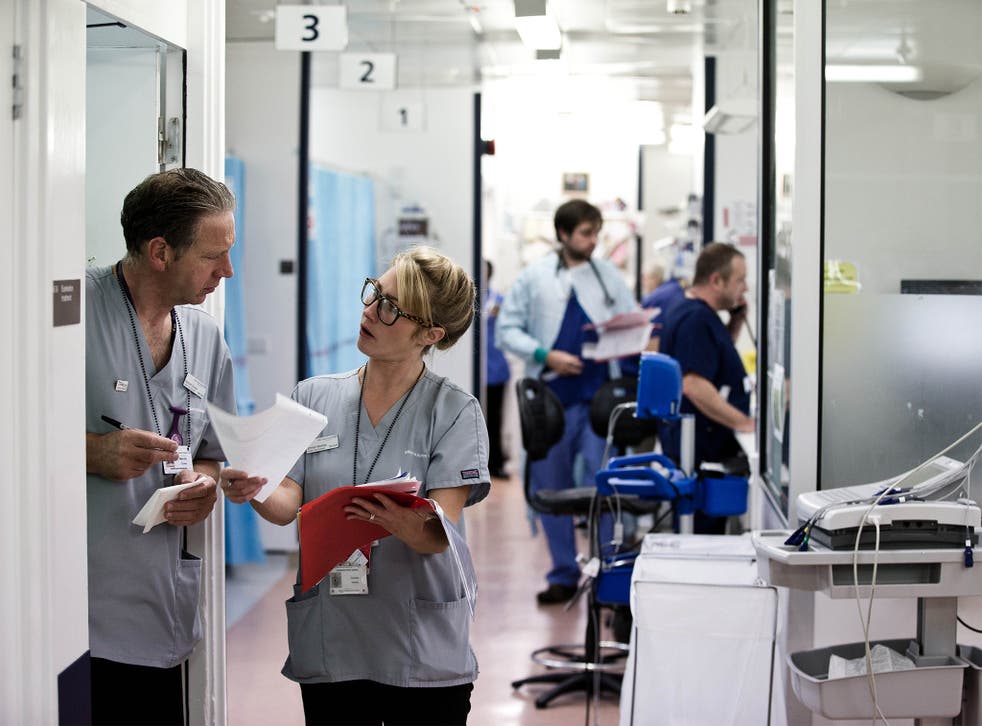 Patients must show passport to use NHS or pay more than £2,000 in 'health tourism' crackdown
The Government hopes to recoup £500 million a year but doctors have raised concerns about the impact on poor and vulnerable migrants
Lizzie Dearden
Monday 13 April 2015 09:13 Comments
Foreign women could be charged more than £2,000 to give birth in a NHS hospital as part of a government crackdown on "health tourism".
Tighter regulations that came into force earlier this month require foreign nationals to show passports, visas and proof of residency including rental agreements and employment contracts to receive free care.
People classed as "ordinarily resident" in the UK do not have to pay but there are fears over abuses of the system by foreign nationals flying into to use the NHS.
Announcing the changes in February, the Department of Health claimed they would help recoup up to £500 million spent on treatment for migrants, tourists and former residents every year by 2018.
Emergency treatment at A&E and GP surgeries will remain free for everyone but costs for other procedures run into the thousands.
A "normal" birth on a maternity ward now costs £2,188, removal of a stomach ulcer over two days is £1,775 and a major hip operation costs £7,826 on the basic NHS tarrif.
A think tank warned last year that the charges would put the British public at increased risk from infectious diseases, including HIV, because vulnerable migrants would be discouraged from seeking treatment.
Thousands do not seek the care they need because they fear it will affect their immigration status or expose them to NHS fees, the cross-party group Demos said.
Doctors at a charitable clinic in London revealed disturbing details of often destitute women charged thousands of pounds by the NHS for essential care during pregnancy, even before the harsher regulations came in.
In two cases, women were pursued for four-figure sums even after their babies died in hospital.
Campaigners had called for an exemption for maternity services and there is also deep disquiet among many NHS staff about the charges.
Letters are being sent to English hospitals this week reminding them of the "legal obligation" to perform checks ensuring people are entitled to free healthcare, the Daily Mail reported.
All patients will be asked questions about living in the UK whenever starting new treatment and documentation must be provided where there is any doubt over their "ordinarily resident" status.
Measures to screen patients for eligibility include forms in outpatient and A&E wards asking them for their passport number and expiry date, nationality, GP name and NHS number.
Hospitals found to be failing to carry out the checks and bill identified patients will be punished with large charges. Commissioning bodies are now able to withhold money to make hospitals foot the bill for foreign nationals' care.
It is already against the law for hospitals to use public money for treatments provided to non-EEA patients who do not qualify for free care and now commissioners will have increased power to audit hospitals' identification and charging systems.
No one can be denied urgent treatment whilst their status is being determined but the NHS will pursue patients for the money after they leave hospital.
Most people from the European Economic Area (EEA) or Switzerland are entitled to free care using their European Health Insurance Card, meaning the NHS can claim costs from their home country.
British pensioners living in Europe have the same rights as UK residents but those under retirement age will have to rely on health insurance or pay the charges, even if they are British nationals who used to live in the UK.
In numbers: the NHS crisis

Show all 7
Tourists and migrants without residency status from outside Europe must now use personal health insurance or be charged at 150 per cent of the NHS national tariff for any care they receive.
Roger Goss, of Patient Concern, told the Daily Mail: "It's a worthwhile price to pay to attempt to recover the tens of millions owed by health tourists.
"If it is successful, the money recouped could be invested in better care for those patients who are entitled to it for free."
An official study in 2013 estimated that £388 million is spent each year on patients in England who should already be paying for their care but are not being charged by the NHS. The report said just 16 per cent of costs are being recovered.
It added that the cost of people who come to England with the purpose of getting free treatment on the NHS could be anywhere between £70 million and £300 million.
Register for free to continue reading
Registration is a free and easy way to support our truly independent journalism
By registering, you will also enjoy limited access to Premium articles, exclusive newsletters, commenting, and virtual events with our leading journalists
Already have an account? sign in
Register for free to continue reading
Registration is a free and easy way to support our truly independent journalism
By registering, you will also enjoy limited access to Premium articles, exclusive newsletters, commenting, and virtual events with our leading journalists
Already have an account? sign in
Join our new commenting forum
Join thought-provoking conversations, follow other Independent readers and see their replies