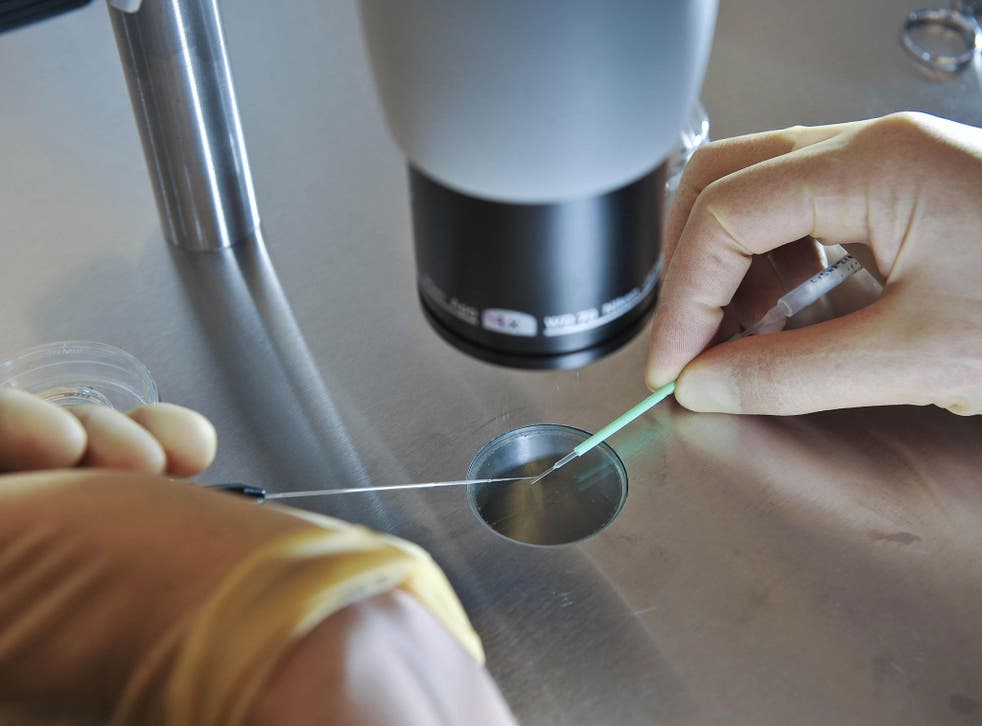 Private fertility clinics offer treatments that are 'widely discredited', 'hotly debated' and 'sound like a good idea'
Women may be receiving no benefit from methods such as intruterine insemination and genetic screening
Ian Johnston
Science Correspondent Comments
The Human Fertilisation & Embryology Authority and several leading experts have warned that some treatments offered by private fertility clinics do not have a sound evidence base.
Here are some of the treatments that have been questioned and, in one case, "widely discredited":
Intrauterine insemination for unexplained infertility
Sperm is taken from the man, specially prepared and then injected into the uterus. This is used appropriately for donor sperm, but is also controversially offered by clinics to help some couples to conceive.
Dr John Parsons, former director of King's College Hospital's assisted conception unit, said: "The evidence that it has any effect is very poor indeed."
Professor Adam Balen, chair of the British Fertility Society, said: "That's hotly debated at the moment. The Nice [National Institute for Health and Care Excellence] guidelines have swung backwards and forwards. Different studies have come out, some suggesting benefits, some suggesting no benefit.
"There's a divide in the infertility community … when there's a divide maybe there's no right or wrong answer.
"IUI treatment presents for some people possibly no additional benefit over and above having sex at the time of ovulation. It would be wrong to say it's a highly successful treatment, but it's not wrong, it's not doing harm."
Pre-implantation genetic screening
Embryos are examined to see if they have any potential problems, such as an abnormal number of chromosomes.
Dr Parsons said this "sounds like a good idea" but "unfortunately that's really not good enough as evidence".
Professor Balen: "I think the evidence at the moment is routine screening of embryos does not significantly improve the chance of having a live birth. In some cases, it may be helpful.
"There's no doubt there's a high rate of genetic abnormalities in embryos created both through nature and IVF."
Time-lapse photography of embryos or 'embryoscope'
Photographs are taken of the embryos before implantation to see which ones appear to be developing 'normally'.
Professor Balen said: "That's been a very interesting development and I think the jury is still out on time-lapse photography.
"The incubators are extremely good. We did put together a proposal for the study to see if it was the incubators or the time-lapse imaging that may or may not be beneficial."
Freezing of embryos of women in their late 30s and beyond
Professor Balen has warned that because of the decline in women's fertility by this age, clinics should not give women "false hope" that they will be able to get pregnant using frozen embryos.
Immune-suppressant drugs
These are used to make natural killer or NK cells in the mother's uterus less effective. The idea is that miscarriages are sometimes caused by the immune system attacking the foetus because its DNA does not match the mother's as it is half hers and half the father's.
In a paper published in the journal Human Reproduction last year, Professor Ashley Moffett and a colleague at Cambridge university wrote: "Despite the lack of scientific rationale and advice from clinical governing bodies, such as the Human Fertilisation and Embryology Authority, an increasing range of tests and therapies are still offered to women undergoing IVF or attending recurrent miscarriage clinics based on the myth that uterine NK cells need suppressing to prevent damage to the embryo."
The Human Fertilisation & Embryologist Authority says: "The theory behind reproductive immunology has been widely discredited, and there is no evidence that immune-suppressive therapies improve your chance of getting pregnant."
Register for free to continue reading
Registration is a free and easy way to support our truly independent journalism
By registering, you will also enjoy limited access to Premium articles, exclusive newsletters, commenting, and virtual events with our leading journalists
Already have an account? sign in
Join our new commenting forum
Join thought-provoking conversations, follow other Independent readers and see their replies