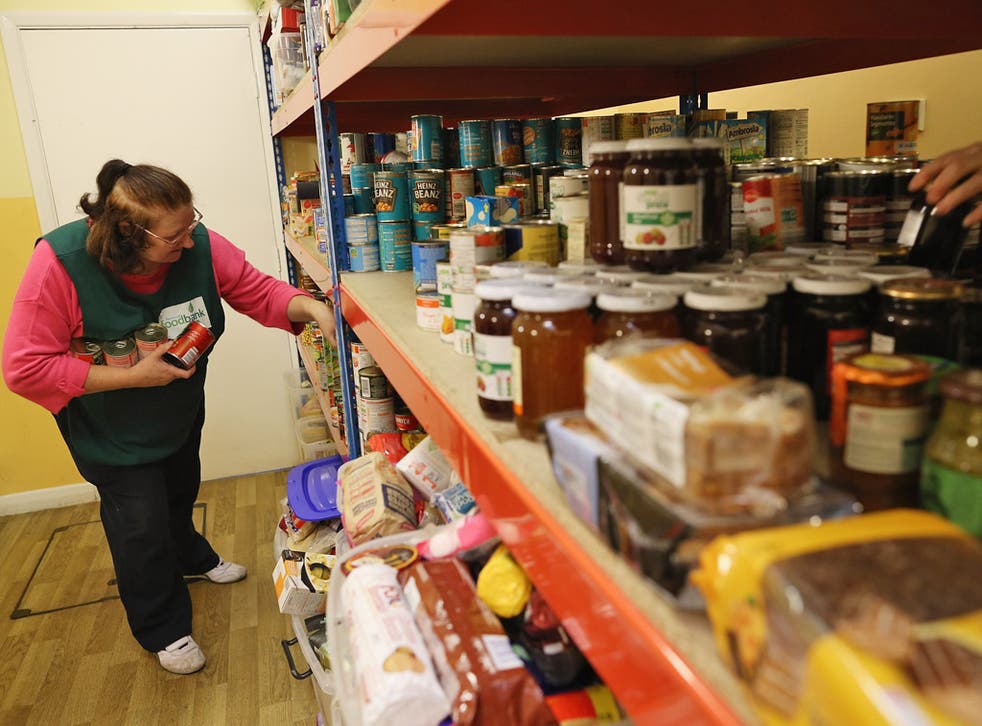 'Public health emergency' declared as one in six GPs was asked to refer a patient to food banks in the last year
One in six family doctors has been asked to refer a patient to a food bank in the past year, a new survey has found, with GPs reporting that benefits delays are leaving people without money for food for weeks on end.
There are even rare reported cases of people visiting their GP with "sicknesses caused by not eating", the leading food bank charity said.
Rising food poverty in the UK – driven by a combination of rising prices, stagnant wages, and reforms to welfare – has been described as an emerging "public health emergency" by academics and evidence from GP surgeries is matched by hospital diagnoses of malnutrition, which have nearly doubled in the past five years.
In a survey of 522 GPs, the magazine Pulse found that 16 per cent had been asked to refer a patient to food bank in the past 12 months. Many GP practices now hold vouchers for their local food bank while others are linked with local social support services to whom they refer patients who say they cannot afford to eat.
Dr Simon Abrams, a GP in Everton, said that his practice had supplied letters for patients to take to food banks in the most urgent cases. He said benefit delays, often stemming from difficulties in satisfying fit-for-work assessment, were making life "extremely difficult for people" in the area, and that colleagues from other practices had reported a similar growth in patients struggling to pay for food.
"Several of my patients have told me that they've gone for several weeks with no money coming in, and have gone to food banks or have borrowed from people," he told The Independent.
"One patient said he went to a food bank and received a very good provision which was more than he would normally have. The food banks are very well organised and clearly well supplied – and the need is much greater than ever before."
Demand for food banks has soared in the past three to four years. More than 700,000 emergency food parcels, which contain three days provision for an individual or their family, were handed out in 2013 by food banks managed by the leading charity The Trussell Trust. Other charities provide food but do not collect data to the same extent, so the problem may well be greater than figures suggest.
A Scottish government report has identified "welfare reform, benefit delays, benefit sanctions and falling incomes" as the main drivers of demand. However, ministers in the UK government do not accept that changes to people's benefits has increased the need for emergency food. The UK government's own report on food banks has still not been published several months after it was completed, amid accusations that ministers have "suppressed" the findings.
Chris Mould, the chief executive of the Trust, said that, while GP referrals were not one of most common routes for people using food banks, instances where it was happening were of particular concern.
"GPs should have the ability to refer to a food bank when they come across a patient who they believe needs a food bank for health reasons, especially as levels of malnutrition are reported to be increasing," he said. "Some GPs are contacting food banks to ask them to help people visiting their surgeries who are suffering various sicknesses caused by not eating."
A spokesperson for the Department of Work and Pensions said there was no "robust evidence that welfare reforms are linked to increased use of food banks".
"In fact, our welfare reforms will improve the lives of some of the poorest families in our communities with the Universal Credit making three million households better off - the majority of these from the bottom two fifths of the income scale," the spokesperson said.
Register for free to continue reading
Registration is a free and easy way to support our truly independent journalism
By registering, you will also enjoy limited access to Premium articles, exclusive newsletters, commenting, and virtual events with our leading journalists
Already have an account? sign in
Join our new commenting forum
Join thought-provoking conversations, follow other Independent readers and see their replies