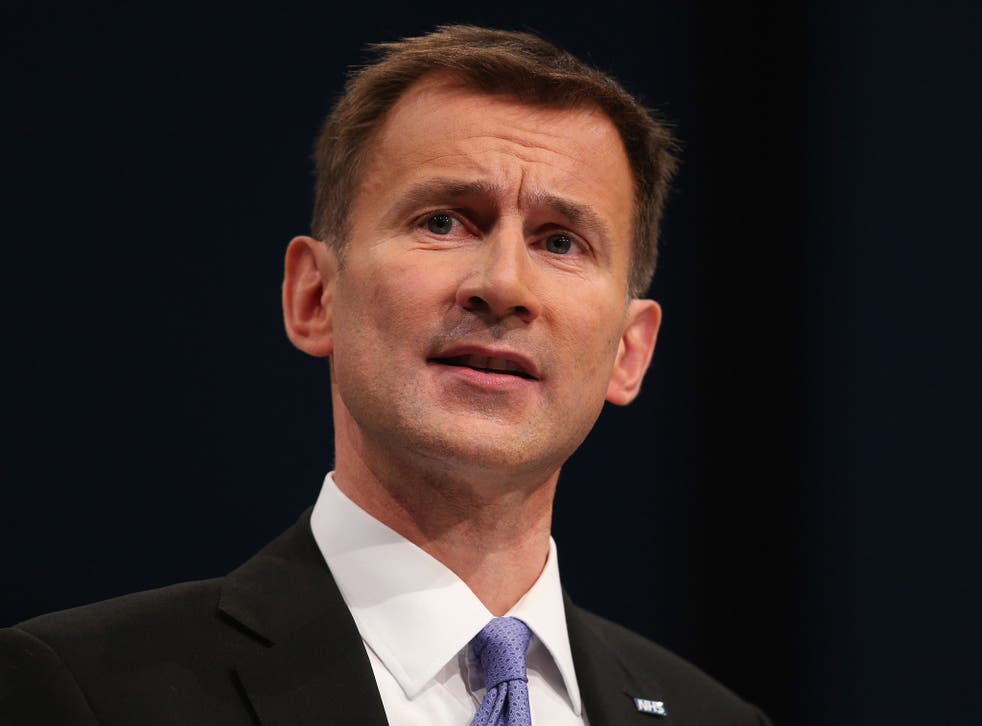 Junior doctors: Jeremy Hunt's claim patients more likely to die at weekends undermined by study
'This huge and robust study confirms what doctors have been saying all along,' BMA says
People who go to accident and emergency on a weekend do not have a greater risk of dying, according to a new study that contradicts the Government's reasons for trying to create a "seven-day NHS".
Junior doctors have staged a series of strikes – including the first full walkout in NHS history – over attempts by Health Secretary Jeremy Hunt to introduce a new contract partly designed to increase staffing at weekends because of disputed research that suggests people are at greater risk.
However, the new study, by academics at Manchester and York universities, says slightly fewer people die at weekends and the only reason that the mortality rate appears higher is that fewer people are admitted.
The lead author of a paper in the Journal of Health Services Research & Policy, Rachel Meacock, said: "About the same number of people die [at weekends], but it's just that you are dividing that by a lower number [of admissions].
"It's a simple fraction issue. It's really obvious."
Ms Meacock, a research fellow in health economics at Manchester University, said it appeared that hospitals chose to admit a smaller proportion of people at the weekends, so as a group they were likely to be sicker than those admitted on weekdays.
Asked about the Government's attempts to create a seven-day NHS to reduce weekend mortality, she said: "I think the policy got ahead of the evidence. I think the NHS has rushed to fix a problem it didn't really understand.
"We don't really need to be extending services, it's not going to be saving any more lives."
The researchers looked at more than 12.6 million visits to A&E and more than 4.6m emergency admissions to hospitals between April 2013 and February 2014.
In the paper, they wrote: "The average number of patients attending A&E on weekend days and dying within 30 days is similar to weekdays. The crude death rate following an A&E attendance is significantly lower at the weekend compared to during the week (0.99 per cent vs. 1.03 per cent).
"After adjusting for risk, attending A&E at the weekend is not associated with a significantly higher probability of mortality than attending during the week."
They also found "small but statistically significant" higher probabilities of mortality on Sundays and Mondays.
Dr Mark Porter, the British Medical Association's chair of council, said: "This huge and robust study confirms what doctors have been saying all along: there is a lack of evidence showing that the 'weekend effect' is caused by the absence of senior doctors.
Hunt and other Tories told off by Speaker for 'fiddling' on their phones
"It is a far more complicated picture than the one the government has tried to portray.
"These academics are the latest in a long the line of health professionals and leading experts challenging the government on its misleading use of figures.
"The BMA believes patients should have access to the same high quality of care, seven days a week.
"If the government want to make more services available across seven days, then it needs to explain how it will staff and pay for them at a time when existing services are struggling to keep up with demand."
In pictures: Junior doctors first all-out strike

Show all 10
A Department of Health spokesperson said: "This study actually adds to the evidence of variation in care across the week because it indicates there is a higher level of sickness required for patients to actually be admitted at the weekend.
"No-one seriously disputes the established consensus from eight studies in the last five years that the 'weekend effect' exists, and the Government makes no apology for acting on our ambition to create a safer seven day NHS.

"Disputes about precise methodology risk obscuring the established consensus of a weekend effect. Of course, we've always been clear that death rates are higher following admission at the weekends -- this is in part because some patients are sicker, but even adjusting for that experts have been clear that other factors including staffing levels and diagnostic availability are part of the problem."
Join our new commenting forum
Join thought-provoking conversations, follow other Independent readers and see their replies