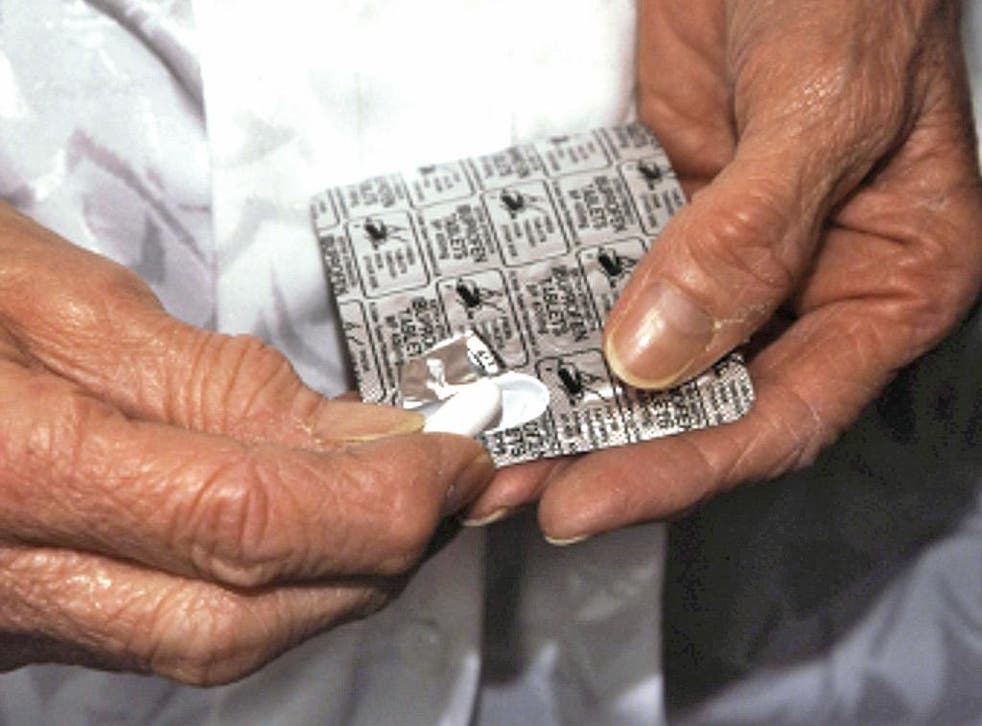 Study links common painkillers ibuprofen and diclofenac to increased risk of heart attack
Some of the most commonly used painkillers can increase long-term users' heart-attack risk by more than a third, an in-depth study into their side-effects has shown.
One year's high-dose treatment with over-the-counter painkillers such as ibuprofen and diclofenac, used by hundreds of thousands of arthritis sufferers in the UK, leads to three avoidable heart-attacks and one fatal heart-attack for every 1,000 users, researchers said.
The group of drugs, known as non-steroidal anti-inflammatory drugs (NSAIDs), have also been linked with gastrointestinal conditions such as stomach ulcers.
A new generation of NSAID painkillers known as coxibs had been introduced, which carried a lesser risk of stomach pains, but they were widely linked to an increase in heart attacks, leading to widespread public concern and the withdrawal of the popular drug Vioxx from shelves in 2004.
Now, however, the study's authors believe that high-dose treatments with older NSAIDs – like daily 150mg prescriptions of diclofenac or 2,400mg prescriptions of ibuprofen – could be as big a risk factor for heart attacks as Vioxx. All NSAIDs, the authors said, double the risk of heart-failure and produce a two- to four-times increased risk of gastrointestinal complications.
"We had huge public concern about Vioxx at a time when it wasn't clear that other drugs that had been on the market for years have similar risks," said the report's main author, Professor Colin Baigent from the University of Oxford's Clinical Trial Service Unit and Epidemiological Unit.
The study, published in The Lancet medical journal today, could lead to a review of the prescriptions offered by the NHS, particularly to patients with pre-existing heart problems. One painkiller, naproxen, did not significantly increase the risk of heart attack and could now be favoured over more common drugs.
Professor Baigent said that the study would give GPs and patients greater clarity over the risks involved in long-term painkiller use.
"Patients that are taking high doses may want to speak to their GP or rheumatologist," he said.
Many of the seven million people in the UK that suffer from osteoarthritis, and the 400,000 who suffer from rheumatoid arthritis, take high doses of ibuprofen, diclofenac or other NSAIDs, with many reliant upon the pain relief to go about their daily lives.
GPs welcomed the study, but said it was important to keep the findings "in context".
"Pain blights the daily lives of millions of people and treatments such as ibuprofen can vastly improve the quality of their lives, if used properly," said the chair of the Royal College of General Practitioners, Clare Gerada.
"We welcome this study as an opportunity to raise awareness about appropriate usage of painkillers."
The study, which analysed 639 random drug trials and gathered data on more than 350,000 patients, found for every 1,000 arthritis sufferers, the rate of people suffering a "major vascular event" such as heart attack, stroke or death increased from 8 per 1,000 to 11 per 1,000 with long-term, high-dose use of common NSAIDs.
The report's authors said that although information on risk factors for short-term users was limited, it was highly likely that their risk factor for all side effects would be significantly reduced.
Professor Simon Maxwell, of the British Pharmacological Society, said that the study's most interesting finding was that a less commonly used NSAID, naproxen, carried no increased risk of heart attack.
"This might lead to a review by some NHS organisations, who currently advocate the use of diclofenac and ibuprofen," he said.
Popular pills: The pros and cons
Aspirin – an antiplatelet drug used to reduce the risk of blood clots, aspirin is commonly used to reduce the risk of heart attacks. However, it can cause irritation of the stomach, indigestion and nausea and in rarer cases vomiting or bleeding in the stomach.
Diet pills – More than 120 different anti-obesity medications have been clinically tested and only one, orlistat, has been proven to be safe and effective. NHS guidance says that side effects can include headaches, stomach pain, colds and sore throats.
Statins – statins help cut people's cholesterol by reducing the level of low-density lipoprotein cholesterol produced in the liver. Some of their side-effects include nose bleeds, headaches and muscle and joint pain. Some patients also report problems with the digestive system such as constipation.
Co-codamol – a common painkiller that contains paracetamol and codeine, co-codamol is used to combat severe pain. The NHS says co-codamol's side effects can include drowsiness, fainting and a feeling of confusion. It can also increase the effects of alcohol.
Join our new commenting forum
Join thought-provoking conversations, follow other Independent readers and see their replies