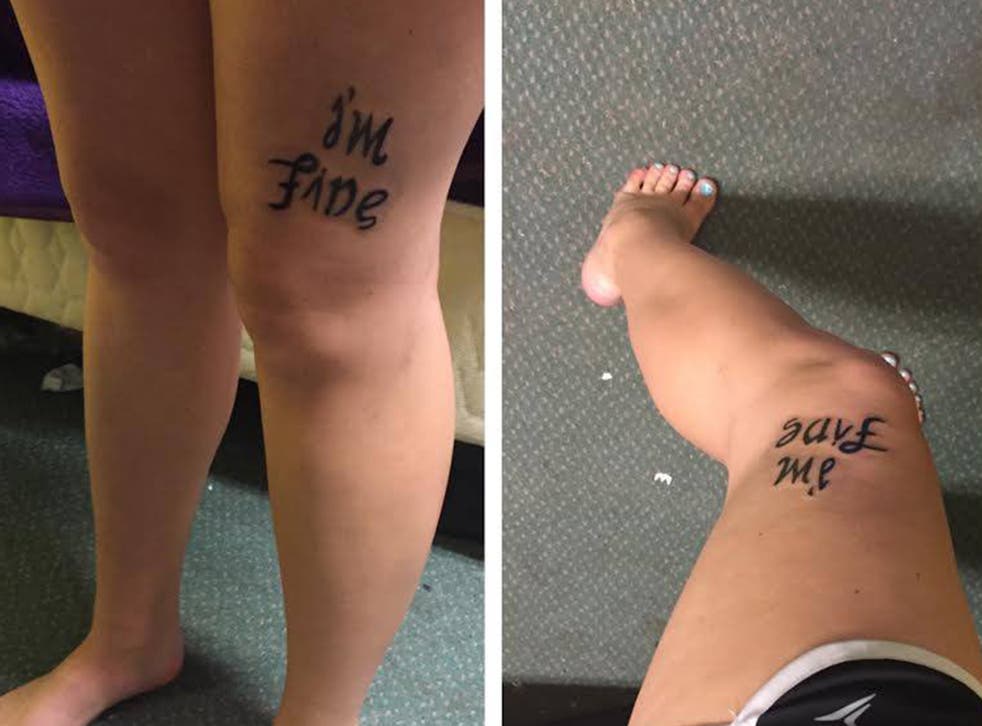 Tattoo with a hidden message highlights the invisible battle faced by people with depression
Bekah Miles was concerned mental illness was not being taken seriously
Jess Staufenberg
Monday 31 August 2015 16:53 Comments
A young woman has brought attention to the invisibility of depression - by getting a tattoo which sends out two opposing messages depending on how you look at it.
The tattoo on her leg appears to say "I'm fine" when read by someone looking at her, but reveals its true secret to its wearer when she looks down at it, reading "Save me" instead.
Bekah Miles, a 21-year-old US student who has struggled with depression for some years, got the inking on her leg to start a conversation about mental health and give voice to her experience.
She said in a Facebook post which has been shared more than 200,000 times that the topic was very difficult to talk about.
"So today, I got this tattoo. I feel that my leg was the best place for the meaning behind it. When everyone else sees it, they see 'I'm fine', but from my viewpoint, it reads 'save me'.
"To me, it means that others see this person that seems okay, but, in reality, is not okay at all. It reminds me that people who may appear happy, may be at battle with themselves."
Ms Miles was especially concerned that mental illness was not being taken seriously enough - in the same week as Iain Duncan Smith, UK minister for work and pensions, said depressed people should "get into work".
In the full letter she said:
"Mental illness is serious, but so shamed in our society. We care so much for our physical health, but hardly a thing about our mental state. And that is seriously messed up."
Her list of how depression feels especially moved readers and received a huge number of responses from strangers who commended her brave stance.
"Depression is the nights I begin to cry because I feel so overwhelmed, even though everything is going right.
"Depression is the 50 pounds I carry in my chest at all times.
"Depression is the need to constantly be distracted (being on social media, playing video games, watching movies or shows, or working all the time) because I can't trust myself with my thoughts for longer than 3 minutes.
"Depression is the friendships that have suffered because of my inability to function."
Quotes on depression

Show all 14
Her story has gone viral and made it into national and international news, as well as been shared by well-known people such as US actress Zooey Deschanel.
Ms Miles has reacted with disbelief at the coverage of her clever and moving tattoo.
"I never expected it to go beyond my friends and family [...] I am completely and utterly in awe of how far this has travelled.
"This is exactly what I wanted - to reach out to people and let them know they are not alone. Clearly, 24,000 people and counting and they are not alone. Please keep sharing and spreading the awareness."
Register for free to continue reading
Registration is a free and easy way to support our truly independent journalism
By registering, you will also enjoy limited access to Premium articles, exclusive newsletters, commenting, and virtual events with our leading journalists
Already have an account? sign in
Join our new commenting forum
Join thought-provoking conversations, follow other Independent readers and see their replies