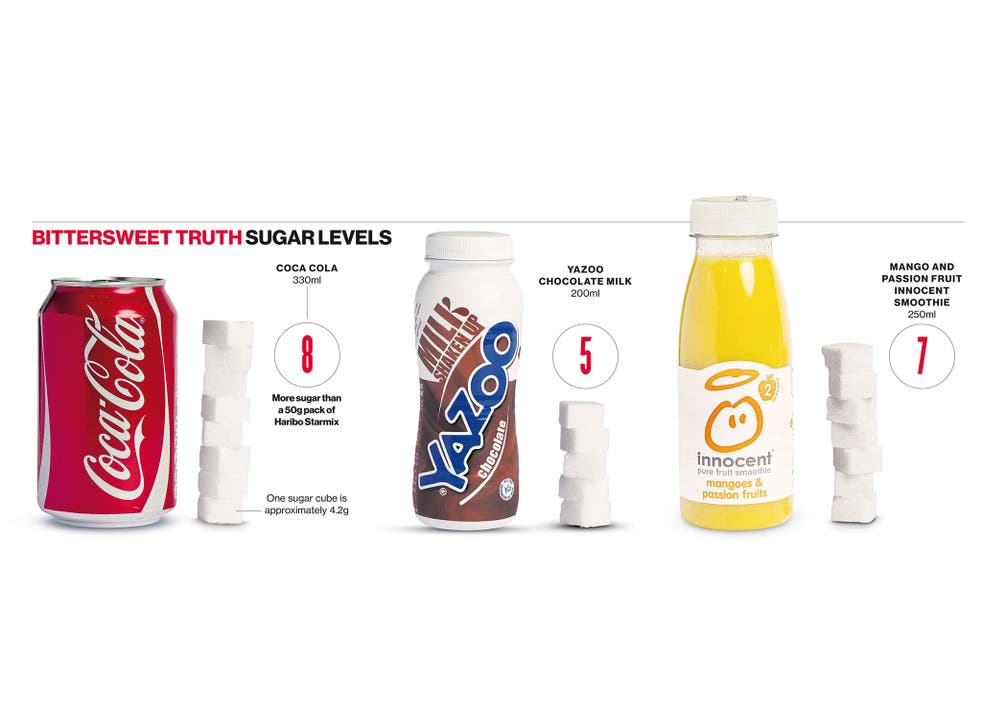 Tax sugary drinks to reduce obesity, says new study
Plan would also earn Treasury £276m, but the beverage industry insists research is 'misguided'
Charlie Cooper
Friday 01 November 2013 00:30 Comments
A 20 per cent tax on sugary drinks would reduce the number of obese adults in the UK by 180,000, bring in £276m to the Treasury and save the NHS millions, a study has claimed.
The proposal, which would increase the cost of a can of Coca Cola by approximately 12p, would have a small but significant impact on growing obesity rates in young people, who are far more likely to drink high-sugar fizzy drinks, the researchers said.
However, the drinks industry called the research "misguided" and said a sugary-drinks tax would do nothing to combat obesity.
The findings come a week after the Government's own physical activity tsar, Fred Turok, spoke at an event hosted by Coca Cola at which he urged the company to help "change the debate" and shift the focus of public health efforts away from obesity and towards increasing levels of physical activity.
Regular consumption of sugar-sweetened drinks increases the risk of obesity, diabetes and tooth decay, said the authors of the study, which is published in the British Medical Journal today. Researchers from Oxford and Reading universities used data from surveys on consumers' buying habits, the price of drinks and body-weight to estimate the impact of a 20 per cent surcharge on high-sugar-content drinks.
Such a tax would cut obesity rates by 1.3 per cent, and reduce the number of overweight people by 285,000, the authors said, with the bulk of the impact seen in people aged 16 to 29: the major consumers of sugary drinks.
Obesity, which is a risk factor for diabetes, heart disease and other serious medical conditions, costs the NHS billions every year.
Mr Turok, the founder of gym chain LA Fitness, chairs UK Active, which promotes physical activity and is partnered with the Department of Health's Physical Activity Network, which Mr Turok also chairs alongside Health minister Dan Poulter.
Last week Mr Turok told delegates at Coca Cola's "Together We Move" event, that a focus on obesity as a public health issue was distracting from the greater dangers of physical inactivity, and urged the soft-drinks giant to help "change the debate from obesity to activity", adding that the UK seemed to be "obsessed with obesity".
His comments drew criticism from leading cardiologist Dr Aseem Malhotra. "There is no doubt that regular physical activity is good for health," he told The Independent. "[But] to suggest that companies associated with junk food should use physical activity to promote their brand in my view is a damaging public-health message."
Speaking after the event Mr Turok said: "Obesity... must be addressed through portion control, better quality food intake and reducing sugar. But inactivity is a silent killer even if you are thin. This is about a healthy overall lifestyle, measuring the fitness of your heart, not just the size of your waist."
Commenting on the BMJ study, Gavin Partington, director general of the British Soft Drinks Association, said there was "ample evidence" that taxing soft drinks would not curb obesity.
"Trying to blame one set of products is misguided, particularly when they comprise a mere 2 per cent of calories in the average diet," he said.
The Department of Health said it was helping to reduce obesity through its Responsibility Deals – voluntary pledges in which food and drink makers agree to reduce the level of unhealthy ingredients in some of their products.
A spokesperson said: "We believe [this] will help people make healthier choices, but we keep all international evidence under review."
Register for free to continue reading
Registration is a free and easy way to support our truly independent journalism
By registering, you will also enjoy limited access to Premium articles, exclusive newsletters, commenting, and virtual events with our leading journalists
Already have an account? sign in
Join our new commenting forum
Join thought-provoking conversations, follow other Independent readers and see their replies