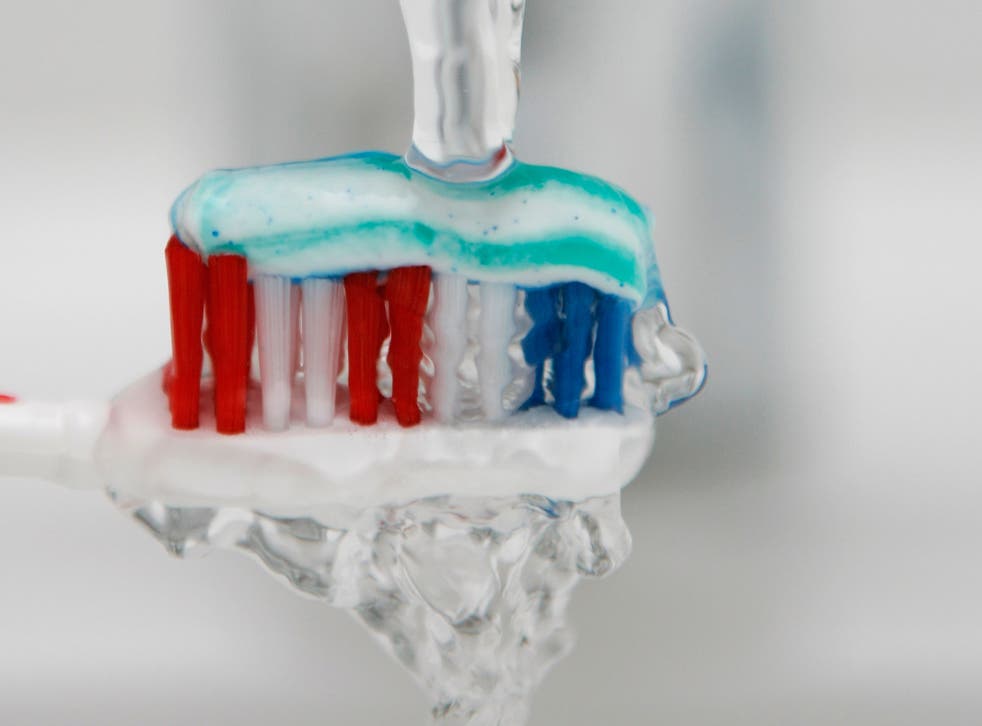 Tesco bans microbeads from all products
Campaigners push for further ban on cosmetics containing the plastic particles
Emily Beament
Thursday 24 November 2016 18:46 Comments
The Government must bring in a full ban on plastic "microbeads" in all household and beauty products that are washed down the drain, campaigners have urged.
Environmental groups made the call for a comprehensive ban on the tiny particles which add to plastic pollution in oceans, as Tesco announced microbeads would be removed from all own brand cosmetic and household products by the end of 2016.
Speaking at an event on Greenpeace's ship Esperanza, Tesco's group quality director Tim Smith also said the company had contacted the brands it sells to ask them what was in their products and what their plans were to remove them.
Microbeads, which are added to products ranging from face scrubs and toothpastes to kitchen cleaners, are washed down the drain into the seas where they can be swallowed by fish and crustaceans with potentially harmful effects.
The Government has announced plans to ban microbeads from cosmetic and beauty products, with a consultation expected shortly, but campaigners want the legislation to avoid any loopholes.
The "microbeads coalition", made up of the Environmental Investigation Agency, Greenpeace, Fauna and Flora International and the Marine Conservation Society, wants the ban to include all solid micro-plastics, with no lower size limit, as they can be much smaller than a millimetre.
It should cover all products commonly washed down the drain, including household cleaners as well as personal care products, and "biodegradable" plastics should not be used instead as they do not degrade in the seas, they said.
Speaking on the Esperanza, which is moored near Tower Bridge in London, Dr Erik van Sebille, from Imperial College London, said there was evidence of small plastic pieces causing harm to sea creatures, such as preventing oysters from reproducing.
He said smaller plastic pieces were more harmful as they could get further into tissues.
While large plastic waste could break down into small pieces, that largely happened far out in the ocean, while most marine life was near the coasts.
Microbeads were especially harmful because they were already small when they reached the sea and travelled through the coastal zone where people fished and wildlife such as seabirds and turtles lived.
"Of all the plastic around, the small bits that flow through our sewage treatment plants are probably the most harmful, which is one of the reasons a ban on microbeads would be helpful," he said.
Dr David Santillo from the Greenpeace science unit, based at Exeter University, said testing showed most microbeads were polyethylene, which was "particularly good as a plastic at absorbing contaminants from the environment".
Putting the tiny particles into the oceans in such numbers - with hundreds of thousands in each tube of face scrub - could be adding to the problem of plastic pollution but also the uptake of other chemicals, he warned.
Mr Smith said Tesco had asked its suppliers to effectively "turn back the clock" to before microbeads, as there were other exfoliants which could be used, such as ground-down coconut shells, or they could simply be removed with no effect.
He said there were around 10 Tesco personal care products affected by the move, which the company would have undertaken even without the prospect of a government ban, he said.
A review found no own-brand household products contained microbeads, and none will be introduced in the future.
"We felt it would be serving our customers better if we were leading on something as significant as removing microbeads from products."
The worst jobs for your health

Show all 10
Elisabeth Whitebread, oceans campaigner at Greenpeace, said: "Marine life doesn't distinguish between plastic from a face wash and plastic from a detergent.
"The Government needs to ensure that we end up with a world-leading microbeads ban that covers all household products."
Press Association
Register for free to continue reading
Registration is a free and easy way to support our truly independent journalism
By registering, you will also enjoy limited access to Premium articles, exclusive newsletters, commenting, and virtual events with our leading journalists
Already have an account? sign in
Join our new commenting forum
Join thought-provoking conversations, follow other Independent readers and see their replies