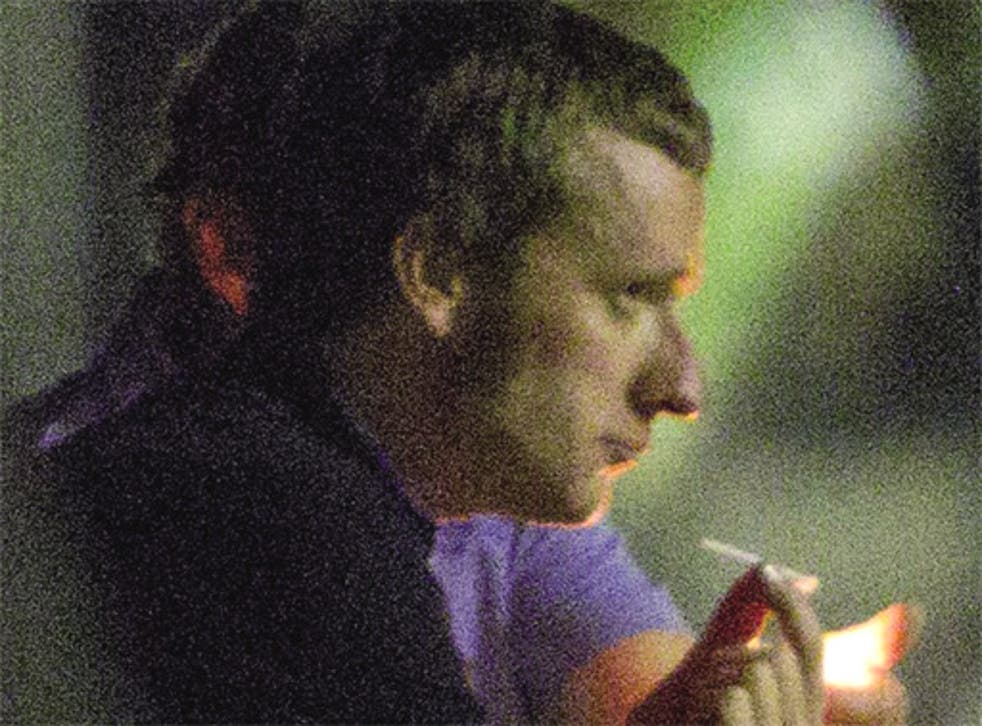 The puff of legends: What impact does smoking have on an athlete's performance?
Seeing Bradley Wiggins smoking might seem shocking, but there's a long tradition of athletes defying the doctors in favour of a crafty cigarette. So what impact does it have on their performance?
Tim Walker
Thursday 16 August 2012 12:27 Comments
One of the keys to Bradley Wiggins' four Olympic golds, not to mention his Tour de France victory, is his lung capacity: eight litres, compared to the average man's six. Perhaps that substantial natural advantage – inherited from his cyclist father – is why Wiggins was content to partake of a cigarette on holiday in Mallorca this week. He certainly isn't the first celebrated athlete to relax with a crafty puff.
Top footballers including Wayne Rooney, Zinedine Zidane, Dimitar Berbatov and Ashley Cole are known to indulge now and then. The great Australian spinner Shane Warne was a smoker throughout his cricket career, despite a spell as a spokesman for Nicorette patches. Michael Jordan, the biggest star in basketball history, was photographed with a cigar on the cover of Sports Illustrated in 1993, and ticked off for smoking another on a San Francisco golf course in 2009.
Before he retired in 2005, German tennis player Karsten Braasch was more famous for smoking – Marlboro reds, on his courtside chair between games – than he was for playing. Even Tim Henman is known to have cadged a fag or two in his time. Unrepentant puffer Anna Kournikova once told an interviewer, "My smoking has nothing to do with my tennis."
Surprisingly, given the stigma around smoking, even the Athletes' Village at the London Olympics contained designated smoking areas. Mark Todd, the New Zealand eventing rider who took part in his seventh Games this month, won golds in 1984 and 1988. After his winning showjumping run in Los Angeles, he watched his closest competitor take to the ring while sucking anxiously on a smoke.
Well-exercised athletes are able to clear nicotine and carbon monoxide from their bodies more quickly than most, explains Dr Michael Ussher, lecturer in health psychology at St George's Hospital Medical School. "Carbon monoxide reduces your capacity to exercise. But if you're only having the odd cigarette, several hours beforehand, it will make marginal, if any, difference."
Nevertheless, says professor Stephen Spiro, deputy chairman of the British Lung Foundation, "It's wrong to assume that if you're an athlete and have super lung function, smoking doesn't matter. You're making such demands on your lungs that any impairment will affect performance. These guys work at 120 per cent of normal, so a few percentage points off their lung function could be the difference between a gold and a bronze."
Before it became clear that cigarettes were bad for health, they were acceptable even in athletic circles. Multiple Grand Slam-winning tennis pro Bill Tilden appeared in Lucky Strike ads during the 1920s, claiming they "protect his throat". Baseball great Joe DiMaggio promoted Chesterfield. Arnold Palmer was famous on the fairways for smoking L&Ms between golf strokes, though he struggled hard to kick the habit.
One of Roger Bannister's rivals in his days as an Oxford runner was Eric Mackay, who, according to legend, "could not last the nine laps of a three-mile race without a cigarette and had a friend standing by with one ready for a quick drag before the bell". And in 1932, before the British school teacher Tom Hampson won the 800m gold at the first LA Olympics, he is said to have started the day with a fry-up, a cup of tea and a cigarette. His time was 1:49.7, nearly nine seconds slower than David Rudisha's 2012 world record.
Register for free to continue reading
Registration is a free and easy way to support our truly independent journalism
By registering, you will also enjoy limited access to Premium articles, exclusive newsletters, commenting, and virtual events with our leading journalists
Already have an account? sign in
Join our new commenting forum
Join thought-provoking conversations, follow other Independent readers and see their replies