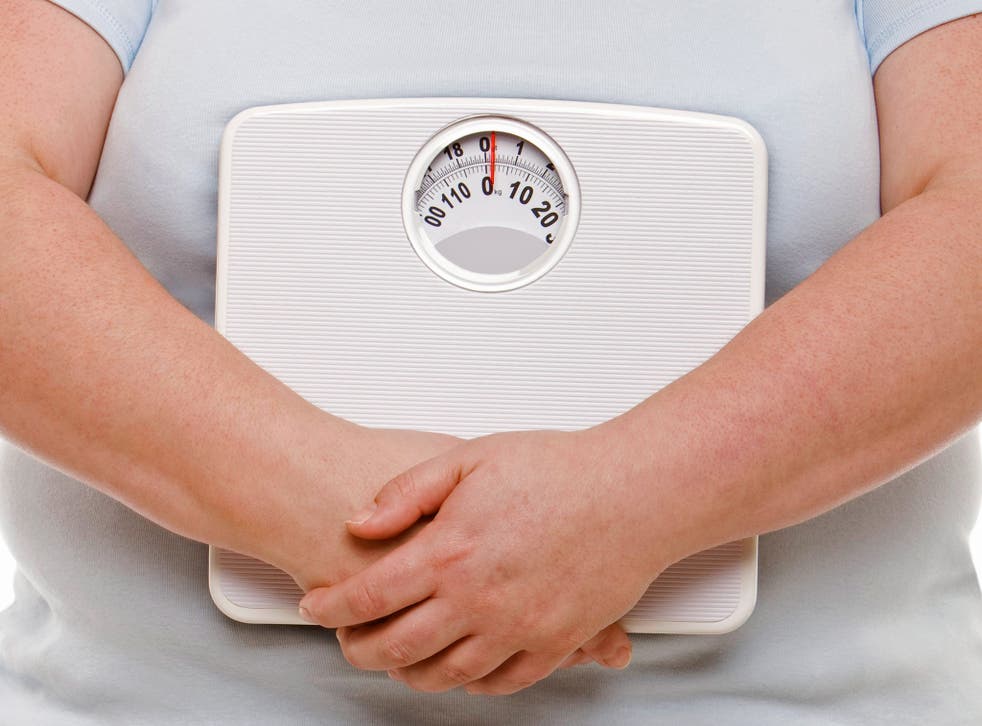 NHS could triple number of weight-loss surgeries to reduce number of obese Britons
New Nice guidance prioritises surgery for anyone with a BMI of 30 or more
Charlie Cooper
Thursday 27 November 2014 01:00 Comments
The NHS should triple the number of weight-loss surgeries it carries out every year to help tackle the "immense problem" of obesity and reduce the £10bn cost of caring for patients with diabetes, the health watchdog has said.
In new guidance, the National Institute for Health and Care Excellence (Nice) has lowered the threshold at which patients should be considered for an operation. All people classified as obese who have serious weight-related illnesses could now be considered for the surgery.
In theory, up to two million people could now be considered, and the plan could lead to up to 15,000 people being operated on annually within a few years, experts said.
Surgery should now be considered for anyone with a body mass index (BMI) score above 30 who have been recently diagnosed with diabetes or another weight-related illness, Nice said.
Experts said it was "extremely fanciful" to expect that all two million people would be given the operation, which costs the NHS £6,000 in upfront and follow-up costs, but the plan marks a major change in the NHS' approach to the often controversial operations.
Weight loss surgery – usually a gastric bypass, in which the digestive system is rerouted past the majority of the stomach, meaning that less food can be digested and it takes less food to create a feeling of fullness – is highly effective, and can also improve conditions associated with being overweight or obese, such as high blood pressure and diabetes.
However, it remains controversial in some quarters, with critics saying that it should not be viewed as an alternative to low-cost diet and exercise based weight loss. The new guidance stipulates that people considered for the surgery should already have been through a medical weight loss programme.
It is hoped that the guidance will save the NHS money in the long run. The cost of treating diabetes and its complications already costs the NHS about £10bn a year and in some places one in six hospital beds are taken up by diabetes patients.
"These procedures are very effective," said Professor John Wilding, consultant physician in diabetes at University of Liverpool and Aintree University Hospitals NHS Foundation Trust. "For more severely obese patients they are the only treatments that have a very good chance of people losing good amounts of weight and keeping that weight off long-term.
"If you've got type 2 diabetes diagnosed within the last 10 years it is a very effective way of reducing blood glucose, independent of weight loss, because of the change in the anatomy of the gut. When you look at net cost to NHS over a period of time, not in the one year they had the operation, it becomes a really cost-effective intervention and may even in some instances bring a cost-saving."
Under previous guidance, bariatric surgery was offered to people with a BMI of 40 or more, or those with a BMI between 35 and 40 if they also had another significant disease that could be improved if they lost weight. BMI is a measure of whether you are a healthy weight for your height.
The new guidance has a number of special provisions for people with type 2 diabetes. People with a BMI of over 35 who are diagnosed with the illness will now be offered an "early, rapid assessment" for weight loss surgery.
"Type 2 diabetes is a chronic, disabling condition; it can lead to kidney disease, amputations and blindness," said Dr Rachel Batterham, head of obesity and bariatric services at University College London. "Bariatric surgery can help because it changes the way the body deals with sugar. Around 60 per cent of people who undergo surgery will have more control over their diabetes immediately and they are less likely to have diabetes related illness.
"Bariatric surgery is not an easy option," she added. "It cannot be used alone. It must be accompanied with changes to diet, activity levels and lifestyle. There is an initial cost of around £6,000 in the short term, but preventing the long-term complications of diabetes is great for the individual and will save the NHS money."
However, some weight loss experts said the new guidance risked "normalising" weight-loss surgery.
Dr Jacquie Levin, head of nutrition and research at Slimming World, said that the advice sent out "a worrying message".
"Choosing surgery is not a light-hearted decision. It carries risks and, emotionally, it can heighten people's feelings of failure and lack of control as it puts the solution well and truly in someone else's hands," she said. Weight loss surgery can lead to complications, and people who have had it cannot eat large portions at meal times ever again.
Professor Mark Baker, head of Nice's Centre for Clinical Practice said that obesity was a "a major issue, if not the major issue, for the health service in the coming years".
"As a nation we are getting heavier. The number of people classified as obese has nearly doubled over the last 20 years and continues to rise," he said.
Bariatric surgery: The facts
Ethics
Opposition to bariatric surgery has centred around the idea that it is a "quick fix" that allows people to shirk responsibility for their own weight loss. However, few who undergo it consider it an easy option, and Nice's guidance says it should only be used when weight management programmes have been unsuccessful.
Safety
Like all surgical procedures, weight loss operations do not come without their risks. Complications can include infections and, in more infrequent cases, blood clots and internal bleeding. Around one in five people who have undertaken a gastric bypass also suffer from vomiting.
Cost
Nice says that each operation will cost £6,000. Last year there were 6,500 operations and Nice wants that to rise to around 15,000 annually. That would take the cost to around £90m. However, they say the savings made on treatments for conditions such as diabetes and high blood pressure could lead to a net saving for the NHS.
Case study: 'I lost 25 stone'
A 50-year-old carer from Newquay, Zaneta Jones, had a gastric bypass in 2008. She now works for a support group for others who have had weight-loss surgery.
"I was 40st and I've lost 25st. I did have diabetes, sleep apnoea and high blood pressure and I have none of them any more.
"I have never come across a person who has said, they wish they never had the surgery. Even when people who have problems after surgery still say it's the best thing they've done.
"Not one person would put their life at risk if they could have sorted out their weight by themselves. They have tried.
"I welcome the new guidance, as long as people have to go through the same criteria as currently.
"You have to go down the weight management route, you have to be taught portion control, right and wrong foods.
"I think they should also put some more money into psychological health.
"Surgery is 100 per cent a last resort, because it isn't an easy option at all.
"I wish I hadn't needed the surgery, but I'm glad I had it."
Register for free to continue reading
Registration is a free and easy way to support our truly independent journalism
By registering, you will also enjoy limited access to Premium articles, exclusive newsletters, commenting, and virtual events with our leading journalists
Already have an account? sign in
Join our new commenting forum
Join thought-provoking conversations, follow other Independent readers and see their replies