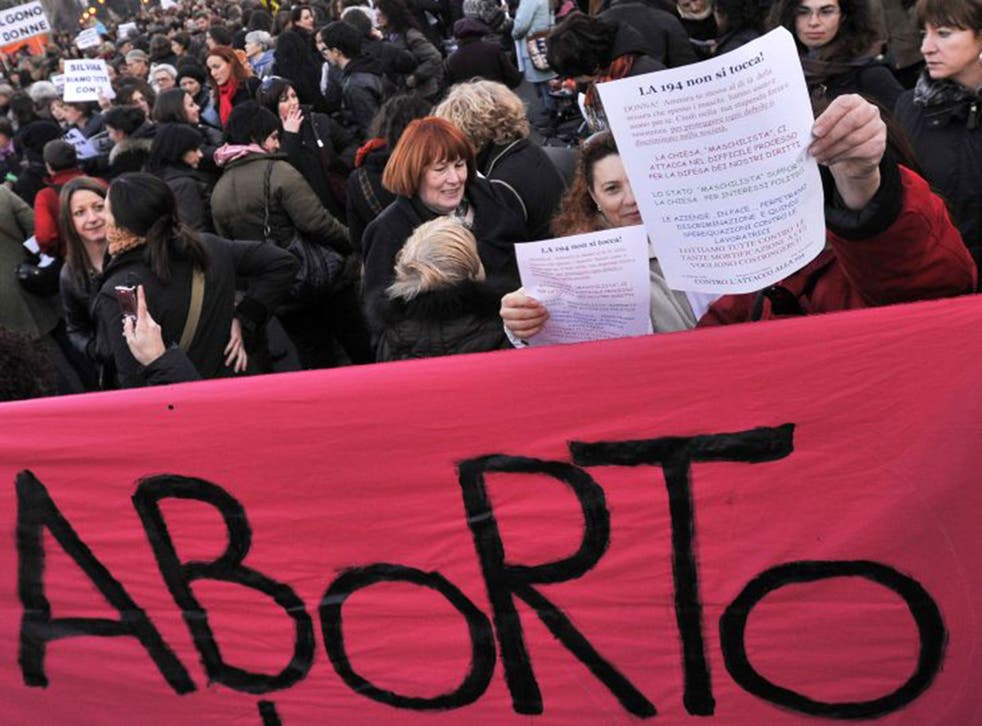 Vatican influence over Italy's health system is restricting abortions, doctors warn
The Catholic Church is encouraging hospitals to hire anti-choice gynaecologists and obstetricians
Italian women are being deprived of the right to an abortion, as the Vatican's influence over the country's health system results in the hiring of doctors who refuse to undertake the procedure on moral grounds, a group of the country's pro-choice doctors has warned.
Nine out of 10 obstetricians and gynaecologists working in public hospitals in some districts are now publicly refusing to operate, despite the 1978 Law 194 stating that every woman be guaranteed access to an elective termination within the first 90 days of a pregnancy.
In one case this year, 28-year-old Valentina Magnanti was left to give birth to a severely-malformed child in a hospital toilet in Rome because none of the doctors would treat her. The woman's request for medically induced abortion had been granted. But after taking the drugs needed to induce the termination process, the hospital was unable to find willing medical and nursing staff to complete the procedure.
In another case in Genoa, a woman had to call the police to a hospital in the city over the Easter weekend after doctors refused to assist her through the second stage of a medical abortion.
Silvana Agatone, president of the Free Association of Italian Gynaecologists for the Application of Law 194 (Laiga), said: "A woman's right to an abortion under the law in Italy is no longer secure. Even in hospitals that do officially provide abortions, the number of willing staff is so low that the service is completely inadequate."
Elisabetta Canitano, another Laiga member and head of women's health campaign group Vita di Donna (Woman's Life), attributed the problem to the influence of the Catholic Church on reproductive health, particularly in and around Rome where many major hospitals – although funded by the state – are owned and run by the Church, which determines hiring policy. Pope Francis came out in support of objectors earlier this year, giving fresh impetus to anti-abortion groups. They have organised several protests in recent months.
"In Italy, the influence of the Vatican is very strong," said Ms Canitano. "The Church has always been interested in health and education. This is a battle of wills between Church and state; the Church is winning."
She fears the situation will deteriorate further. "When this generation of pro-choice gynaecologists goes, I fear there will be no one to replace them," she said. "What's going to happen then?"
Under Law 194, doctors can refuse to undertake an abortion on moral grounds. Massimo Gandolfini, a spokesman for the anti-abortion Associazione Scienza e Vita, says this occurs when doctors feel "abortion is fundamentally unfair and unjust". Prior to 1978, abortions were banned in Italy under a Mussolini-era law that labelled them a "crime against the purity of the Italian race".
Laiga's research suggests the proportion of obstetricians and gynaecologists in Lazio – the region in and around Rome – citing moral objections to the procedure has reached 91.3 per cent. "The Ministry of Health says the figure is 81.9 per cent. And that was bad enough. But our figures suggests it's even worse," said Ms Agatone.
As a result, only 51.9 per cent of public hospitals in Lazio now perform abortions. In neighbouring Campania, the figure is just 32.9 per cent and in the northern province of Bolzano, fewer than one hospital in four offers the service.
On 17 November, the last remaining pro-choice gynaecologist at Rome's biggest hospital, the Policlinico Umberto I, retired on health grounds. It, too, has since stopped performing elective abortions.
The Laiga members say that even abortions performed out of medical necessity are being shunned by many Italian obstetricians. Ms Agatone cited the example of one of her colleagues who refused to participate in terminating an ectopic pregnancy – a life-threatening emergency for a pregnant woman.
Laiga is launching a petition, with Vita di Donna, to demand that the Minister of Health, Beatrice Lorenzin, take action to ensure that Law 194 is applied. Earlier complaints by the body to the European Court have already seen the Italian government sanctioned for denying women their right to abortion.
Laiga has also assembled a group of around 30 lawyers prepared to offer free legal advice to patients and pro-choice doctors who feel under siege by the health system.
Concetta Grande, a gynaecologist in Rome and a member of Laiga, noted that with elective abortion still illegal in private clinics, Italians were not able to turn to private abortions. "But we have to do something," she said. "These women are being abandoned. They often don't know what to do or where to go."
Register for free to continue reading
Registration is a free and easy way to support our truly independent journalism
By registering, you will also enjoy limited access to Premium articles, exclusive newsletters, commenting, and virtual events with our leading journalists
Already have an account? sign in
Register for free to continue reading
Registration is a free and easy way to support our truly independent journalism
By registering, you will also enjoy limited access to Premium articles, exclusive newsletters, commenting, and virtual events with our leading journalists
Already have an account? sign in
Join our new commenting forum
Join thought-provoking conversations, follow other Independent readers and see their replies