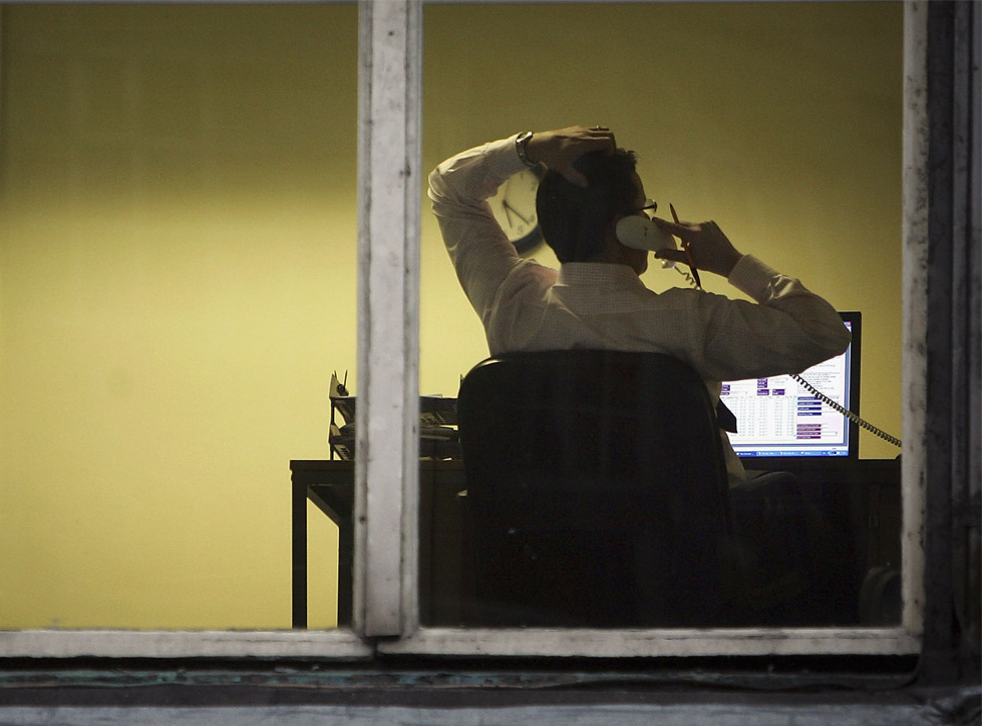 Want to be healthier, save the planet and boost the economy? Then work less - cutting working week would improve well-being and boost economy, say experts
It may be the excuse long-suffering commuters have been waiting for, as new research suggests that working fewer hours each week can be good for your health, protect the environment and even boost the economy.
A group of economists believes the working week should be reduced from an average of 40 hours to just 30 and cite Germany, Belgium and the Netherlands, among others, as examples of countries that have shorter working weeks but no less productivity among workers.
Anna Coote, head of social policy at the New Economic Forum think-tank, which compiled the research, explained: "Having too little time to call our own can seriously damage our health and well-being, our family life, friendships and communities.
"No one should be made to work long and unsocial hours to make ends meet."
The authors of Time on Our Side argue that there is no correlation between average paid working hours and the strength of a country's economy, and point out that the working week in Britain is longer than in almost every other European country.
A quarter of all sick days taken are due to work-related problems, especially stress and mental illness, with Britons suffering the most in Europe. A recent survey by the European Depression Association found one in four British workers has been diagnosed with stress or depression, compared with just 12 per cent of Italians.
Earlier this month, Jamie Oliver attacked British workers for being lazy and not putting in the 80 to 100 hours a week he claims is necessary for success. He said: "I have mummies phoning up for 23-year-olds saying to me, 'My son is too tired.' On a 48-hour-week! Are you having a laugh?" However, the economists argue that, with a shorter working week, staff would be less likely to call in sick, be more productive, and this would create jobs for the unemployed. A shorter working week would mean less money, but the authors claim that this would in turn be good for the environment.
The report says: "People have been working long hours to earn money to buy stuff that's made and used in ways that inflict profound and irreversible damage on the ecosystem on which all life depends.
"It's clear that time, money, consumer goods and planetary boundaries are interdependent. That's a very good reason to think again about time and to change the way we value and use it, whether it is traded or not.
"Time is not just money. It is far more precious than that."
The spare time could also be used to care for the elderly, an ever-growing issue as the ageing population increases, it suggests.
However, with the economy still experiencing low growth and unemployment at 2.49 million – including one in five 16- to 24-year-olds – the strain on workers to put in longer hours remains high.
A recent survey for Canada Life insurance group found that a third of British workers said they would go to work even if they had the flu and 93 per cent believed a cold was no longer a reasonable excuse to stay at home.
Workaholics and what they say
Thomas Edison
By the time he died in 1931 he had filed more patents than anyone else in history. Among his best-known were the phonograph, the first reliable light bulb and the first motion pictures. He said, "Genius is 1 per cent inspiration and 99 per cent perspiration."
Margaret Thatcher
One of the factors said to have enabled her to thrive as Britain's first woman prime minister was her capacity for hard work. She was reputed to be able to operate on just four hours' sleep a night. "I do not know anyone who has got to the top without hard work," she once said. (Getty Images)
Theodore Roosevelt
Having been a sickly child he built up his strength by physical activity. He retained a belief in always working hard throughout his life. He said: "I don't pity any man who does hard work worth doing. I admire him. I pity the creature who does not work." (Getty Images)
Register for free to continue reading
Registration is a free and easy way to support our truly independent journalism
By registering, you will also enjoy limited access to Premium articles, exclusive newsletters, commenting, and virtual events with our leading journalists
Already have an account? sign in
Join our new commenting forum
Join thought-provoking conversations, follow other Independent readers and see their replies