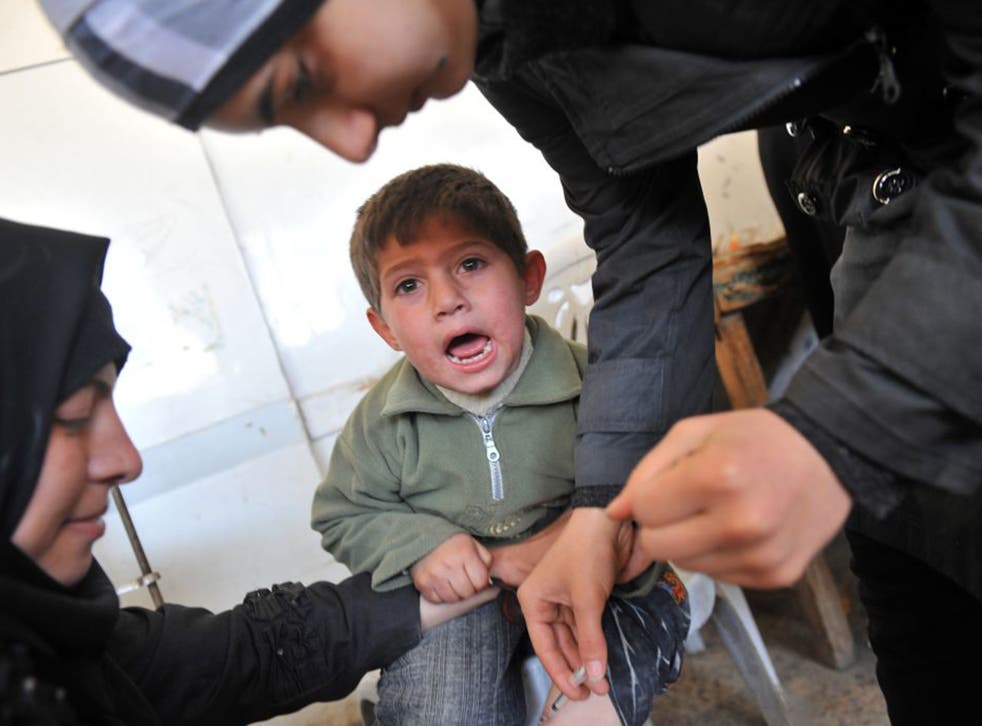 Washington warns 'perfect storm' of conditions leaves Isis-controlled Iraq and Syria vulnerable to outbreaks of infectious disease
The world needs to look ahead and pre-empt infections, rather that reacting to outbreaks, say leading health experts
Charlie Cooper
Sunday 18 January 2015 01:00 Comments
A "perfect storm" of conflict and the breakdown of state healthcare have left swathes of Isis-occupied Syria and Iraq vulnerable to outbreaks of infectious disease, America's new science envoy to the Middle East has warned.
Dr Peter Hotez, a leading global health expert, said an outbreak of leishmaniasis, a disfiguring disease spread by sand flies, was already "out of control" in Syria, and he also warned about the rising risk posed by Middle East Respiratory Syndrome (Mers) in a region where many hospitals have closed and disease surveillance control measures are hampered by fighting.
The Ebola outbreak in West Africa, which has killed nearly 8,500 people, mostly in Liberia and Sierra Leone, both of which had recently emerged from civil conflict, should be a warning to the world over the fragility of war-torn regions, he added. "The fact that Ebola arose out of a post-conflict setting in West Africa is not a surprise," he told The Independent on Sunday. "We know that if there's a part of the world with this toxic mix of poverty and conflict you're going to see epidemics of neglected tropical diseases. What I'm predicting now is that the next shoe to drop is in Isis-occupied Syria and Iraq, that will be the next place where we'll see real problems."
Dr Hotez, is president of the Sabine Vaccine Institute and has been appointed by the White House as a US Science Envoy to build up vaccine development capacity in the Middle East and North Africa.
He said the world should be "anticipatory" of disease outbreaks in Syria or Iraq. He was also worried about the arrival in the region of Mers, which first emerged in Saudi Arabia three years ago. Mers is caused by the Sars-like virus Mers-CoV. Although it has been largely contained within the Arabian peninsula it has caused 349 deaths, out of only 948 laboratory-confirmed infections, according to the World Health Organisation (WHO).
In pictures: Ebola virus

Show all 62
Syria's healthcare system has been devastated by almost four years of conflict. More than half of the public hospitals in the country – previously a regional leader in healthcare – are closed or only partially functioning, leaving some patients forced to travel up to 100 miles to the nearest hospital.
In Isis-controlled areas of Iraq, many hospitals are understaffed after an exodus of healthcare workers, and the supply of medicines are dependent on the work of aid agencies such as the Iraqi Red Crescent, who are able to operate in areas where the government has lost control.
Dr Syed Jaffar Hussain, the WHO's representative in Iraq, has said he is confident that the country could contain epidemic-potential diseases, but added that there are significant "limitations" to healthcare in Isis-controlled areas.
"When you have a war zone where the government doesn't have control there are limitations both in access and in quality," he said. "So far, we have been able to ensure life-saving medicines are available."
In Syria, Dr Hotez said there had already been at least 100,000 cases of leishmaniasis, which is not deadly, but leads to disfiguring lesions on the skin.
"[Parts of Syria] are vulnerable because garbage collection stops, allowing sand flies that transmit leishmaniasis to proliferate," Dr Hotez said. "Public health control measures stop. There are breakdowns in the water supply and sanitation, breakdowns in healthcare access and access to medicines. All of this happens at once and it is a perfect storm of events."
He added: "We're seeing more than 100,000 cases of the cutaneous form of leishmaniasis, which is known locally as Aleppo Evil. That's happening because of sand fly proliferation. The country has always struggled with the disease, and now it's out of control. We don't even know the full extent because the World Health Organisation can't get into that area safely," he said.
Dr Hotez said it would be feasible for vaccines against Mers and leishmaniasis to be developed and he urged support for efforts to deliver them.
"We have some proof of the concept. Mers is related to Sars and there are several prototype Sars vaccines, including one that we are making. That suggests that it's feasible. With leishmaniasis there are a couple of prototype vaccines out there," he said.
"The world needs to be anticipatory, for a change," Dr Hotez said, "not just waiting for an outbreak to occur, but really looking at the landscape and asking, 'What are the vaccines we're going to need?' ahead of time".
Register for free to continue reading
Registration is a free and easy way to support our truly independent journalism
By registering, you will also enjoy limited access to Premium articles, exclusive newsletters, commenting, and virtual events with our leading journalists
Already have an account? sign in
Join our new commenting forum
Join thought-provoking conversations, follow other Independent readers and see their replies