Two patients die on trolleys in same A&E in one week as NHS struggles to cope
'The emergency care system is on its knees,' says president of the Royal College of Emergency Medicine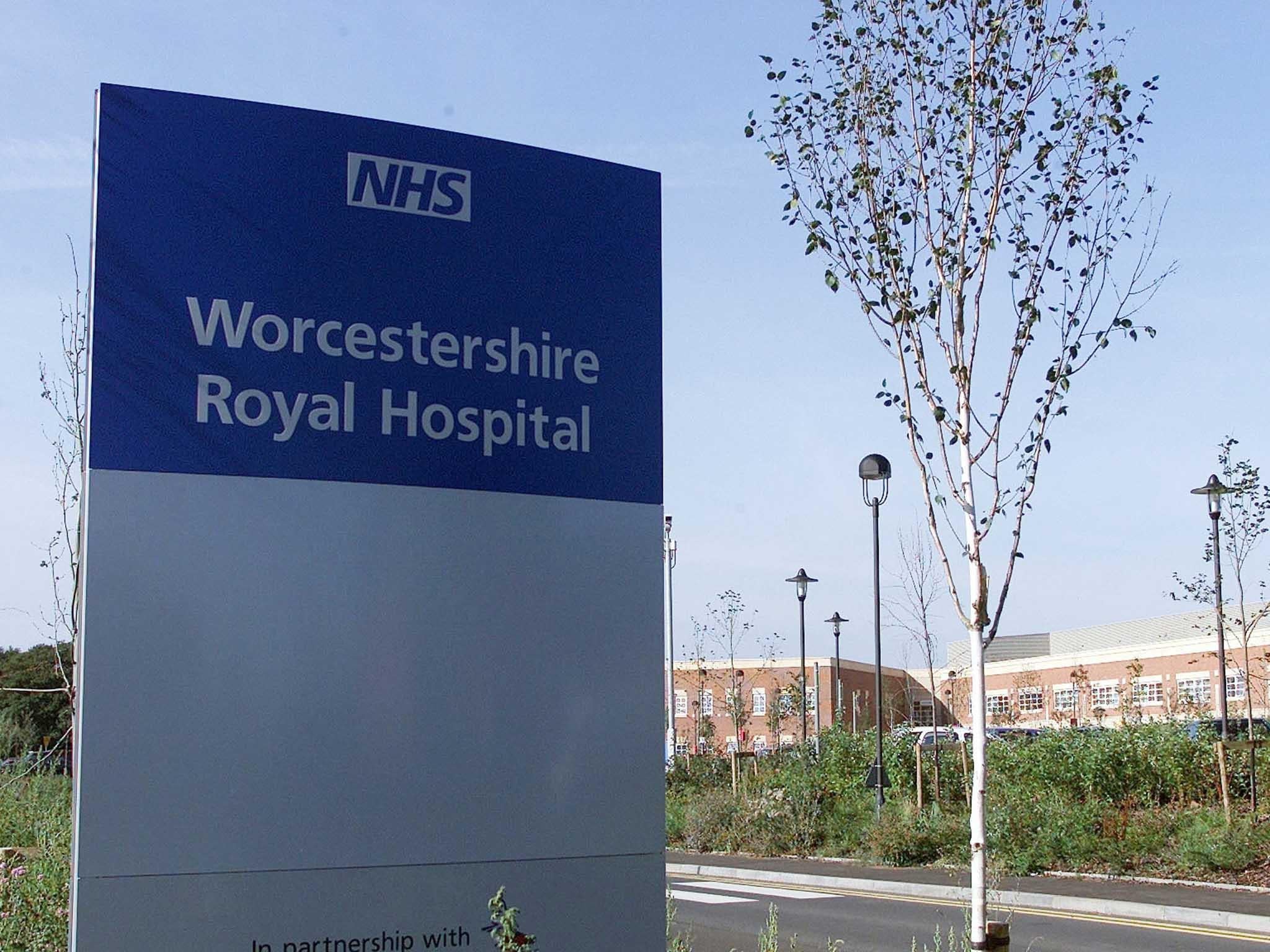 Two patients have died in the same accident and emergency department in the last week, it has been revealed, as latest figures show the NHS coming under increasing pressure.
Both deaths happened at Worcestershire Royal Hospital's A&E department in Worcester.
It is understood in one of the cases a female patient on an emergency trolley on a corridor within A&E suffered an aneurysm and later died in a resuscitation bay.
Another patient died after suffering a cardiac arrest on another trolley within the department after waiting 35 hours for a ward bed elsewhere in the hospital.
News of the deaths came as it emerged that overflowing A&E departments shut their doors to patients more than 140 times in December.
Data from NHS England for 1 December to 1 January this year shows there were 143 A&E diverts across England, a 63 per cent rise on the 88 recorded for the same period last year.
Worcestershire Acute Hospitals NHS Trust confirmed investigations into the deaths, as well as that of a third patient on a separate ward in the same period, were ongoing.
All three deaths happened between Saturday and midnight on Tuesday.
The hospitals trust said A&E departments had been "extremely busy" throughout Christmas and New Year.
Health news in pictures
Show all 40
NHS officials say A&E diverts should only occur as a "last resort" and are put in place when departments cannot cope with any more patients.
Instead, patients are sent to other hospitals for treatment.
The latest data shows there were 42 diverts over Christmas week (the week ending 1 January) – the highest on record.
This compares with about 20 diverts on average over a typical winter week of the NHS.
Corbyn's question on corporation tax and NHS
NHS England guidance says A&E diverts should only occur during exceptional circumstances.
It says: "Diversion of patients as a result of lack of physical or staff capacity to deal with attendances or admissions should be an action of last resort and should be agreed with neighbouring trusts.
"Robust network-wide escalation planning together with trusts' own internal planning should mean that any increase in activity can be managed internally, by for example diverting staff from elsewhere in the hospital.
"Therefore, diversion of patients for respite reasons should only need to happen in exceptional circumstances, where internal measures have not succeeded in tackling the underlying problem."
Several hospitals have issued pleas on Twitter for people to stay away from A&E unless they have a genuine emergency. These include hospitals in Mid Essex, Ipswich, North Cumbria, Kingston, Bristol, Buckinghamshire, Cambridgeshire and Peterborough.
Owen Smith doesn't support privatising the NHS
Dr Taj Hassan, president of the Royal College of Emergency Medicine, said: "The emergency care system is on its knees, despite the huge efforts of staff who are struggling to cope with the intense demands being put upon them.
"Internal major incidents are being declared in many systems around the country – every hospital in Essex has been on 'black alert' – and staff in emergency departments are working at and beyond their capabilities. This cannot be allowed to continue.
"The scale of the crisis affecting emergency care systems has reached new heights, as we predicted, mainly due to a lack of investment in both social and acute health care beds, as well as emergency department staffing."
Liberal Democrat leader Tim Farron said: "Over the festive period we saw the NHS creaking under the pressure and struggling to cope.
"Every year, our overstretched and underfunded NHS and care systems face unsustainable pressure in the winter months.
"Too many patients in the main, the frail or elderly finish their treatment but are left stranded in hospital unable to return home because the health and care system isn't able to give them the support they need.
"Hospitals become dangerously over-crowded, staff are put under impossible pressure and some of the most vulnerable patients are caused terrible and unnecessary distress.
"The Government must be honest with people. The NHS needs more money."
£350 million a week extra for the NHS only 'an aspiration' says Vote Leave campaigner Chris Grayling
Other data compiled by the Nuffield Trust shows a third of the 150 English hospital trusts warned they needed urgent action to cope last month.
In the worst cases, seven of the 50 trusts that issued alerts announced they were unable to give patients comprehensive care.
Nigel Edwards, chief executive of the Nuffield Trust, which collated the figures for the BBC, said: "Anecdotally what you are hearing from chief executives of trusts is that they are experiencing very, very high levels of pressure in their A&E departments.
"The growth seems to be way above what you might expect from what's happened from the population.
"People feel that they can't get to see their GP. The population is getting older and sicker, but I don't think that's the entire reason behind it.
"The other big pressure is the ability to discharge patients. If you can't get patients out of the back of the hospital, home, then obviously, the whole system begins to seize up.
"As we know there are major problems in social care. But also NHS community services. The ability of hospitals to get people out is still really tricky."
In December 2015, the Worcestershire acute trust was placed in special measures by health watchdog the Care Quality Commission, which raised safety concerns over A&E, paediatrics, maternity and gynaecology departments.
On Friday, the trust launched a 12-week consultation on a shake-up of healthcare at its three hospitals, including a proposal to concentrate emergency care at Worcester.
In a statement, the trust said: "We can confirm that both of our A&E departments experienced an extremely busy Christmas and New Year period and these pressures are continuing.
"We have robust plans to deal with such demand and partners across the NHS have supported us in ensuring that patient safety and emergency care are maintained.
"These pressures have unfortunately led to patients waiting longer than we would aim for, however all A&E patients continue to be seen and treated in order of clinical priority.
"Our focus continues to be on providing safe emergency care.
"In relation to the specific issues raised, we will not comment on individual cases for a number of reasons including protecting the privacy and dignity of our patients and their families."
NHS England data for the week ending 1 January shows there were 372,000 attendances at A&E during the week, 40,000 more than the previous week (332,000).
There were 92,000 emergency admissions over the course of the week, up on the previous week (89,000).
The busiest day of the week for attendances was 27 December when there were 60,000 A&E attendances. Emergency admissions peaked at 14,600 the following day.
An NHS England spokesman said: "Over the Christmas and New Year period A&E visits and everyday hospital admissions peaked on the 27th and 28th December, and NHS 111 had its busiest week ever.
"However, hospitals report their bed occupancy levels were slightly lower than the same period last year, despite a higher number of beds out of action as a result of higher levels of diarrhoea and vomiting and norovirus.
"Plans remain in place to deal with additional demands during the winter period, and the public can still play their part using local pharmacy and NHS 111 for medical advice, alongside other services."
PA
Join our commenting forum
Join thought-provoking conversations, follow other Independent readers and see their replies