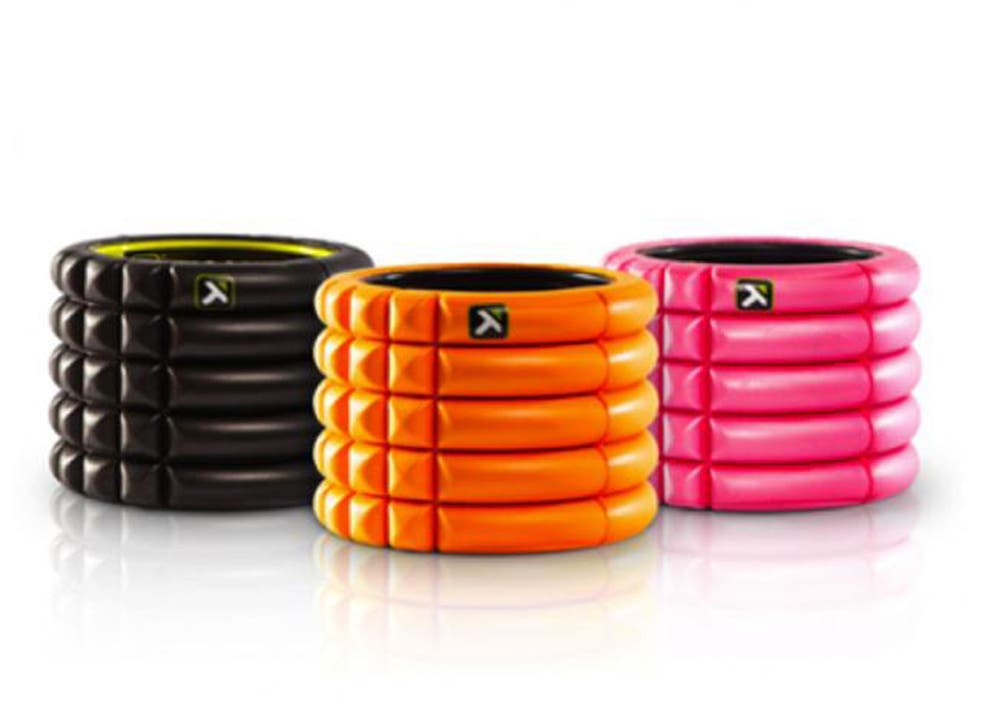 Fitness: An aerial workout at Flying Fantastic; bicycle mud-guards; GRID Mini
Join the club: Aerial fitness
By Linda Sharkey
I woke up to soreness. Every single muscle in my body aches. I can't laugh, my abs hurt.
I am feeling the burn after trying out aerial fitness, a workout that involves climbing up the silks rigged from the ceiling and performing stunts while hanging from them. It's not easy.
Picture Cirque du Soleil, but in a sparse London warehouse, where all levels of exercisers get to try out (and work out to) circus silks. If you go to watch the Cirque, its artists seem to float in the air, but it really isn't easy.
Aerial fitness manages to work almost every muscle in your body as you hang upside down like an acrobat. It hurts like hell, but the net result is that it strengthens your whole body.
The variety of moves, drops, wraps and twists are endless, but for a beginner like me, four positions were more than enough to learn in a usual hour-and-a-half class. My core was locked tight while arching backwards on the 'figure head' position, my arms were shaking as they held my body weight on the 'eaglet', and my body lost control on the 'giant steps' position. The 'French climb' was pretty much impossible – just like climbing up a rope.
The first thing you learn is the 'foot lock', which is your handbrake, or in this case, the life-break that attaches your body to the hanging silk. The good news for my vertigo was that although the silks are three metres high, your first steps are quite close to the floor – where a pad awaits if you fall.
The instructors, who have been practising aerial fitness for years, tell me this workout exists from the early Nineties, but it started to cross over the bridge (from circus to warehouse) a few years ago. Expect it to fly into your local gym soon.
Cheapskates' version: Try and climb a tree using only an M&S silk scarf. Drop-in classes cost £20 (packages available) at Flying Fantastic, in Battersea, south-west London
The cyclist: Mud, mud, glorious mud-guards
By Simon O'Hagan
One of the wettest winters I can recall is a constant and rather unpleasant reminder that neither of my bikes has mud-guards. They are road bikes, and the essence of a road bike is its minimalism. It's not just that a road bike is built for speed, and that nothing extraneous should get in the way. It's also a question of aesthetics. Mud-guards are ugly, right?
Mostly that's true. Those fly-away, rear-spoiler things just look horrible, and while clip-on 'blades' are an improvement, they still offend the eye. But a full-length, snug, well-turned mud-guard, ideally finished in chrome? Oh still my beating heart. If my bikes had the clearance for mud-guards, I'd be in there.
The fully mud-guarded road bike speaks of the cyclist who takes winter training seriously and has an eye not just for their own comfort, but that of others. The splattering one receives when riding in the wet behind an unprotected wheel is an experience one can do without.
I've been on club runs on which bikes without mud-guards have been heavily disapproved of, if not outright banned. That was in the days when an old-school ethos prevailed. With the upsurge in club membership, that ethos has dissipated, and the un-mud-guarded rider – people like me – have come along, and perhaps we are guilty of showing insufficient respect for tradition.
Mud-guards. My latest excuse for acquiring another bike.
Gear: GRID Mini
The GRID Mini (above) is a travel-sized foam roller used to massage sore, post-workout muscles. It costs £23 and can be attached to a gym bag or backpack.
Modern gym rules: Drying
Pulling your towel through the legs in a perpendicular motion is not the polite way to dry one's undercarriage in public
Takin' it easy: 'RLI'
By Larry Ryan
It's dangerous at the coalface of lazy. I've recently picked up a niggling injury; at the joint where my right thigh meets my hip there's an ache. I stand, I sit, I lean – I'm steeped in achiness. The way in which I reach peak ache when in a certain leaning pose, I think the injury has been caused by excessive leaning. Repetitive lean injury, if you will. Obviously I won't seek medical help for this, that betrays the ease-taking constitution (unwritten). Instead, I plan to ignore the pain (but continue to complain) until the sucker subsides.
Register for free to continue reading
Registration is a free and easy way to support our truly independent journalism
By registering, you will also enjoy limited access to Premium articles, exclusive newsletters, commenting, and virtual events with our leading journalists
Already have an account? sign in
Register for free to continue reading
Registration is a free and easy way to support our truly independent journalism
By registering, you will also enjoy limited access to Premium articles, exclusive newsletters, commenting, and virtual events with our leading journalists
Already have an account? sign in
Join our new commenting forum
Join thought-provoking conversations, follow other Independent readers and see their replies