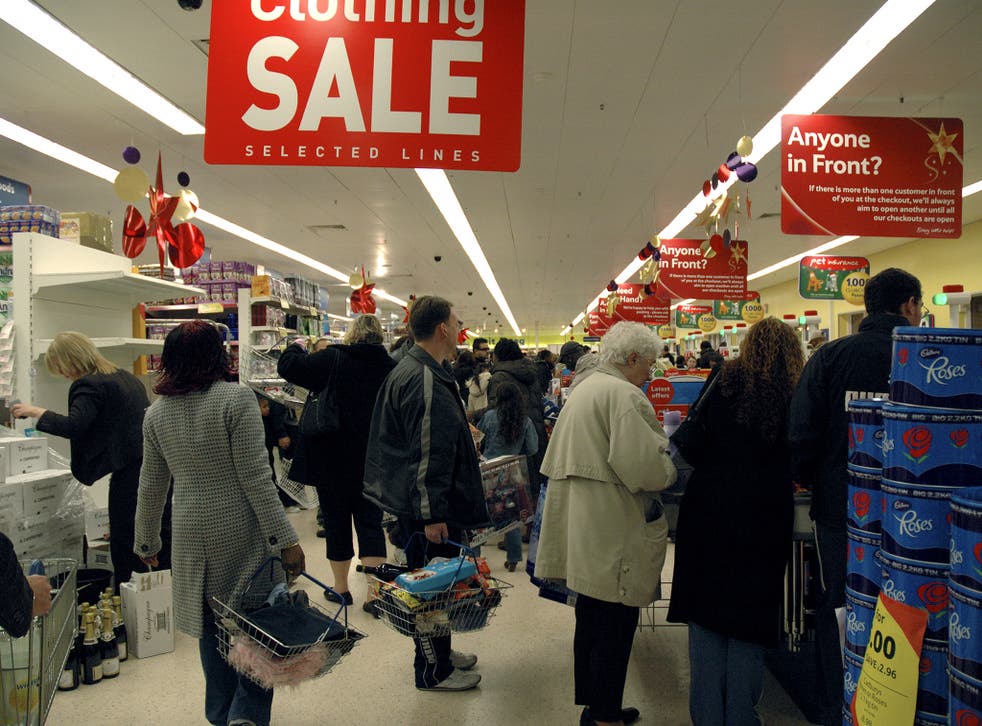 'Free-from' sections of supermarkets fit to burst for those who suffer from allergies or intolerance
For vegans, nearly every roastie appears to be off the menu with the tendency to roast them in goose fat or butter
It's the most wonderful time for your rear – if you're hoping to expand it, that is. And why not? Christmas is not just a time for family and giving, but of unadulterated gluttony. Mince pies, brandy butter, Christmas pudding, trifle and, of course, a selection box (no, you're never too old for one). And then there's the Christmas dinner, with all the trimmings.
But if you suffer from an allergy or intolerance, or follow a vegetarian or vegan diet, the trimmings are likely to trip you up. It wasn't until I was diagnosed as coeliac that I discovered how dry turkey can be when not smothered in stuffing, bread sauce and gravy. And that mince pies, although never crossing my mind the rest of the year, are really, really vital at Christmas.
For vegans, nearly every roastie appears to be off the menu with the tendency to roast them in goose fat or butter. If you're lactose intolerant, there's cream on bloody everything. If you have a restrictive diet, chances are you've spent a Christmas dinner sulkily pushing sprouts around your plate while everyone else tucks in.
Happily, the "free-from" section of supermarkets this year is fit to burst, with more and more retailers cottoning on to the demand. Tesco even has a gluten-free-themed Christmas ad. Nowadays, there is everything you could possibly dream of – mince pies, Christmas cake, ready-made stuffing – even sulphur-free wine for the purists at the table.
But is it any good? Surprisingly, yes. I subjected my colleagues to a gluten-free mince pie tasting last year and the general consensus was you could barely tell the difference. You can even buy really delicious dairy-free cream at most supermarkets. And there is a lot of satisfaction in baking your own "free-from" versions of the classics – Phil Vickery is great for gluten-free recipes, and Jamie Oliver is often very vegan-friendly.
In the extended Norton household, which currently boasts five coeliacs and three vegans (and two "normals" – although one mostly subsists on Coco Pops), we have Christmas dinner down to a fine art. This year, we will be swapping goose fat for coconut oil, using gluten-free breadcrumbs in the stuffing and thickening the gravy with cornflour. Our cupboards will be stacked with at least six boxes of Foods of Athenry mince pies (vegan and coeliac-friendly), The Happy Bread Company's gluten-free Christmas cake and Nairn's gluten-free cracked black pepper crackers. For the little ones, a dairy-free selection box from Holland and Barrett. The turkey skin will, as usual, end up on Mum's plate.
Try these
Michelle Berriedale-Johnson, director of the FreeFrom Awards, is an expert in finding the best Christmas fare out there. Here are some of her free-from finds:
All of the Tesco Finest stuffings, all but one of the Finest sausages and all of the Finest stuffed joints are gluten free this year.
You can find Mrs Crimble's gluten-free sage and onion stuffing mix in most supermarkets. Hale & Hearty also do a good gluten-free stuffing mix.
For vegetables that you would normally glaze with butter try drizzling with olive oil and freshly ground black pepper.
For thickening your gravy, try Doves Farm gluten-free plain flour.
Blackberry Cottage Fayre make a gluten, dairy, egg, nut free, no added refined sugar FreeFrom Traditional Christmas pudding (above).
Or how about a raw organic gluten-free vegan Christmas cake in a jar? inSpiral has it covered.
For more ideas, check out the Food Matters directory foodsmatter.com/freefrom_foods/directories/christmas.html
Register for free to continue reading
Registration is a free and easy way to support our truly independent journalism
By registering, you will also enjoy limited access to Premium articles, exclusive newsletters, commenting, and virtual events with our leading journalists
Already have an account? sign in
Register for free to continue reading
Registration is a free and easy way to support our truly independent journalism
By registering, you will also enjoy limited access to Premium articles, exclusive newsletters, commenting, and virtual events with our leading journalists
Already have an account? sign in
Join our new commenting forum
Join thought-provoking conversations, follow other Independent readers and see their replies