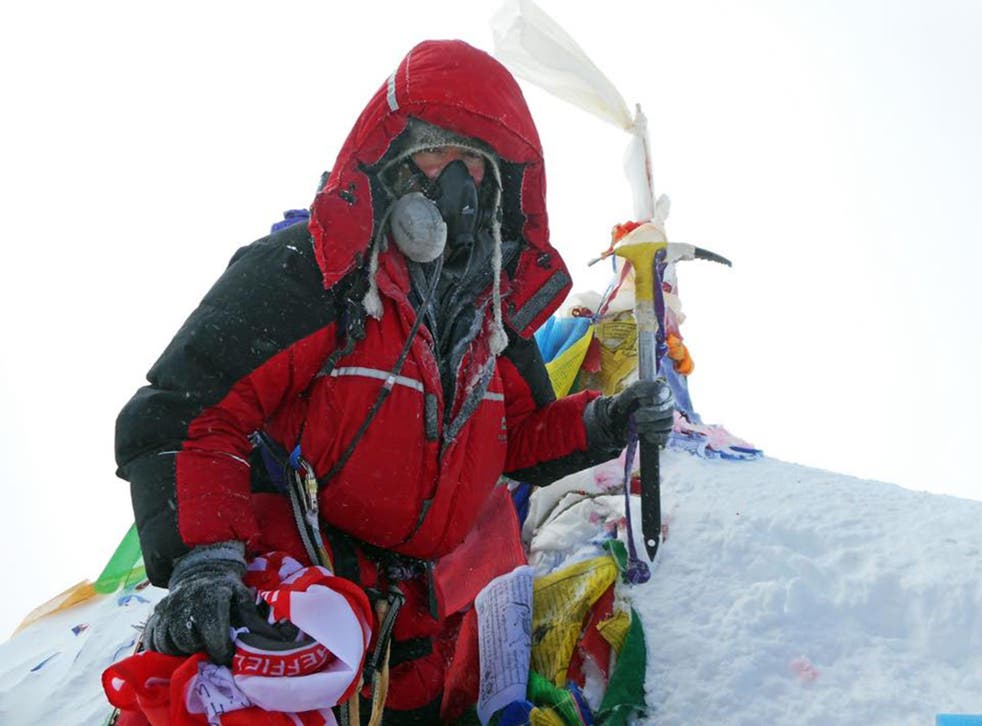 Man with terminal cancer conquers Mount Everest with months to live
Toothill said he wanted to inspire other people with cancer to 'do that special thing they've always wanted to do'
A terminal cancer patient who has months left to live has conquered Mount Everest.
Ian Toothill, 47, from Sheffield, reached the top of the world's highest mountain on Monday, and has raised over £31,500 for the cancer charity Macmillan. He believes he is the first person with cancer to reach the summit.
In a tongue-in-cheek celebration of his achievement, the personal trainer and Sheffield Wednesday FC fan placed the flag of rival team Sheffield United at the top of the mountain for charity, to thank a friend who donated £1,000 to his cause.
"Nothing to see here, just some cancer dude [Sheffield Wednesday] fan on the summit of Everest with a @SUFC_tweets flag," he tweeted after reaching the mountaintop.
Toothill, who lives in Wilesden Green, London, was diagnosed with bowel cancer in June 2015 and was given between four months and two years to live. In early 2016, doctors told Toothill that he was in remission - but later said that he had months left to live.
"For those who suffer daily because of cancer, I climb for you," Toothill told followers on his Climbing Everest for Cancer Facebook page where he has documented his ascent.
"For those who lost the battle with cancer, and the friends and families left to pick up the broken pieces, I climb for you.
"For those who can't face the day, and struggle with the nights, stay strong and know this: you are never out if the fight, there is always a way," he added.
On 14 May, Toothill shared a photo of himself at base camp before attempting to climb to the top of Everest.
"I need the rest, I've lost 10 per cent of my body weight, I've been on antibiotics twice for illness, as well as the other personal challenges I face as I have cancer. I'm still here though, still moving forward, there is always a way..." he wrote.
He added on his page that he wanted to "inspire" anyone living with cancer to "go and do that special thing they've always wanted to do.
"It could be finishing that book you've always said you would write, learning a new skill, or taking that dream trip."
Join our new commenting forum
Join thought-provoking conversations, follow other Independent readers and see their replies