Midwife mother delivers her own baby via Caesarean section
The new mum knew she wanted to pull her baby out herself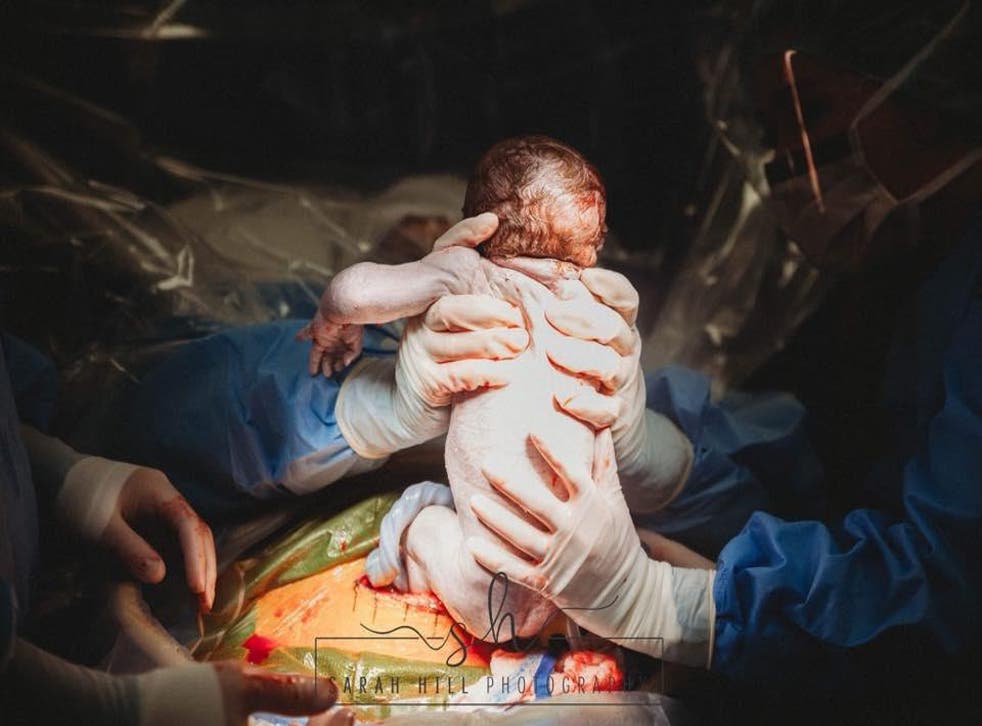 When midwife Emily Dial found out she was expecting, she knew she wanted two things - to enlist photographer and friend Sarah Hill to capture the moment, and to deliver her own baby via Caesarean section.
As a midwife herself, Dial, from Kentucky, was able to orchestrate the birth of her newborn baby perfectly so that she was able to join in as an active participant.
Prior to the birth, Dial planned out with her colleagues how the birth would occur, and according to Hill, who spoke to Love What Matters: "Nurses, doctors, anaesthesiologists eagerly came in and took guesses if it was going to be a boy or a girl because what's more exciting than pulling out your own baby if you also don't know the sex?"
And donning scrubs and gloves placed over her IV, Dial was able to participate in her own birthing from the start - as soon as doctors had made the incision.
"It was an incredible feeling to reach down, feel her head, then slowly feel the rest of her coming, but a little strange not being able to feel the rest of my abdomen," Dial told CafeMum.
Once she had pulled her baby fully out, Dial brought her newborn up to her face through the plastic, where she could see her baby for the first time eye-to-eye.
She said: "Lifting her out and seeing her face-to-face is that surreal moment every mum relives the rest of their lives: that moment you are face-to-face with your child and having that moment of awe."
Little Emma was officially welcomed into the world at 11.17am - a special time for parents Emily and Daniel, as their previous baby Greyson, who was also born via C-section but didn't survive, was born on the 17th.
The pair had opted for a C-section with their firstborn when they realised the baby was going to be born with a congenital diaphragmatic hernia - which wouldn't allow his lungs to grow as his bowel and liver were herniated.
By delivering via C-section, Emily ensured that she and her baby would recover in the same hospital, rather than the baby being transported to a different hospital. But unfortunately, Greyson did not make it.
But with baby Emma, Dial was able to bring together the two things she loves most, her family and her career in what she called "one of the happiest moments" of her life."
And Hill agreed. She wrote on Facebook: "This was by far one of the most incredible days of my life. My amazing midwife Emily Dial not only had a C-section today but she pulled the baby out herself!! It was unreal.
"To say that she is amazing is an understatement. She was meant to bring babies into this world and didn't let a little thing like a C-section stop her from delivering her own! To watch her colleagues rally around her and make this happen was so beautiful.
It was truly an honour to be there and capture this for her and Daniel... And surprise! It's a girl!" Hill wrote.
Of the amazing opportunity to deliver her own baby, Dial said: "I want other mums to take away from this that even though they may not physically take out their babies like this, that having C-sections can be just as empowering and a joyous experience despite their mode of delivery."
Register for free to continue reading
Registration is a free and easy way to support our truly independent journalism
By registering, you will also enjoy limited access to Premium articles, exclusive newsletters, commenting, and virtual events with our leading journalists
Already have an account? sign in
Register for free to continue reading
Registration is a free and easy way to support our truly independent journalism
By registering, you will also enjoy limited access to Premium articles, exclusive newsletters, commenting, and virtual events with our leading journalists
Already have an account? sign in
Join our new commenting forum
Join thought-provoking conversations, follow other Independent readers and see their replies