Dispatches from the Covid-19 frontline
'I'm a mortuary technician working in the coronavirus crisis – all the credit goes to doctors and nurses not those looking after the dead'
'Where I am working it is not possible to determine exactly how many Covid-19 cases we are dealing with day to day': a mortuary worker tells Sophie Gallagher about working with those who don't survive the pandemic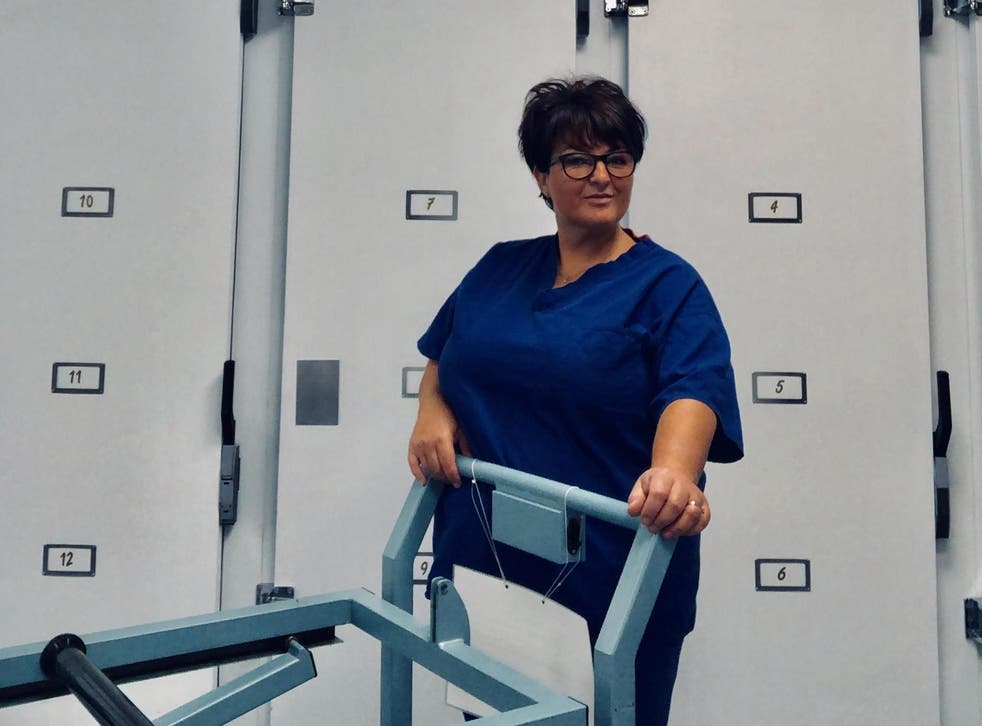 The Independent's 'Dispatches from the Covid-19 frontline' is an interview series detailing the reality behind the headlines as told by the nation's vital key workers. Barbara Peters, 51, is an anatomical pathology technologist and has worked in morgues for over 20 years. She is now a locum in the east of England. She tells Sophie Gallagher what it's like to work in a mortuary right now.
I worked as an NHS mortuary worker for 28 years and quit to become a locum [a temporary stand-in] just before the coronavirus started to escalate. The job change means I no longer stay in one place, I travel across England and go where I am needed to cover other mortuary staff.
This would have been a big change to my work regardless of the time, but just as I made this career move the Covid-19 news bulletins were beginning to escalate and the people in charge of the mortuary were starting to take note.
Prior to becoming a locum, I was a mortuary services manager, which means I was responsible for the day to day management and running of the mortuary. That job consisted of everything from caring for the deceased to dealing with bereaved families, talking to staff in the hospital and other outside agencies like funeral directors, coroners officers, and the police.
Another big part was ensuring there was enough space to accommodate all the deceased coming in from wards in hospitals or from elsewhere in the community – like care homes.
On top of all this mortuary staff are caring for the families of the dead as they experience tragedy, answering their questions and taking into consideration cultural or religious wishes.
The best way to look at the work of mortuary workers is like running a hospital ward, but the difference being the patients are deceased.
It is a good job where you get to continue a high level of care for the patient and no two days in the office are ever the same.
Care home hit by coronavirus: A rare glimpse of life inside

Show all 18
Since coronavirus started we have not seen a huge spike in the number of cases but we are working marginally longer hours to cover for sickness (although this is non-Covid related) or if there is a particularly long forensic post mortem taking place.
We have changed some procedures for dealing with the cadavers and now wear full personal protective equipment (PPE) and all deaths are placed in body bags. I hear that some NHS Trusts are also double-bagging deceased patients that are Covid-19 positive.
Where I am working it is not possible to determine exactly how many Covid-19 cases we are dealing with day to day but we know from the information we receive that a big percentage are considered to be related to the virus.
Despite the numbers I am still opening up body cavities for post-mortems. During this I don't feel particularly at risk because if PPE is worn properly and correct measures are taken, then the risk is minimised. In the places I am working we all have adequate PPE so I don't feel worried about getting ill with the virus.
All deaths are always treated with universal precaution, whatever the context, Covid-19 or not. Despite not taking largely different measures I cannot compare this situation to any in my career before.
The only interaction with live people we are having now is those visiting from external agencies – like police – that enter the mortuary. But they are practicing social distancing so again I'm not worried about getting ill from that.
In terms of other contact with the public – I've been holed up in a hotel, away from home, with my husband (he is also a pathologist) for my current placement for four weeks. We've got one more week left here before we can go home. As the hotel is near the hospital mortuary this minimises the chance of me coming into contact with the public.
I don't think my colleagues are concerned about the risk as the flow of PPE is fine at the moment and we don't know of any mortuary colleagues that have had the virus or had any symptoms. Having PPE and following procedures means we are not concerned about catching the virus but that doesn't mean the pandemic hasn't shone a light on other issues for us.
The biggest problem so far has been that mortuary workers simply aren't recognised as much as doctors and nurses. We have not been fully recognised at all. Either by the general public or by other healthcare professionals.
It seems that the thanks and credit have gone to doctors and nurses, but no mention of the mortuary staff who have to look after the dead. In the news we've even heard about new mortuaries that have been built but not the staff that run them!
All my mortuary colleagues feel the same – we are forgotten about.
Perhaps we always knew this but it has become very apparent during Covid-19 where the public is not aware that there are still people looking after their loved ones once they have died.
Are you a key worker happy to share your story? Get in touch by emailing Indylifestyle@assocnews.co.uk
Join our new commenting forum
Join thought-provoking conversations, follow other Independent readers and see their replies