NHS at 70: Nurses pose in uniforms from seven decades to pay tribute
The picture shows just how much the uniforms have changed over the years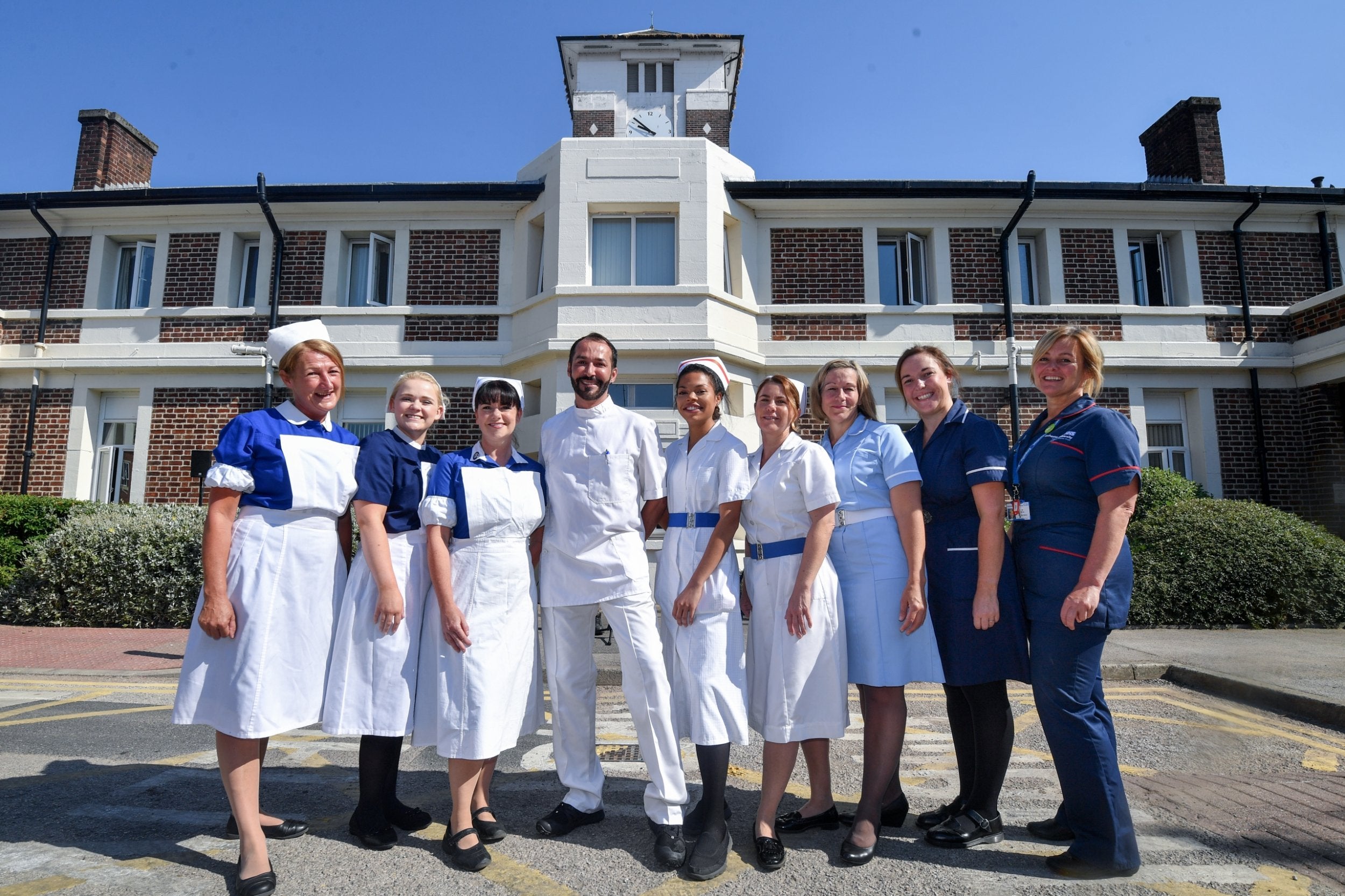 In celebration of the 70th anniversary of the NHS on 5 July, nurses at Trafford Hospital in Greater Manchester wore uniforms from across seven decades to show just how far the health service has come.
The uniforms have evolved throughout the healthcare system's history in keeping with contemporary fashion trends.
The seven nurses at the hospital posed for photographs in uniforms from the 1940s, 1950s, 1960s, 1970s, 1980s, 1990s, 2000s and 2010s, as the mayor of Greater Manchester Andy Burnham unveiled a blue plaque at the hospital to commemorate the "birthplace of the NHS".
The classic image of a nurse was no doubt inspired by early iterations of their ensembles, which included caps, dresses and pinafores.
However, by the 1990s the nurse's cap was no more, with some claiming that the accessory could potentially carry bacteria.
By the 2010s, trousers had become far more commonplace among female nurses as a more practical choice of attire, despite becoming standard in female fashion for many years prior.
The photographs of the nurses were taken at the hospital where Aneurin Bevan, who oversaw the creation of the NHS, took part in a ceremony to inaugurate the healthcare system in 1948.
There are several different types of nurses working within the NHS, as outlined by The Royal Marsden.
The various nursing role can be distinguished by their different uniforms.
For example, a clinical nurse specialist, who is able to provide expertise on a specific area of medicine, wears a dark blue uniform.
NHS at 70: demonstration and celebration march to mark anniversary
Show all 18
Staff nurses, who are in charge of taking care of patients, wear blue and white striped uniforms with dark blue piping and a dark blue belt.
On Wednesday 4 July, Game of Thrones star Emilia Clarke thanked the nurses who took care of her father before his death in a moving speech at an awards ceremony in London, describing the profession as one that "we must value."
Thousands marched against the government on Saturday 30 June, protesting the "deliberate" underfunding of the NHS.
Join our commenting forum
Join thought-provoking conversations, follow other Independent readers and see their replies