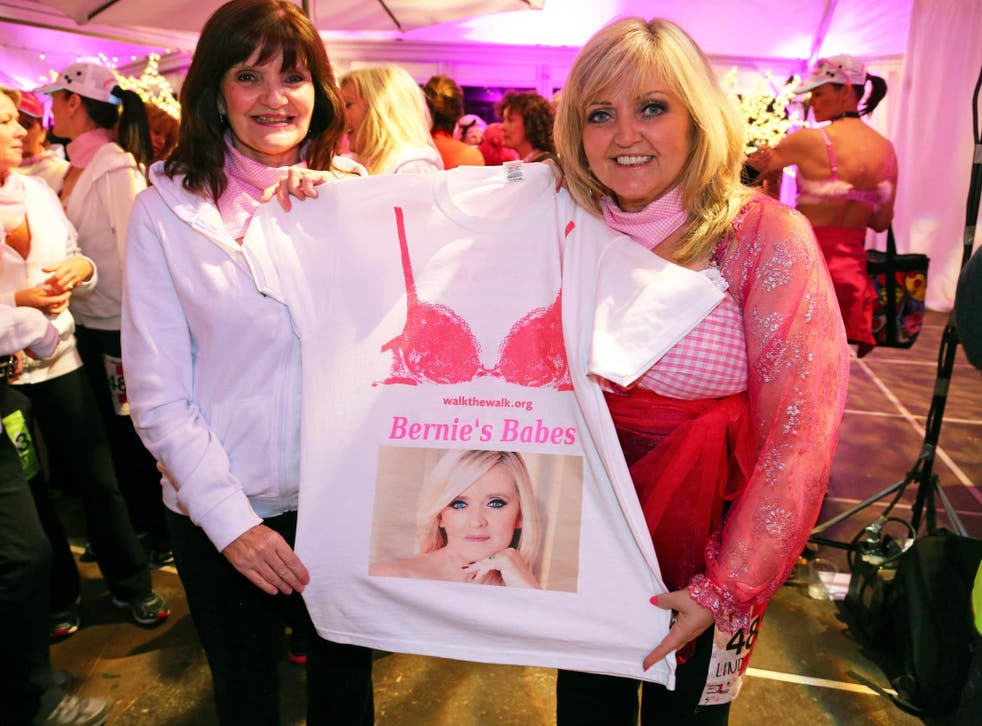 Nolan sisters Linda and Anne both receiving cancer treatment after being diagnosed just days apart
Their sister Bernie Nolan died from breast cancer in 2013
Linda and Anne Nolan, members of Irish pop group The Nolans, have revealed they have both been undergoing treatment for cancer during lockdown.
The sisters, who are aged 61 and 69 respectively, shared the news on the official Twitter account for the band.
The tweet, which included a picture taken recently of Linda and Anne together, stated: "For the past few months during lockdown, Linda and Anne have been battling cancer and chemotherapy together."
The announcement concluded with a message of hope, which read: "We will get through this together, as a family."
In an interview conducted with The Sun, the sisters spoke about undergoing chemotherapy together at Blackpool's Victoria Hospital after receiving their cancer diagnoses days apart.
Seven years ago, their sister Bernie Nolan, lead vocalist of The Nolans, died of breast cancer at the age of 52.
Looking back at the moment she and Anne told their siblings of their cancer diagnoses, Linda said the family "laughed and cried".
"Forget the Chemical Brothers, we've become the Chemo Sisters," she said.
Anne, the eldest of the Nolan sisters, said that she is "scared of dying", stating: "I love my life so much. I love my daughters, my grandchildren, my friends, all my family. I want to live for as long as I possibly can."
Linda added: "It's just really hard and I'm scared of dying. I don't want to die. I want to be around and see my great nieces and nephews grow up, and that's why I'm putting everything I've got into trying to get well."
Linda has incurable cancer in her liver, the third time she has experienced a recurrence from breast cancer, which she was diagnosed with in 2006.
She developed cellulitis (a bacterial skin infection) and lymphoedema (a chronic condition that causes swelling in the body's tissues) in her arm in 2007 and secondary cancer on her pelvis three years ago.
Anne has been diagnosed with stage three breast cancer, 20 years after being diagnosed with breast cancer for the first time in 2000.
UK news in pictures

Show all 50
Recalling the moment she learnt her sister had been diagnosed cancer for a second time, Linda explained that on the morning of 7 May, their sister Maureen gave her a call to tell that that "Anne's breast cancer had been confirmed".
"Then half an hour later my oncologist's secretary phoned me to say, 'We need you to have an MRI scan because we've seen something on your liver," she said.
"I couldn't tell anyone then because they were so obviously devastated about Anne. I thought, I can't turn around now and say, 'Actually I've got it as well'."
Anne expressed her sadness over not being able to see her daughters or grandchildren, citing the impact the chemotherapy has had on her immune system.
"I've not touched them, I've not been able to hug them or kiss them," she said.
"And I think that's what makes me more sad than anything."
Linda added that when she looks in the mirror, she sees her late sister Bernie "because I think we're so alike anyway and it just brings back all of her trauma and how sick she was".
Join our new commenting forum
Join thought-provoking conversations, follow other Independent readers and see their replies