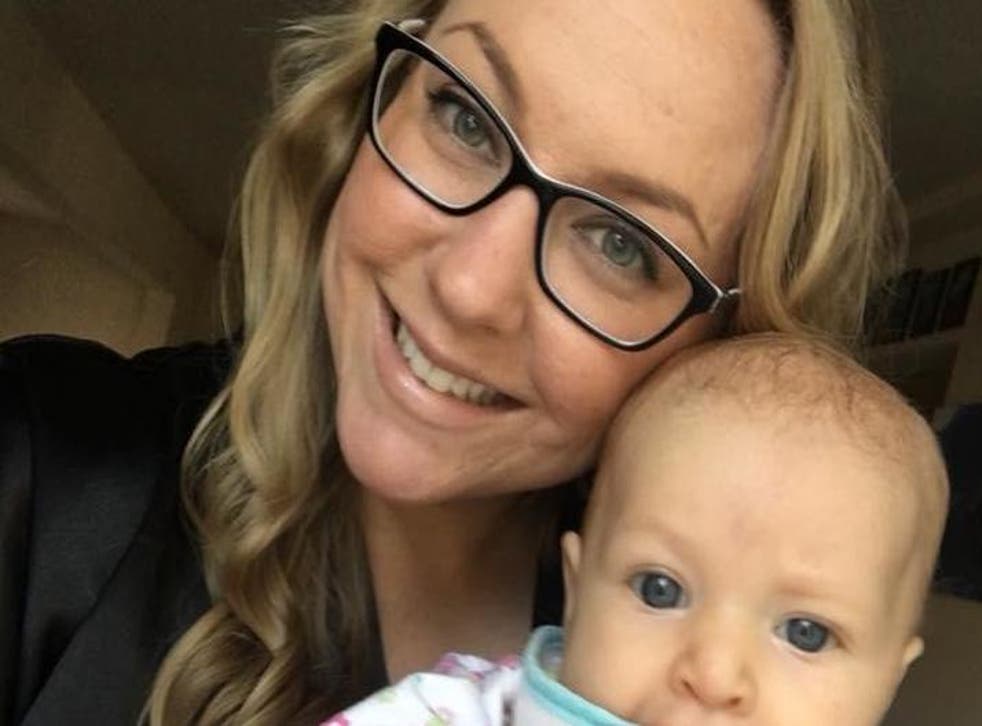 Doctors call police after mother reveals she has postnatal depression over fears for baby
'I was treated like a criminal'
A mother who told doctors that she was suffering from postpartum depression was confronted by the police during an appointment with her obstetrician.
Jessica Porten, a mother from Sacramento, California, went for an OB appointment four months after giving birth to her baby, Kira.
It was only her first appointment since giving birth as the healthcare clinic had previously cancelled several booked appointments, which Porten described as "inhumane in my eyes".
Porten has been experiencing fits of anger due to her postpartum depression, something that her husband had explained to the doctors over the phone when he booked her appointment a week prior.
When Porten told the nurse practitioner that she wanted to talk about possible medications that she could take or therapy that she could try to deal with her postpartum depression, rather than provide support, the doctors instead took drastic action against her.
Having sped through her pelvic examination, Porten was then informed that the police were on their way to assess her mental state.
Porten took to Facebook to write about her story, in which she shared how terribly she was treated.
"I had a really hard time deciding whether I should post something about what happened last night," she wrote.
"I feel like this has to be said out into the world so you can all see how little support mothers get from our healthcare system."
Despite seeking professional help for her mood swings, Porten was forced to wait for an hour with a staff member for the police to arrive.
On top of everything, Porten had gone to her appointment with her four-month-old baby, who ended up only sleeping for around half an hour in over 10 hours due to the whole ordeal.
Once the police arrived, they escorted Porten to the ER, allowing her to drive in her own car as she had to transport Kira with her baby's car seat.
"We arrive at the ER and I'm checked in, triaged, blood drawn," she wrote. "I am assigned a security guard to babysit me.
"They take me to the bathroom so I can give a urine sample.
"They make me remove all of my clothes (including my flip flops, which they replaced with socks) and then they take them away from me and lock them up.
"I am not seen by a social worker until 10.45pm."
Eventually it was confirmed that Porten didn't need psychiatric help and she was discharged.
Leaving the ER at midnight, Porten was astounded that she didn't speak to a single doctor throughout the entire traumatic experience.
"Not once during all of this has a doctor laid eyes on me. Not once. Not even before they decided to call the cops on me," she wrote on Facebook in a post which has currently been shared over 30,000 times.
Despite Porten's utter disbelief with the way she was dealt with, she doesn't want to press charges and would like to raise awareness for other people who would probably be treated worse if they were faced with a similar situation.
"I may be marginalised as a woman, but I am white and heterosexual and hold privileges in these places," she wrote.
"I am scared for our mothers of colour and our LGBTQ mothers who seek out help in these situations."
Porten is working with 2020 Mom, the non-profit host of Federal Maternal Mental Health Lobby Day and the leading advocacy movement for maternal mental health in California.
The response she's received to her post has inspired her to help others.

"At first I felt very overwhelmed, and I still do, but there's a feeling of empowerment now as well," she told The Independent.
"All of the messages I have received have been so healing for me.
"I'm excited to enact some real change that will positively impact our community."
The Sacramento Police Department provided The Independent with the following statement:

"The Sacramento Police Department responded to this call to assist during this situation.
"Our role was to assist an individual in need of medical attention. Our goal is to facilitate getting people to the most appropriate resources available at any given time."
Join our new commenting forum
Join thought-provoking conversations, follow other Independent readers and see their replies