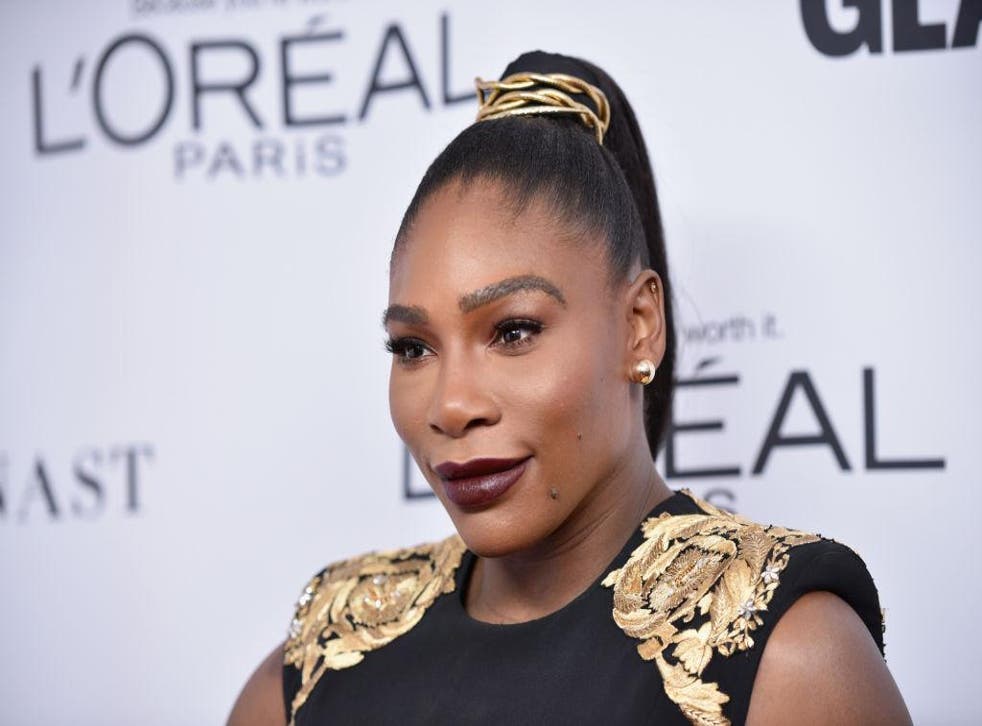 Serena Williams shares the stress of soothing a teething baby
The Grand Slam Champion faces her biggest obstacle yet
Sabrina Barr
Monday 18 December 2017 16:17 Comments
Serena Williams has shown that she's just like every other new parent by sharing the struggle of trying to soothe a teething baby.
The tennis star took to social media on Sunday to express how difficult it is trying to comfort her baby Alexis, who was born on September 1.
Alexis is now teething and seemingly going through a lot of discomfort in the process.
Posting on Twitter and Instagram, the seven-time Wimbledon champion struck a chord with new and experienced parents alike.
"Teething - aka the devil - is so hard," she wrote. "Poor Alexis Olympia has been so uncomfortable.
"She cried so much (she never cries) I had to hold her until she fell asleep."
Williams continued in another tweet: "Nothing is working. It's breaking my heart.
"I almost need my mum to come and hold me to sleep cause I'm so stressed. Help? Anyone??"
Williams' followers came out in full force, with many commenting with support and sympathy for the first-time mother.
One woman wrote: "This is every single new parent. We've all been there.
"It is so tough and it is completely okay to want your mum and to want sleep and to want to cry for a hundred years."
Other followers pointed out the irony of Williams, one of the greatest athletes of all time, illustrating how she's just as much a normal human being as the rest of us.
"Something poetic about motherhood being difficult even for the greatest athlete in the world," one user aptly put.
Another joked about Williams' ongoing feud with fellow tennis player Maria Sharapova, writing: "Tell her about how Maria Sharapova thinks she's your rival. She'll be laughing too hard to think about teething anymore!"
Williams has welcomed her followers on every step of her motherhood journey.
In December, Williams wrote about the beauty of breastfeeding, tweeting: "Is it weird that I get emotional when I even just think about when it's time to stop?"
While bringing a child into the world is an amazing thing, it's not always an easy ride, as Williams illustrated.
Different methods work for different babies, which is why it's worth reading up on a few various techniques that you could try.
Julie Wilson and Amy Livingstone, founders of Cheeky Chompers, provided The Independent with their top tips for calming a baby that's teething.
Gum massage
Your babies' gums will be tender and sensitive, so try giving them a gently massage with a clean finger. This helps reduce the pressure and soothes teething pain.
Cool water
Giving your baby cool water not only soothes their gums but it also helps with the excessive dribbling.
Teething gel
Teething gels can be rubbed on the baby's gum with a clean finger or even better you can put it onto the Neckerchew's teether.
Your baby will naturally chew on the area causing them discomfort. This is perfect as it gets the gel on the right spot.
Chilled teething rings
A chilled teething ring gives your little one something to chomp on while the coldness will ease the discomfort on their gums.
The Neckerchew
The Neckerchew is a soft absorbent dribble bib with an integrated silicon teether.
Babies dribble and chew during teething so it's an easy way to catch that dribble and it also gives little ones something to chomp on and help soothe their gums.
Register for free to continue reading
Registration is a free and easy way to support our truly independent journalism
By registering, you will also enjoy limited access to Premium articles, exclusive newsletters, commenting, and virtual events with our leading journalists
Already have an account? sign in
Join our new commenting forum
Join thought-provoking conversations, follow other Independent readers and see their replies