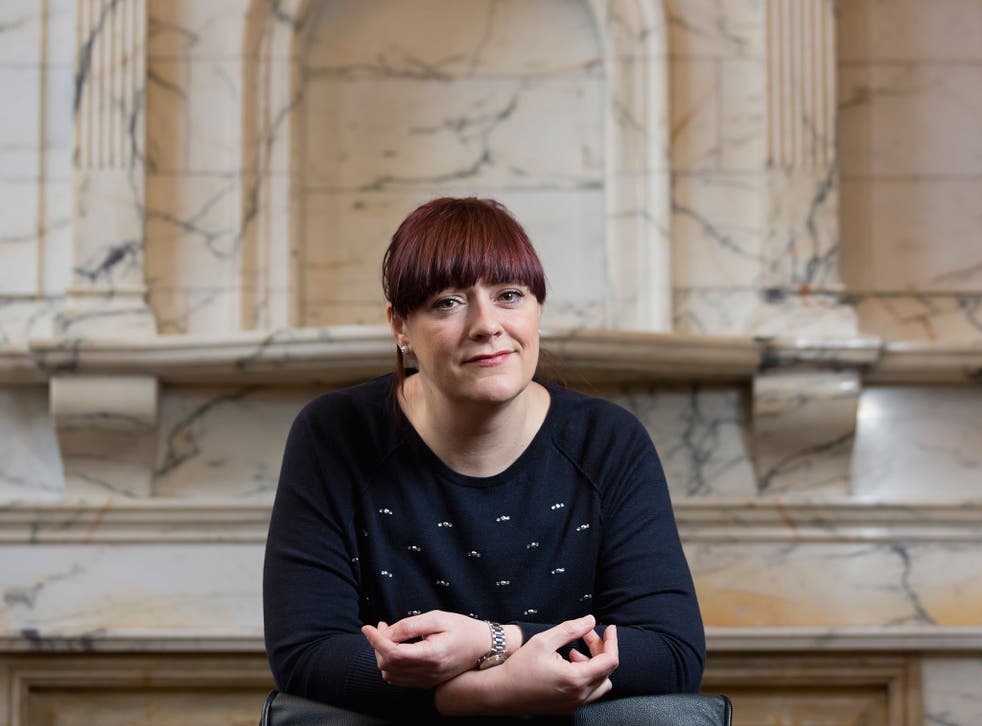 Ukip's official health spokesperson: 'Honestly, I have no experience in health whatsoever'
She may lack experience, but Ukip's health spokesperson Louise Bours is already fighting Nigel Farage on HIV, smoking and health insurance
Charlie Cooper
Friday 23 January 2015 19:50 Comments
It's an unusually candid way to begin a political interview.
"One thing that irritates me more than anything, and you see so much of it the higher up the political hierarchy you go, that's it's full of a load off… people who aren't particularly honest, let's put it that way," says Louise Bours, Ukip MEP for the North-west and the party's official health spokesperson.
"I like people to be straight with me, I don't like all this…shenanigans in the background, I'd rather people be honest and up-front and I always try to answer things very honestly.
"So, honestly, I have no experience in health whatsoever," she says.
To be fair, most Health Secretaries could – and perhaps should – have said the same when they started the job.
Ukip's rising stars

Show all 7
Ms Bours, a former actress, mother-of-two and town councillor in her native Cheshire, was sent to Brussels with 23 other MEPs in Ukip's most successful ever election last May. She was chosen to be the party's health lead last summer. Having been a relative unknown among the Ukip ranks, she was projected into the national spotlight this week after Nigel Farage told the BBC that the idea of replacing the NHS with an insurance-based system was "a debate that we're all going to have to return to".
Ms Bours immediately issued a statement distancing herself and the party, reiterating that she and "the majority of Ukip members" support a state-funded NHS: a commitment she says will be in the party's manifesto. "That is not going to change at all, no matter what Nigel's personal opinion is," she says.
It is not the only issue on which she disagrees with Mr Farage. The day before we meet, Parliament has pushed ahead with legislation to introduce plain packaging for cigarettes. Mr Farage, perhaps the country's most photographed smoker, called the policy "counter to freedom".
Ms Bours begs to differ. "This is a personal opinion I'm giving now, because it's not something I've looked at yet. It's not something I've talked about with my group yet," she says. "I listened to a doctor this morning, from Christie's [the cancer hospital] – that's the kind of person I want to listen to. He felt it worked… he's a guy, a top oncologist, a top anti-smoking expert telling me that."
She is also a fierce advocate of the smoking ban, but does back the party's policy of providing ventilated smoking rooms in pubs and clubs.
"I love the smoking ban. Absolutely love it… Who wouldn't think it's a good thing? Except smokers…except Nigel," she says, with a hearty laugh.
She bristles when reminded of Mr Farage's views on HIV and migration. In an interview last year, Mr Farage said that he wanted to control "the quality" of people allowed to live in the UK – and suggested "people who do not have HIV" as an example. "I've looked at Australia's minimum health standard…they exclude people with long-term medical conditions and I think you have to look at those kind of things," Ms Bours says. "HIV is rather a bad example though, to be honest. HIV is managed now, isn't it. As somebody with personal experience, through very dear friends, HIV is a bad example… I know perfectly helpful, fabulous folk… I think it was an unfortunate example that he used."
Between Ms Bours in one corner, and Mr Farage in the other, what health policies have made it into the manifesto? Much cannot be discussed until it is finally approved by the party's National Executive Committee. However, Ms Bours can confirm that improving care of the elderly would be a key priority, with a single funding pot combining NHS and council money to pay for services outside of hospital.
NHS management posts would be slashed, as will the burden of "bureaucracy" for GPs, and hospital watchdogs the CQC and Monitor would be abolished in favour of local "health boards" led by clinicians who would be responsible for care standards.
NHS spending, Ms Bours says, should be protected.
Immigration, she believes, has impacted on NHS services in some parts of the country, but not others. She insists that Ukip border policies would not hurt the NHS workforce. "What we want is highly skilled, highly qualified doctors and nurses. Now if they come from Basingstoke, fabulous, but again if they come from Brazil, that's fabulous too."
It is certainly hard to doubt her passion for the NHS. And on the importance of state-funding over an insurance system, she couldn't be clearer. "When my youngest was poorly, it was a time when money was tight. Thinking back now, if I had had to think about: 'Oh no, I've got to ring an insurance company' … the stress of that on top of the stress of what was going on with my daughter – to inflict that on people is just terrible. To my mind, state-funded means: people don't ever need to worry." Whether her party is with her on that, only time will tell.
Register for free to continue reading
Registration is a free and easy way to support our truly independent journalism
By registering, you will also enjoy limited access to Premium articles, exclusive newsletters, commenting, and virtual events with our leading journalists
Already have an account? sign in
Join our new commenting forum
Join thought-provoking conversations, follow other Independent readers and see their replies