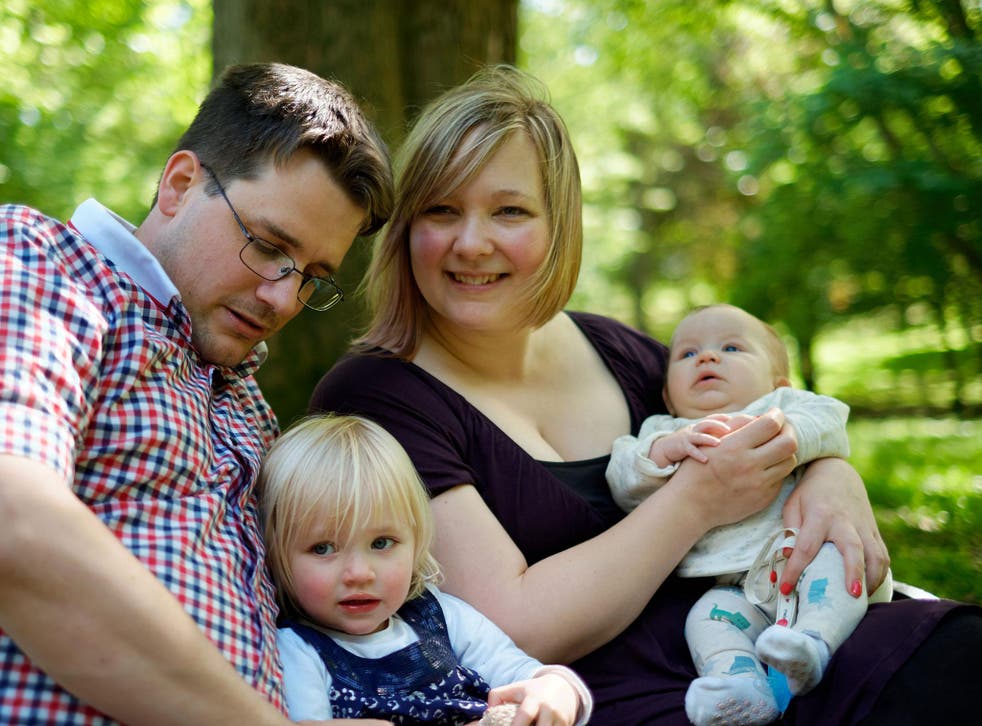 'I cried for days': Woman reveals her disappointment at discovering the gender of her baby boy
'We had to let go of and mourn a child that was never going to be'
Kashmira Gander
Wednesday 23 November 2016 10:46 Comments
When the nurse ran the ultrasound across Sarah-Jane Freni's stomach and cheerily told her she that she and her husband, Erlwin De Gans, were having a healthy baby boy to join their young daughter, they knew they should be happy. But they had longed for a another baby girl, and felt gutted. The couple was experiencing a phenomenon known as gender disappointment.
"We just really really wanted a girl," she recalls. "I cried for days."
Some may balk at the idea that parents could be so affected by the gender of their child, but gender disappointment may be more common that imagined.
"At Relate, we often hear of parents who are having a second child, hope for a child of the opposite gender to the one they already have," says counsellor Gurpreet Singh of relationships charity Relate.
"As well as seeing parents who are experiencing gender disappointment we also see adult children who have been impacted by their own parent's disappointment about their gender."
For Freni, a 38-year-old from Belgium and her husband, the emotions they felt towards their unborn child were complicated.
The couple, who got married in 2008 after four years together, had their first child – Nimue - in January 2013.
She was "pleasure" to have, says Freni, and in a family of boys she was heaped with "girly" belongings by adults. "She was a daddy's girl. My husband was enjoying being her night in shining armour," she says. "And I have a really good relationship with my sister and I hoped she might get that, too". This was compounded by the fact that friends and family warned that male and female siblings simply wouldn't get on as well.
"It know it sounds horrible, because there was nothing to cry about. But we had pictured another girl and she had started taking shape in our minds. We had to let go of and mourn a child that was never going to be.
"I didn't do birth or pregnancy very well. The first time you are a parent, everything is so overwhelming. You don't stop to relish in what's going on. Everything is a whirlwind. And you look back and your baby is gone and it's a toddler.
"The minute they told be it was a boy it hit me that I wasn't going to get a second Nimue. It's ridiculous looking back because it's never going to be the same..." admits Freni.
"I think it was almost like a double loss. A baby that will never be and the baby that had been and never come back."
The 20 best places to raise children in the UK

Show all 20
To those shocked by the couple's story, Sarah-Jane stresses it is too simplistic to argue that she and her husband should have been grateful.
"I asked a closed forum that I'm on on Facebook about the issue, and about eight out of 75 mothers said they had the exact same feeling. I don't think you can judge. People have an idea their heads of what life will be like, and when reality doesn't match your dream or hopes it's hard."
"I felt guilty admitting my feelings to a few friends who had miscarriages, but one friend said that her experience doesn't invalidate mine. We all have our own experiences to deal with."
For parents like Sarah-Jane and her husband, the feelings generally fade in time.
"Some mums or dads-to-be might hope for a boy or girl but most parents get over any initial disappointment once their baby arrives and they're busy looking after it," says Elizabeth Duff, Senior Policy Adviser, at parenting charity NCT.
"Any disappointment about a baby's gender may not be expressed because of guilt or shame but it often helps to talk such feelings through with a partner, trusted friend or health professional."
Sarah-Jane stresses that her son Lancelot is, of course, a fully loved and happy little boy.
"It was love at first sight when he was handed to me in the delivery room. He was just a squishy little boy. But there are still little pangs of the little girl that won't ever happen, and the fact that Nimue won't have a sister like I do.
"But I see now my two are happy together and it's old fashioned to push those gender roles."
Sarah-Jane hopes her story will encourage other parents to be honest about their feelings.
"Parenthood is hard from pregnancy to the end of your life. And we feel so much guilt about doing the right things. We need to be kinder to each other, and open to listening to the different experiences we all have."
Register for free to continue reading
Registration is a free and easy way to support our truly independent journalism
By registering, you will also enjoy limited access to Premium articles, exclusive newsletters, commenting, and virtual events with our leading journalists
Already have an account? sign in
Join our new commenting forum
Join thought-provoking conversations, follow other Independent readers and see their replies